The deployment of the Charles de Gaulle carrier strike group (CSG) to the Indian Ocean is the latest demonstration of France's commitment to its allies and freedom of navigation in the Indo-Pacific.
The CSG from January 16-20 took part in a large-scale exercise with the Indian Navy, dubbed Varuna, off the coast of Goa, the French Embassy in India said in a statement on January 25.
"The aim of the VARUNA joint exercise was to prepare the crews of these two Indian Ocean nations to face a variety of challenges together, mobilising their anti-surface, anti-submarine and anti-aircraft assets, as well as shared control of the air-sea environment and ship control," it said.
"Replenishment at sea, increasingly complex air combat manoeuvres, and firing drills completed these realistic operational scenarios."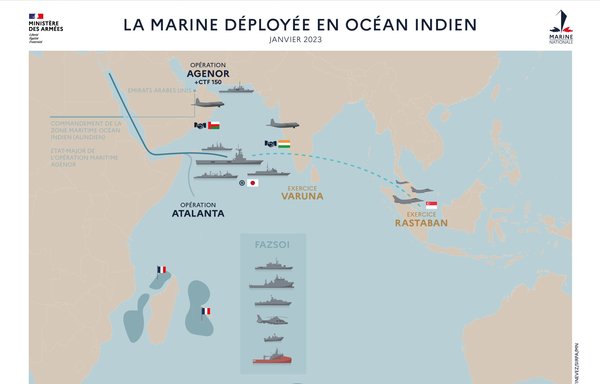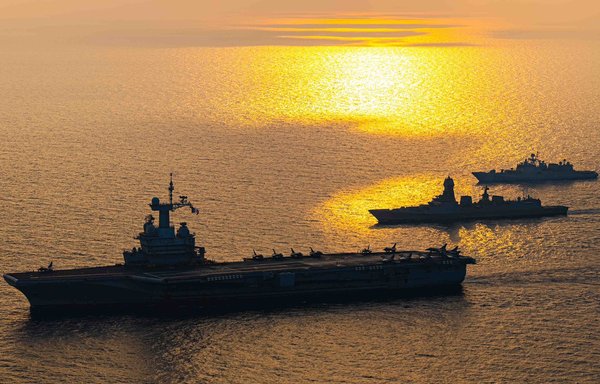 "This joint deployment in the Indian Ocean contributes to ensuring stability in this region in line with France and India's shared approach of collective security based on respect for international law at sea and in the air."
The latest iteration of the Varuna exercise, which dates back to 1983, holds special significance as France and India embark on a year of celebration of the 25th anniversary of the Indo-French strategic partnership, the statement noted.
Power projection
Deployed in the Indian Ocean as part of Mission Antares, the French CSG comprises carrier Charles De Gaulle, destroyers Forbin and Provence, and replenishment ship Marne, USNI News reported.
Before heading to the Indo-Pacific region, the CSG spent two months conducting operations in the Mediterranean and Arabian seas as part of the mission, which has involved 3,000 service members from France and allied partners.
Those operations included combat simulations as part of Operation Inherent Resolve, the international coalition mission to defeat the "Islamic State of Iraq and Syria" (ISIS).
The Charles de Gaulle, commissioned in 2001, is the flagship of the French Navy and the 10th French aircraft carrier, according to Navy Recognition.
It is the first French nuclear-powered surface vessel, and the only nuclear-powered carrier completed outside the US Navy.
"The ship carries a complement of Dassault Rafale M and E-2C Hawkeye aircraft, AS365F Dauphin Pedro, EC725 Caracal and AS532 Cougar helicopters for combat search and rescue, as well as modern electronics and Aster missiles," the site noted.
The carrier air group operates three squadrons of 15 Rafale M aircraft each, and one squadron of three E-2C Hawkeye aircraft.
The Rafale is a twin-jet fighter aircraft able to operate from aircraft carriers and shore bases alike.
It is built for a wide range of combat missions, including air superiority, strikes deep inside adversary territory, reconnaissance, and anti-ship action, and has proven able to fight alongside allies collaborating and communicating in real time, according to its manufacturer, Dassault Aviation.
While carrying out the Varuna exercise with the Indian Navy, the Charles de Gaulle CSG on January 17 sent three Rafale fighters some 4,000km (2,159 nautical miles) to Paya Lebar Air Base in Singapore.
The Rafales were accompanied and supported by an Airbus Multi-role Tanker Transport (MRTT) from France as part of the Rastaban joint power projection exercise with the French Air Force.
Aviation Weekly described the flight to Singapore as the Rafale's longest force projection yet.
Indo-Pacific presence
France is the only European country to have a permanent military presence in the Indian Ocean.
"With 1.65 million French citizens living in French territories in the Pacific and Indian Ocean, and an EEZ [exclusive economic zone] of 9 million square kilometers, the Indo-Pacific is not only a region of strategic interest but one where French sovereignty is directly on the line," the Diplomat reported last June.
"What's more, these territories face several challenges: climate change and the increase of extreme climatic events (typhoons, rising sea levels, etc.), illegal fishing, drug trafficking, and illegal migration, among others," it added.
Some 7,000 military personnel, alongside 20 vessels and 40 airplanes, are permanently based in the region, organised around five command centres.
The French Armed Forces Ministry's latest update to its strategy in the Indo-Pacific in February 2022 noted its partnerships in the region.
It pointed to a strengthening relationship with India in a number of important areas, such as defence, civil nuclear power, space and security, including counter‑terrorism and cyber security.
The update also highlighted Franco‑Japanese co-operation efforts in the Indo‑Pacific region as a key goal.
Even with Russia's invasion of Ukraine, France intends to maintain its presence in the Indo-Pacific, officials have said.
"While some fear that the crisis in Ukraine would blindside us and lead France to go back on its commitments to the region, this will not be the case," French Armed Forces Minister Sebastien Lecornu said in his address at the 2022 Shangri-La Dialogue in Singapore.
Worries over China
The ongoing military exercises in part point to growing concerns over China.
China claims almost all of the South China Sea, through which trillions of dollars in trade passes annually, with competing claims from Brunei, Malaysia, the Philippines, Taiwan and Vietnam.
Beijing has also been pushing a massive infrastructure drive to connect mainland China to the Horn of Africa via a network of military and commercial facilities.
As part of its "String of Pearls" strategy, China's sea lines run through several major ports from the Maldives to Bangladesh, Sri Lanka, Pakistan, Iran and Somalia.
Beijing's global infrastructure drive, known as the Belt and Road Initiative (BRI) or One Belt, One Road (OBOR), continues inland from these important seaports, reaching other parts of the Middle East, Central Asia and Africa.
However, critics warn that China's ostensibly commercial projects serve a dual purpose, allowing for its rapidly growing military to expand its reach.
The String of Pearls also gives Beijing an advantage and a pressure lever should a full-scale conflict erupt over Taiwan.