As it moves into its second year of operations, a European maritime security initiative to promote safe transit and freedom of navigation for merchant shipping in the Strait of Hormuz is going strong.
The European Maritime Awareness in the Strait of Hormuz (EMASOH) operation, led by Germany, the Netherlands, Belgium, Portugal, Greece, France, Italy and Denmark, celebrated its first anniversary on February 25.
Since its inception last year, seven frigates and a surveillance aircraft have been part of the EMASOH operation, which is headquartered in Abu Dhabi.
"In total, these assets have conducted more than 100 flights, spent 400 days at sea, reassured over 20 merchant ships, and have crossed the Strait of Hormuz close to 100 times," EMASOH said in a statement marking the occasion.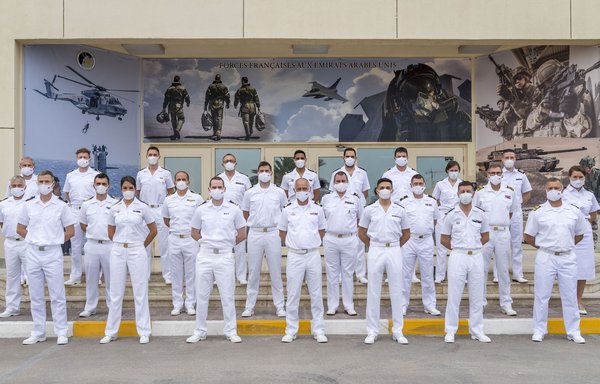 Over the last year, the situation in the Strait of Hormuz has been "relatively stable", said Danish Commodore Carsten Fjord Larsen, commander of Operation AGENOR, which is EMASOH's military component.
"Beyond any doubt, EMASOH the mission has a positive impact!" he said.
The joint maritime operation also has a diplomatic component, with Danish ambassador Julie Elisabeth Pruzan-Jørgensen serving as its senior civilian representative.
"The diplomatic track aims at identifying ways to de-escalate tensions and to promote confidence-building in the maritime domain based on dialogue with all the coastal states," Pruzan-Jørgensen said.
Unanimous support for mission's extension
"This inclusive, de-escalatory approach is perhaps more timely now than ever in light of current regional dynamics," she added.
In a statement of renewed support, the French foreign ministry noted that since 2019, rising insecurity and instability have been witnessed in the Gulf and the Strait of Hormuz as a result of growing regional tensions.
This has included multiple maritime and non-maritime incidents, it said, which have affected the freedom of navigation and the security of vessels and crews in the area and threatened global trade and energy supplies.
As the international presence in the region has increased in recent months -- of which EMASOH is one component -- fewer incidents have occurred, it noted.
But as the underlying regional tensions persist, the potential for new incidents and the risk of uncontrolled escalation remain, it added.
"These risks need to be reduced through a continued international presence," the ministry said, announcing that this assessment is shared by the participating nations and forms the basis for their decision to extend the EMASOH operations.
"We welcome any contribution in kind to this effort and look forward to further commitments in the coming days," the ministry said.
"We also confirm our readiness to gradually enhance co-operation with non-European partners, in particular with those who share our core objectives and have a well-established interest in maritime security in the area," it added.