A pair of US B-52 bombers flew a multinational patrol mission across the Middle East on Sunday (March 7), in what the US military says was a message to deter aggression and reassure partners and allies of the US military's commitment to security in the region.
Warplanes of multiple partner nations accompanied the US bombers at different points during the flight, including Saudi Arabia and Qatar.
The US Air Force routinely moves aircraft and personnel into, out of, and around the US Central Command (CENTCOM) area of responsibility to meet mission requirements and to train with regional partners,
This was the fourth bomber deployment to the Middle East this year.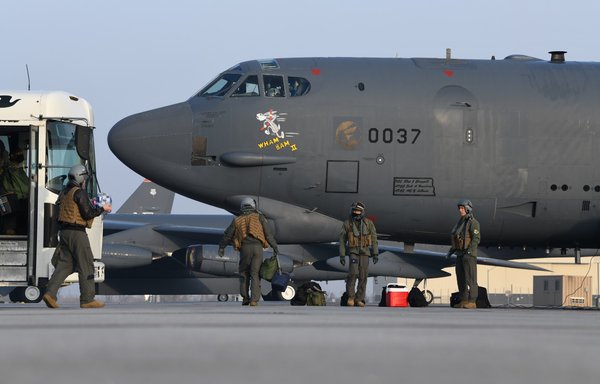 Previous B-52 flyovers occured on January 27, 17 and 7.
"The United States continues to deploy combat-ready capabilities into the US Central Command area of responsibility to deter any potential adversary, and make clear that we are ready and able to respond to any aggression directed at Americans or our interests," Gen. Frank McKenzie, commander of CENTCOM, said on December 30 following another flyover by the bombers.
"We do not seek conflict, but no one should underestimate our ability to defend our forces or to act decisively in response to any attack," he said.
Unified front
Working and training together, US and partner nation forces in the Gulf present a strong and unified front that is capable of preserving regional stability and deterring threats from state and non-state actors, military officials say.
Through ongoing and ad hoc training exercises involving one or more nations, partner nations have improved the way they operate together.
Should they need to act, the training they have done together ensures they can quickly form a multi-national interim force, officials said, stressing that partner nation relationships form the cornerstone of these partnerships.
Another recent example of partner nation activity was "Iron Union 14", which involved US and Emirati land forces at al-Hamra training centre in the UAE between January 24 and February 6.
Iron Union is a recurring exercise that is designed to strengthen military-to-military relationships, according to the US Central Command (CENTCOM).