Iran's armed forces on Tuesday (February 16) began a joint naval drill with Russia in the northern Indian Ocean, as tensions continue to brew over Iran's ongoing violations of the 2015 nuclear deal struck with world powers.
The three-day "Maritime Security Belt Exercise" will cover an area of 17,000 sq km, Iranian state media reported.
Units from the Iranian army and the Islamic Revolutionary Guard Corps (IRGC) will take part in the drill, alongside Russia's navy, according to Iranian naval spokesman Rear Adm. Gholamreza Tahani.
Three Russian ships will take part in the drill, according to Russia's Baltic Fleet.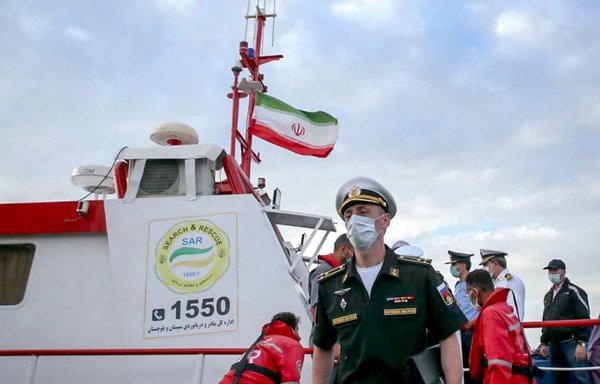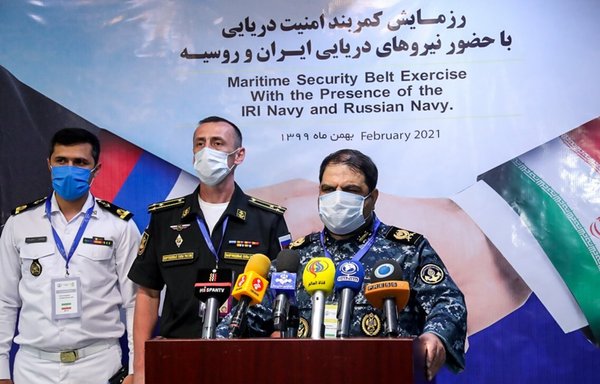 The drill aims "to enhance security of international maritime trade, confront maritime piracy and terrorism and exchange information", said Tahani.
But Iranian state media billed it as a show of strength.
Iran, China and Russia held a similar drill in the area in 2019, and the Islamic Republic participated in "Caucasus 2020" drills held in Russia last September.
The Iranian navy did not distinguish itself during an exercise last year.
During a live training exercise last May, an anti-ship missile fired by an Iranian frigate struck the support vessel Konarak in the Gulf of Oman, killing 19 crew members and injuring 15.
The incident occurred near Bandar-e Jask, off Iran's southern coast, according to Iranian officials, who said the vessel was hit after moving a practice target to its destination and not creating enough distance between itself and the target.
Difficult decisions for Tehran
The drill comes at a time of tension over the status of the 2015 nuclear agreement between Iran and world powers, which Iran has been violating.
United Nations (UN) Secretary-General António Guterres on January 28 called for the United States and Iran to work together on the deal, the terms of which Iran has repeatedly breached in recent months.
US Secretary of State Antony Blinken has confirmed that the United States is willing to return to the deal but rejected Iranian pressure for it to act first.
"Iran is out of compliance on a number of fronts. And it would take some time, should it make the decision to do so, for it to come back into compliance and time for us then to assess whether it was meeting its obligations," Blinken said.
As part of the nuclear deal, Iran agreed to a 15-year ban on "producing or acquiring plutonium or uranium metals or their alloys".
Iran has started producing uranium, the UN nuclear watchdog said February 10, in a fresh breach of the limits laid out in the 2015 deal.
The International Atomic Energy Agency (IAEA) on February 8 said it "verified 3.6 grammes of uranium metal at Iran's Fuel Plate Fabrication Plant in Esfahan".
On January 28, Iranian parliament (Majles) speaker Mohammad-Bagher Ghalibaf claimed Iran has produced 17kg of 20%-enriched uranium in the past month -- the biggest break yet from its commitments under the deal.
Why is Russia siding with Iran?
For Russia, supporting Iran's military buildup helps it secure gains that the two countries have made in Syria, where both regimes have propped up Syrian President Bashar al-Assad at a deadly cost of human life.
For years, Iran and Russia have pumped fighters and money into the Syrian conflict as part of their drive to increase their geopolitical influence.
Many of those fighters include Russian mercenaries, including members of the Wagner Group and Vega, who do the bidding of Russian President Vladimir Putin under a cover of plausible deniability.
Russian air strikes in and around the Syrian province of Idlib have caused devastation on a massive scale, wiping out agricultural production and commerce and depriving children of an education.
In a September 2019 report, the Syrian Network for Human Rights accused the Kremlin of committing "hundreds of war crimes" during its military operations in Syria since 2015, which have resulted in more than 6,500 civilian deaths.
Moscow has not apologised for these deaths, nor has it compensated any of the victims' families, the report says, pointing out that it has continued to deny its bombing of hospitals, civil defence facilities and residential neighbourhoods.
In August, Russia was among the countries that voted not to extend the UN arms embargo on Iran -- a move that enables the Islamic Republic to purchase weapons on the international market.
Russia does not oppose other sanctions on Iran, said Iran-based economist Ahmad Tavakolabadi, noting that the sole exception is the arms embargo, because it does not want to lose a significant buyer of its outdated weapons.