France is dialling up its contribution to ensuring security in the Middle East through recent counter-terrorism training and support manoeuvres in the Mediterranean and Red Sea.
Deployed for a three month mission from the Mediterranean sea to the Atlantic ocean, France's carrier strike group arrived in the region at the end of January. An American frigate and a Greek frigate also are participating.
The carrier strike group comprises the Charles de Gaulle aircraft carrier, including 20 Dassault Rafale fighter aircraft and two Hawkeye fighter jets, the frigates Chevalier Paul, Auvergne, Bretagne and Surcouf, the oil tanker Var, and a nuclear attack submarine.
As part of the manoeuvres, on February 19th, Egyptian and French air and naval forces took part in joint military drills to enhance their military capabilities in the face of common threats.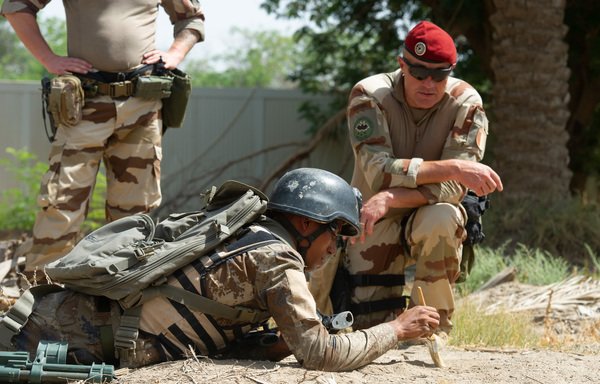 The drills included search and rescue missions, training to defend and attack vital naval targets in the Red Sea, a mid-air refuelling drill, and clearing and neutralising naval mines, according to the Egyptian armed forces.
These exercises carry a strategic significance in strengthening the security of all the Mediterranean and Gulf countries, said Bahraini writer and researcher Abdullah al-Junayd.
France plays a vital role in the region through its support of counter-terrorism efforts by neutralising the threat of the "Islamic State of Iraq and Syria" (ISIS) and al-Qaeda in Egypt's Sinai Peninsula, he told Diyaruna.
"Efforts on both the security and military levels run parallel to unrelenting efforts to develop and support the economies of countries with soft security spots as a key to containing and uprooting terrorism by blocking supply lines," he said.
France has maintained a strong stance in preventing terrorist groups from expanding and building hotbeds, which constitute a significant threat for the region and the world, especially since groups like ISIS and al-Qaeda can only secure a foothold in politically or economically unstable countries, he said.
Al-Junayd called for the destruction of terrorist sanctuaries and the protection of regional waters from illegal migration routes that terrorists use in order to widen the scope of their criminal activities around the world, especially in Europe.
Neutralising terror threats
France has played an active role since August 2014 as part of the international coalition against ISIS in Iraq and Syria through Opération Chammal.
"French support has given our forces a strong momentum to defeat terrorism and liberate our cities," said Iraqi Ministry of Defence spokesman Brig. Gen. Yahya Rasul.
"France also is using its expertise to help us upgrade our army and develop a state-of-the-art military capability that includes enemy combat training in built-up urban environments and street warfare," he told Diyaruna.
"We have conducted joint exercises using live artillery and been continuously working together at the level of intelligence exchange," he said.
Rasul stressed that France aspires to strengthen the military capabilities of other countries so they can become self-reliant and capable of protecting their people.
Terrorist groups, such as ISIS and al-Qaeda, not only affect individual countries but threaten the world as a whole, and that is why France and other allies are working to neutralise such threats, he said.
France's carrier strike group commander Rear Adm. Marc Aussedat said Rafale warplanes from the Charles de Gaulle have been mainly used to gather information on the whereabouts of ISIS fighters as well as on the group's patterns of activity.
That intelligence is conveyed to commanders of the international coalition who co-ordinate on-the-ground operations against ISIS targets, he said aboard the Charles de Gaulle on February 21st.
Joint training exercises with France are essential to building effective regional military systems that are capable of confronting the threat of terrorism, said security analyst Mohammed al-Rubaie.
"France is known for its strong army and significant and advanced military capabilities, which it would not hesitate to use to crush terrorists and their remaining cells and sources of funding," he told Diyaruna.
"France is working hard to provide expertise and build capacity among its allies and their armies in order to help them fight terrorism," he said.
"French manoeuvres and training exercises also send a message to terrorists that says: you will not succeed in regaining your strength and previous levels of activity and you will not be able to perpetrate your crimes and incite terror throughout the world," al-Rubaie said.