BEIRUT -- Hizbullah's constituency has been feeling the pinch in the wake of a decrease in financial support from Iran, and is slowly but surely beginning to voice its dissatisfaction with the party, observers in Lebanon say.
The Iran-backed party's sway over the Lebanese government also has begun to decline, following the resignation of the government of its ally, caretaker Prime Minister Hassan Diab.
US pressure on Iran, via its sanctions campaign, has "weakened Iran's role and financial support for the militias and forces allied with it", said Lebanese Centre for Research and Consulting director Hassan Qutb.
This includes Hizbullah, as well as Iran's proxies in Iraq, Yemen and Syria.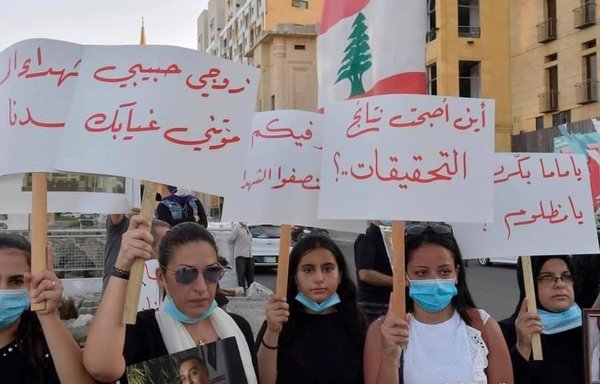 "The decline in Iranian support for Hizbullah is obvious and cannot be hidden, especially in light of the decline in cash payments to its allies and delay in payment to the families of the party's dead and wounded," said Qutb.
As its revenue has declined, Hizbullah has sought to secure employment for its commanders and elements in semi-official institutions, particularly in municipalities that are clearly affiliated with the party, he said.
In these jobs, they are paid monthly salaries and receive medical services, as well as school and transportation allowances at the state treasury's expense.
The party also has moved beyond its usual boundaries to secure employment for some of its elements in previously untapped institutions, such as the Lebanese University.
It has kept illegal border crossings with Syria open, and entered the citrus trade, buying crops and exporting them to Iraq directly through this conduit, "thus securing revenue for itself," Qutb said.
Eroding influence
US sanctions against Iran and Hizbullah are not the only factor that has curtailed the party's power and reduced its influence on the political decision-making process, political analyst Elias Zoghbi told Al-Mashareq.
There has been political, independent and civilian opposition to its hegemony, he said, and Hizbullah has realised it is unable to usher in a government like that of Diab, which allowed it to continue to dominate the political arena.
Even Hizbullah's influence over its ally, President Michel Aoun, has been reduced.
The US in November imposed sanctions on Aoun's son-in-law Gebran Bassil, leader of the Free Patriotic Movement (founded by Aoun), accusing him of corruption and ties to Hizbullah.
Bassil, a former minister of energy, previously faced criticism for his failure to resolve the ongoing issues with Lebanon's dysfunctional electricity system, which relies heavily on generators and is riddled with corruption.
The Free Patriotic Movement (FPM) and Hizbullah have controlled the Ministry of Energy and Water for years, and politicians have been accused of distributing free electricity to their constituents, including those in Beirut's Hizbullah-controlled southern suburbs.
All of these factors have ushered Lebanon towards "a slow and gradual restoration of Lebanese sovereignty", al-Zoghbi said, noting that the military and political power of groups like Hizbullah are "in a phase of decline".
The party realises this itself, he added, noting that despite all the manifestations of power it continues to project "there is no indication on the horizon that the party will be able to lift itself out of the recession, regression and decline".
The international community and financial institutions, including the International Monetary Fund, have made it clear they cannot help Lebanon until its government is liberated from Hizbullah's sway.
Since October 2019, demonstrators have openly called for Hizbullah to disarm, as the group's weapons and its ties to the Iranian regime have left the government with few options to access aid.
Illicit activity
Hizbullah is "holding on to power, regardless of the Iranian financial support or lack thereof, and is taking advantage of the [Lebanese] state, its facilities and its crossings to engage in smuggling", said Shia writer and dissident Ali al-Amin.
Lebanon is witnessing a crisis at all levels, he said, pointing out that it is not just Hizbullah that is struggling amid the current climate.
Yet Hizbullah engages in illegal activities -- such as smuggling and drug trade -- to help it stay afloat, and it is using the income from these activities to mobilise its constituency, but it is still "incapable of meeting its growing needs", he added.
Even though Hizbullah's base has not yet turned against it, al-Amin said, they are fully aware of the deep social inequalities between themselves and members of the party.