New sanctions targeting two Lebanon-based companies linked to Hizbullah and an official linked to both of them send a clear signal that the party's corrupt dealings will be brought to light, Lebanese analysts told Al-Mashareq.
The US Treasury on September 17th sanctioned Arch Consulting and Meamar Construction, for being owned, controlled, or directed by Hizbullah.
Also designated was Hizbullah executive council official Sultan Khalifah Assad, who is closely associated with both companies.
"Through Hizbullah's exploitation of the Lebanese economy and manipulation of corrupt Lebanese officials, companies associated with the terrorist organisation are awarded government contracts," said Treasury Secretary Steven T. Mnuchin.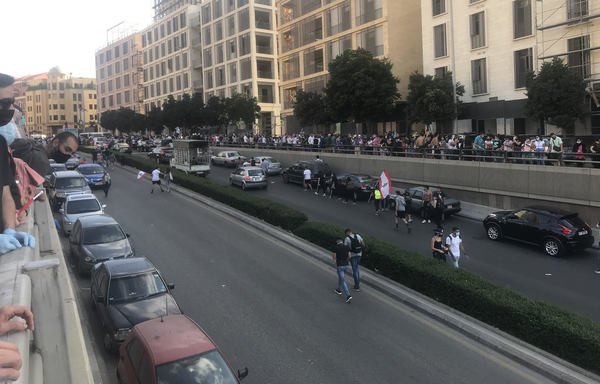 "The US remains committed to targeting Hizbullah and its supporters as they corruptly abuse Lebanese resources to enrich their leaders while the Lebanese people suffer from inadequate services," he said.
In a statement announcing the sanctions, the Treasury noted that Hizbullah's activities permeate all aspects of the Lebanese economy, including the construction and infrastructure sectors.
Hizbullah leverages Arch and Meamar to conceal money transfers to its own accounts, further enriching its leadership and supporters, and depriving the Lebanese people of much-needed funds, it said.
It does this by conspiring with Lebanese officials to direct government contracts worth millions of dollars to these companies, which are overseen by Hizbullah's executive council, which also receives the profits from these companies.
One of the Lebanese officials involved in these transactions was former transport minister Yusef Fenianos, who was sanctioned on September 8th, along with former finance minister Ali Hassan Khalil.
'Corruption hotspots'
Through its sanctions on Hizbullah, the US is able to exert pressure on the party's financial network, political analyst Simon Abou Fadel told Al-Mashareq.
The sanctions demonstrate the extent to which the US is "aware of the hotspots of corruption and money smuggling operations for Hizbullah", he said.
Khalil and Fenianos had used their positions to funnel funds and contracts to the party "through corrupt measures", he said.
This serves to highlight the extent of Hizbullah's corruption, Abou Fadel said.
The sanctions were imposed on the two companies for "being a vital artery for funneling funds to the party", he said, adding that "the US is working to dry up the party's funding sources".
Economic analyst Tony Farah told Al-Mashareq the latest round of sanctions "are a continuation of [a US campaign of] sanctions on all individuals, figures and entities who contribute directly or indirectly to financing Hizbullah".
It is noteworthy that the latest batch of sanctions targeted two companies and a party leader directly linked to Hizbullah's chief executive, Hashem Safieddine, he said.
In May 2017, the US and Saudi Arabia issued a "joint terrorist designation" blacklisting Safieddine.
Assad runs one of the two companies accused of illegally obtaining contracts from the state and funneling the generated profit to Hizbullah, thus circumventing the US sanctions imposed on the party, Farah said.
The Lebanese people "attach importance to the sanctions because they see them as a viable way to recover looted funds", he added.
Diminishing support
"US sanctions imposed on the Arch and Meamar companies has revealed the two companies belong to Mirage for Waste Management and Environmental Services," political analyst Rabih Tlais told Al-Mashareq.
This Lebanese environmental services company specialising in treatment of waste is owned by Mohammed Abdul Amir Farhat, who was designated by the US Treasury in 2017, he said.
It also has emerged that Arch, Meamar and Mirage are overseen and directed by an Iranian national residing in Beirut, Hassan Dehghan Ebrahimi, who is responsible for facilitating cash transfers to these companies, Tlais said.
Ebrahimi also works for Waad Construction and Maher Trading and Construction, which operate as trading and construction companies but are used to smuggle goods to Hizbullah, he said.
As for Assad, Tlais said he is in charge of municipalities controlled by the party, and his task involves collecting the money generated by Hizbullah-linked companies, including Arch and Meamar.
He does this by obtaining contracts from the Ministry of Works, including road paving, sanitation works, infrastructure, lighting and restoration of antiquities in the areas administered by the party-affiliated municipalities, Tlais said.
In areas such as the southern suburbs, where Hizbullah is influential, residents are beginning to express their aversion to the party in private conversations, he said, noting that some are keeping quiet out of fear of retaliation.