BEIRUT -- Activists, politicians and commentators say the Lebanese people will not accept Hizbullah chief Hassan Nasrallah or former foreign minister Gebran Bassil (the son-in-law of President Michel Aoun) as legitimate leaders of the country.
The United States in November imposed sanctions on Bassil, a former minister of energy, accusing him of corruption and ties to Hizbullah.
Sanctions have also targeted several individuals or groups closely linked with Hizbullah, and more and more countries are moving to fully designate it as a terror group -- outlawing both its political and military wings, as opposed to its military wing only.
According to activist Samir Skaf, one of the leaders of the protest movement that started in Lebanon in October 2019, the movement's slogan, "All of them means all of them" conveys the public's rejection of the entire political class.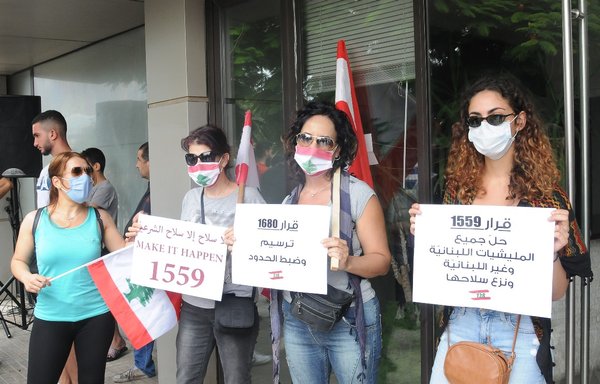 The political elite have led Lebanon to the brink of collapse, he said, with their disastrous political performance that is based on sectarianism, quotas and financial and sectarian protectorates.
"Hizbullah bears the primary responsibility because it is the most powerful and armed party," he said.
"Also bearing responsibility are those who participated in past governments and continued to co-ordinate and partner with Hizbullah," he said.
The protest movement is calling for a state of citizenship and social justice where the right people are placed in the right positions without favouritism, Skaf said.
Most people reject "any government that is formed to recycle the political class that led the country to perdition with its political performance and allowed the biggest theft in history of Lebanese money from the banks", he added.
Skaf called on the international community to help the people re-establish state authority through a good electoral law that will enable the formation of a new government of technocrats.
Sanctions imposed on Bassil and others "are welcome, as is any external pressure exerted on Lebanese officials", he said.
Nasrallah, Bassil to blame for financial collapse
Former MP and opposition minister Mouin al-Merehbi said the protest movement looks at Nasrallah and Bassil as the main authors of the country's economic collapse.
Similarly, Hizbullah's refusal to give up its weapons has helped feed a political formula of "We protect your corruption, you protect our weapons and terrorism", he said.
Many Lebanese have been demanding the full implementation of United Nations Security Council Resolution 1559 (of 2004), which calls for the disbanding and disarmament of all militias in Lebanon, and affirms Lebanon's sovereignty, territorial integrity, unity and political independence under the sole and exclusive authority of the government.
Bassil previously faced criticism for his failure to resolve Lebanon's ongoing issues with the dysfunctional electricity system, which relies heavily on generators and is riddled with corruption.
"There is total distancing from Bassil, even by those closest to him," al-Merehbi said. "And so, any government in which Bassil and Hizbullah are represented will be rejected."
He pointed to Hizbullah's acts of violence and interference in foreign conflicts, its smuggling of drugs and subsidised food, fuel and other commodities, which were intended for the Lebanese people.
The international community and financial institutions, including the International Monetary Fund, have made it clear they cannot help Lebanon until its government is liberated from Hizbullah's sway.
For these reasons and more, "the Lebanese are eager to get rid of Hizbullah, which dominates the country's capabilities and its borders".
Hizbullah's base
Al-Merehbi said the hope is that Hizbullah's base will join the movement, "as they are the most affected" by the party's actions.
Indeed, Hizbullah's constituency has been feeling the pinch in the wake of a decrease in financial support from Iran, and is slowly beginning to voice its dissatisfaction with the party.
According to political commentator Simon Abi Fadel, Hizbullah is "encountering rejection in the Shia environment, albeit to a modest degree".
"The Lebanese people want a government with credible and transparent faces who would uplift the administration and the country," he said.
Political activist and lawyer Lucien Aoun said Lebanon suffers from external hegemony with internal support, which is impeding its recovery from the depth of its political, economic, financial and social crises.
The main manifestation of the crises Lebanon is facing is Iran's control over the levers of power through its internal allies, he said.
"Lebanon today is ruled by a band of criminals and corrupt people who emptied the state treasury and plundered depositors' funds, which total $190 billion, and left its people facing famine," he said.
"This group exports Captagon, terrorism and organised crime throughout the world due to the collapse of law and order and unchecked borders," he said, stressing that the people of Lebanon will reject any government formed by the Hizbullah-Bassil duo.