The Iranian regime is sending a mixed message as it contends with a US campaign of "maximum pressure", claiming on one hand that sanctions have been ineffective, and on the other maneuvering to get them lifted, analysts said.
A tough US sanctions campaign has targeted Iran's oil and banking sectors, among others, and has had some success in cutting off the Islamic Revolutionary Guard Corps (IRGC) from its foreign financial network.
The campaign aims to eliminate the threat of Iran's ballistic missile programme, stop its terrorist activities worldwide, and block its menacing activity across the region via its proxy arms.
Political and economic analysts who spoke with Al-Mashareq said the campaign has succeeded in further isolating Iran and its regional affiliates and proxies.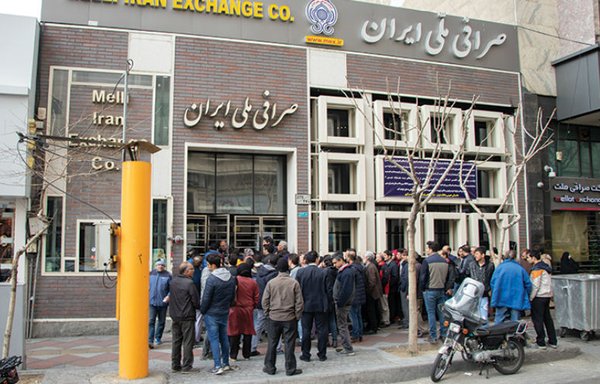 "The importance of the US government's new policy is that it has shelved diplomatic pleasantries and has gone to the root of the issue," reinstating sanctions, said Tehran-based economic analyst Hossein Rajabi.
This has seen sanctions imposed on senior figures, including Supreme Leader Ali Khamenei and Foreign Minister Mohammad Javad Zarif, and also has seen the IRGC designated as a terrorist organisation.
Iran is now facing "historically unprecedented isolation", Rajabi said.
Iran's regional allies, including Lebanese Hizbullah, also have been facing increasing pressure, with Germany recently banning all Hizbullah activities on its soil and designating the entire movement a terrorist organisation.
Britain also took punitive measures against Hizbullah this year by expanding asset-freezing measures to the militia's political wing.
In previous eras, the Iranian regime has found ways to circumvent sanctions, Rajabi said. But Oil Minister Bijan Zangeneh has admitted that all the previous means through which Iran conducted secret oil sales have been shut off.
Almost all countries have expressed their reluctance to violate US sanctions, Rajabi said, which is considered the Islamic Republic's largest diplomatic defeat.
Iran's currency weakens
The US campaign for the international isolation and weakening of Iran's tools of regional intervention has put the Iranian regime "on the threshold of capitulation", economic expert Behzad Gonabadi told Al-Mashareq.
As a result of the campaign, Iran's economy "is in a state of collapse", he said, noting that the Iranian rial has plummeted and is now worth just a quarter of its former value.
In 2017, the US dollar to Iranian rial exchange rate was 37,000 rials. After the new sanctions campaign, he said, this rate has fallen to about 170,000 rials.
"The instability in the market is such that it is predicted that in the case of continuing sanctions, the fall in the value of the rial will likewise continue and even be twice that of today," Gonabadi said.
The situation has deteriorated to the point where the Iranian parliament "has allowed the removal of four zeros from the national currency", he said, and has decided to replace the rial with the toman, which is equal to 10,000 rials.
"They imagine that through the elimination of zeros, the money's value will return!" he said. "It has reached a point where people are queuing up to purchase dollars."
"The collapse of Iran's economy occurred due to the unprecedented reduction of oil sales," Gonabadi said.
Iran's proxies suffer
Last November, during a public session held during a visit to Kerman, Iranian President Hassan Rouhani lamented that his government had a budget deficit of billions of dollars that would have been resolved if there had been oil sales.
Iran's budget deficit has had a knock-on effect on its regional affiliates, who are suffering budget shortfalls as a result of Iran's financial hardships, Gonabadi said.
"Today, no one is concealing anymore that Iran provides funding for these groups, including Hizbullah," he said, noting that Hizbullah leader Hassan Nasrallah has publicly admitted the party receives funding from Iran.
In a video message, Nasrallah said that as long as Iran has money, Hizbullah also has money.
The rest of Iran's proxy groups are in the same position, Gonabadi said, noting that the Islamic Republic's isolation means these satellite groups are also becoming isolated and ineffective.
"I believe that the indications of this ineffectiveness will gradually become apparent in the whole region," he said.