Analysts fear that Lebanon will not be able to obtain the funding it needs to pull out of its economic crisis because of Hizbullah's affiliation with Iran and its influence in parliament, where the party and its allies hold a majority.
Banking experts have called for an International Monetary Fund (IMF) rescue package, saying this would secure desperately-needed international assistance for Lebanon and reassure creditors, AFP reported.
The Lebanese pound has tumbled in value amid the country's economic and political crisis, and banks have imposed strict limits on dollar withdrawals amid a strangulating liquidity crunch.
Lebanon said last week it would default on its $1.2 billion Eurobond debt payment for the first time, saying that was the only way to shore up its foreign currency reserves.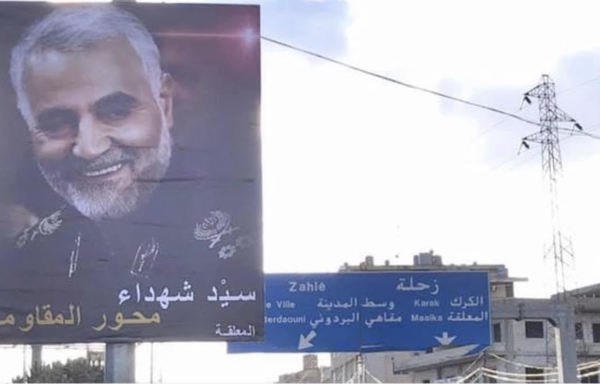 Hizbullah has strongly opposed foreign interference in Lebanon's economy.
But in a televised address last Friday (March 13th), Hizbullah chief Hassan Nasrallah rolled back his position, saying the party could accept Beirut receiving an IMF financial rescue package under "reasonable conditions".
He warned, however, that "Lebanon must not fall under anybody's trusteeship or hand over its financial and economic administration" to outside parties.
The party previously said it rejected conditions and "ready-made recipes" which global bodies could impose, warning against what it called "foreign guardianship" over the economy.
Nasrallah 'not in position to impose conditions'
"Lebanon has no choice but to request in-kind international assistance from the IMF, but it is not in a position to impose the conditions set by Hizbullah leader Hassan Nasrallah," political analyst Elias al-Zoghbi told Al-Mashareq.
"It is rather in the position of having to acquiesce and yield to international conditions," he said. "Therefore, the party's arrogant rejection of the conditions set by the IMF will deprive Lebanon international or Arab assistance."
"The world cannot grant aid to Lebanon as long as the government of Hassan Diab continues to do Hizbullah's bidding under the guise of a government of independents and technocrats," he said.
This will be the case "as long as Hizbullah, under Iran's direction, pressures Lebanon's foreign policy and channels it to serve the interest of the axis of resistance", al-Zoghbi said.
The Lebanese people "have begun to blame the party for their dire situation", Lebanese Centre for Research and Consulting director Hassan Qutb told Al-Mashareq.
This is because Hizbullah is responsible for plunging Lebanon into regional and international conflicts and for the repercussions of such actions, he said.
As long as the party retains its affiliation with Iran and serves the Islamic Republic's agenda, Arab and international assistance will not come, he warned.
Troublesome links to Iran-aligned militias
Of particular concern is Nasrallah's regional role as the de facto successor of Islamic Revolutionary Guard Corps Quds Force commander Qassem Soleimani, who oversaw the Iranian regime's external relations and affiliated militias.
Hizbullah is the largest and most powerful of these militias, so many looked to Nasrallah to fill the leadership vacuum following Soleimani's death.
According to Qutb, Nasrallah "took over the responsibility of managing pro-Iran militias following the assassination of Soleimani".
"The responsibility for managing operations rests with him, and he implements Iran's policy and strategy" in all arenas across the region where these militias have a presence, Qutb said.
"Hizbullah assists and leads Iraqi and other militias by virtue of the post held by Nasrallah, which means that he was involved in the recent attacks on international coalition forces in Iraq," he said.
"Consequently, the US and international coalition will hold him responsible for the recent attacks and those that preceded them," he said.
A pair of rockets hit a residential district near the Iraqi capital's high-security Green Zone late Tuesday, in the second such attack of the day.
It was the 25th such attack since October on installations across Iraq where US and coalition troops and diplomats are based. The attacks have been blamed on Iran-backed militias, including Kataib Hizbullah.
Connection with Iran could jeopardise support
The US has supported Lebanon in difficult times in the past, Qutb said, expressing concern that Hizbullah's domination and affiliation with Iran could prevent the country from obtaining vital international aid at this juncture.
Lebanon "has entered a stage of severe financial distress, and is in need of huge aid from international powers, the Gulf states -- in particular Saudi Arabia -- the US, Europe and the IMF", al-Zoghbi said.
But in his role as Soleimani's standard-bearer, Nasrallah "bears direct responsibility" for the attacks on sites housing US and international coalition forces in Iraq, he said, even if they are not carried out by the Lebanese militia.
There is no difference between Lebanon's Hizbullah, Kataib Hizbullah and other Iran-backed militias in Iraq, Syria and Yemen, al-Zoghbi stressed.
"The responsibility is the same, and hence, Washington cannot distinguish between the members of the single combat entity organised and led by Iran," he said.
Iran is meanwhile reeling under the pressure of US sanctions and a burgeoning economic and political crisis of its own, he said, noting that Hizbullah's ties to Iran and its proxies may be devastating for the Lebanese people and economy.