Hizbullah's assault on peaceful protesters in central Beirut has revealed its true nature, Lebanese activists told Al-Mashareq, noting that the militia-like behaviour of its supporters shows its reliance on force to resolve differences.
A group of Hizbullah supporters on Tuesday (October 29th) assaulted a protest site on Beirut's Ring Bridge, tearing down tents set up by those participating in the demonstrations in order to reopen the road.
Hizbullah supporters attacked the demonstrators with sticks, beat them, and threw stones at them, before going on to storm Martyrs' and Riad al-Solh squares, where they destroyed tents and set them on fire.
Security reinforcements were sent to separate the protesters and the assailants and to protect the peaceful protesters, who, after the assault was broken up, returned to the square, swept it clean, and set up tents again.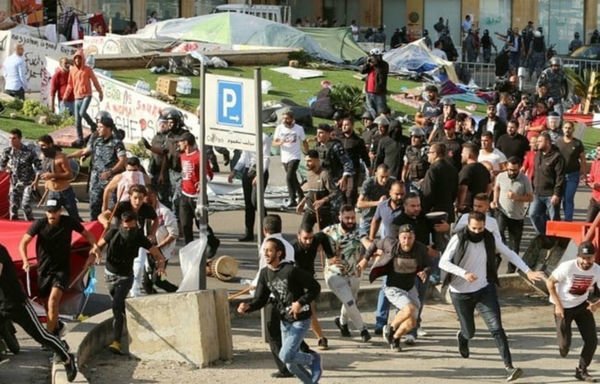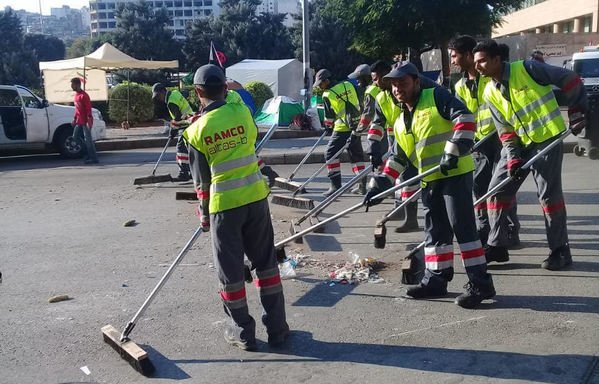 Hizbullah's attack on the peaceful protest "shows its true face, which it has never hidden, and clearly demonstrates its resentment of the way things are progressing", said Shia opposition figure Ali al-Amin.
It also shows the militia feels the noose tightening around it, he said.
"It is not surprising that Hizbullah has committed an assault on a peaceful protest, and on peaceful people demanding their rights," he told Al-Mashareq.
"All it has is military power, the only thing it is good at," he said, pointing out that its use of force against a peaceful protest shows it has no other means at its disposal to resolve political disagreements and disputes.
"We are now seeing its true, naked self," he said.
'Brutal' attack on demonstrators
The Lebanese people have seen how Hizbullah conducts itself since the political crisis of May 2008, which it initiated, political activist Ali Rabah told Al-Mashareq, noting that Hizbullah "has displayed its weapons on multiple occasions".
"We were in Martyrs' Square when we started receiving news of Hizbullah groups coming to forcefully open the Ring Bridge," Rabah said, giving Al-Mashareq a first-hand account of the actions of the party and its supporters.
This news coincided with the arrival of "a young man on a motorcycle, demanding female protesters to leave the square", he said.
"Moments later, around 200 stick-wielding youths stormed the square and started to smash cars, topple tents and beat the protesters," he said, even as the protesters attempted to convince them the protest "was for their sake too".
Rabah described the scene as "brutal", noting that "the Hizbullah supporters assaulted peaceful protesters of various ages, sects and social groups who were expressing their pain with national anthems and high-level dialogue gatherings".
"This brutal attack is an attack on a peaceful demonstration that brought together... members of the cultural and political elites, people of faith and atheists, seculars, liberals and leftists", Rabah said.
Many of them were engaged in respectful political dialogues and debates.
The peaceful protest provoked Hizbullah into revealing its true face by carrying out assaults, sabotaging tents and sowing chaos, he said, but the demonstrators have since cleaned up the damage and carried on.
'Bullying is no longer possible'
The assault on the peaceful protesters "confirms that [Hizbullah] has never moved on from the events of May 7th, 2008, when it displayed its weapons in the face of defenceless citizens", said independent journalist Sawsan Abu Zuhr.
"But its success with bullying is no longer possible today," she told Al-Mashareq.
The May 7th mentality has pushed Hizbullah to unleash its supporters into the streets of Beirut to intimidate the protesters, she said.
This has happened "once through convoys of gangs on motorcycles, sometimes by throwing stones at peaceful demonstrators, to destroying sit-in tents and beating female protesters", she said.
These actions demonstrate "a brutality we have become accustomed to since May 7th, so it does not surprise us", Abu Zuhr added.
"One of the gains of the protest -- which continues to grow bigger with a young generation of amazing consciousness and maturity -- is that it has put Hizbullah in a predicament with itself before anybody else," she said.
In areas that it has assumed for years to be under its control, people have suddenly risen up, with a cry of "everybody means everybody", the main slogan of the protests, she explained.