The United States continues to demonstrate it is prepared to support key partners in the Middle East with strategic bombers that can put into the air on a moment's notice.
The US military regularly demonstrates this ability by conducting bomber task force (BTF) missions to areas where there is no permanent US bomber presence, refining its air combat capabilities with regional partners at the same time.
One base that has become familiar to crews of the US Air Force B-52 Stratofortresses is al-Udeid air base in Qatar.
The B-52 Stratofortress is a long-range, heavy bomber that can perform a variety of missions, including strategic attack, close-air support, air interdiction, offensive counter-air and maritime operations, according to the US Air Force.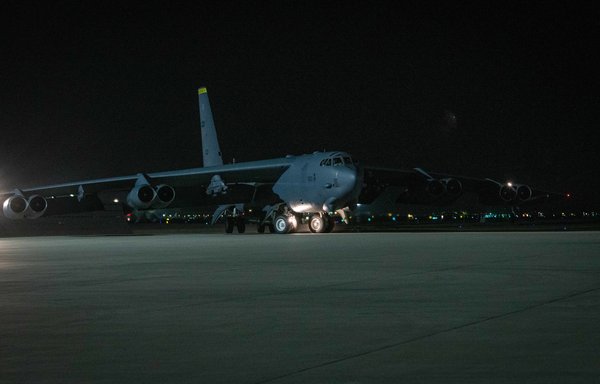 Al-Udeid served as the B-52s' base for operations in Afghanistan between 2001 and 2021, and also during the battle to oust the "Islamic State of Iraq and Syria" (ISIS) from parts of Iraq it overran in the summer of 2014.
During a two-year deployment to oust ISIS, B-52s flew more than 1,850 missions from al-Udeid to Iraq, Syria and Afghanistan, and dropped nearly 12,000 bombs, the Air Force Times reported in April 2018.
According to US Air Forces Central (AFCENT), "air operations by coalition aircraft, including the B-52, were central in the effort to corner ISIS in Syria's Middle Euphrates River Valley".
"We prevented an ISIS resurgence by sweeping the areas that have been retaken, preventing a reinfestation," said Lt. Col. Daniel Lambert, director of operations for the 69th Expeditionary Bomb Squadron, in 2018.
Commitment to regional security
In November, US Central Command (CENTCOM) conducted a BTF mission which sent two B-52H Stratofortresses from the United States to the skies of the Middle East and Central Asia, in co-ordination with partner nations.
Two of the 13 partner nations involved were Israel and Saudi Arabia, Air & Space Forces Magazine reported, noting that participating countries provided fighter escorts for the B-52Hs at different points along the way.
The November mission "demonstrates our commitment to regional security and the collective capabilities of our military partners in the region", CENTCOM commander Gen. Michael "Erik" Kurilla said following the maneuver.
"CENTCOM has the ability to very quickly put a significant amount of combat power in the air alongside our partners," he said. "We can do the same on the ground and at sea to meet any challenge decisively."
"This Bomber Task Force is a clear reflection of enduring US commitment to the region," said 9th Air Force commander Lt. Gen. Alexus Grynkewich.
"Together with our partners, we can rapidly inject overwhelming combat power into our common operating area," he said.
"In this dynamic environment, no one can go it alone, and each BTF we execute allows us to deepen interoperability and practice key operational tasks with our allies and partners."
The US military plans to conduct a number of other BTF missions in the region in the coming year.
Exercise Juniper Oak
This year, between January 23 and 26, B-52s and Israeli warplanes participated in a joint exercise, Juniper Oak 23.2, that CENTCOM described as "the largest US-Israel partnered exercise in history".
About 6,400 US troops participated, alongside more than 1,500 Israeli troops, in an exercise designed to enhance CENTCOM's ability to rapidly deploy combat power to the region, it said.
The USS George H.W. Bush Carrier Strike Group, command and control elements, rescue and refueling aircraft took part in the long-range large force exercise that included a live fire exercise with more than 140 aircraft, it said.
Among them were a mix of jet fighters and long-range bombers, including B-52s, F-35s, F-15s, F-16s, FA-18s, AC-130 and AH-64s.
"Juniper Oak included four B-52s, twice as many as a typical Bomber Task Force mission," Air & Space Forces Magazine reported in January.
"We at CENTCOM will take the lessons learned from Exercise Juniper Oak and share and incorporate them with all our partners across the CENTCOM region," Kurilla said following the drill.
US-Saudi partnership
Saudi Arabia, which provided fighter escorts for the B-52Hs at different points during the November 22 BTF mission, has worked hand in hand with the United States for decades.
The US-Saudi Mutual Defence Assistance Agreement dates back to 1951.
In October, the kingdom participated in a mission in which two B-52H Stratofortresses "flew over the Eastern Mediterranean, Arabian Peninsula and Red Sea before departing the region", Aviation Source News reported.
"The mission also involved fighter escorts from the Royal Air Force and the Air Forces of Kuwait and Saudi Arabia", the outlet said.
"This kind of operation demonstrates the collective capabilities of the military partnership we've developed in the Middle East," Kurilla said, according to Aviation Source News.
In September, Saudi and US planes also participated in a combined BTF mission that also included fighter escorts from the United Kingdom and Kuwait.