For the first time since 2017, the George H.W. Bush Carrier Strike Group (CSG) is now operating in the Mediterranean Sea as the Russian invasion of Ukraine enters its 10th month and as global threats persist.
The USS George H.W. Bush is the 10th and most modern Nimitz-class super carrier of the US Navy.
In August, CSG-10, which includes the George H.W. Bush, guided-missile cruiser USS Leyte Gulf and guided missile destroyers USS Farragut and USS Truxtun, passed through the Strait of Gibraltar into the Mediterranean, USNI reported.
The George H.W. Bush earlier deployed with its escorts and air units from Naval Station Norfolk in Virginia on August 10, before pushing across the Atlantic into the Mediterranean, where it replaced the Harry S. Truman CSG.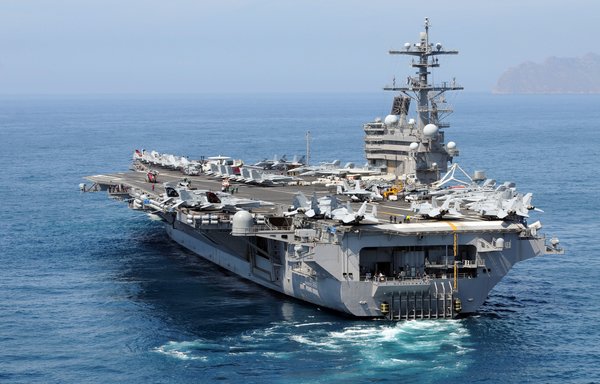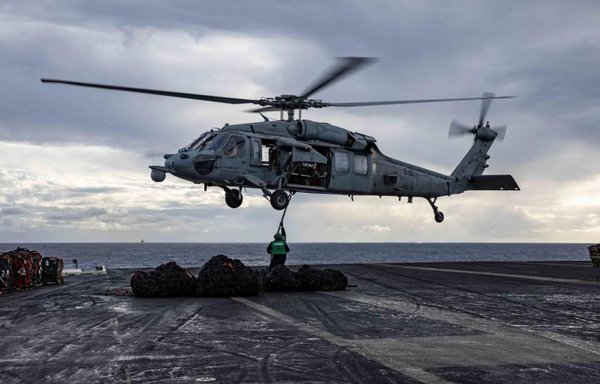 CSG-10 "will work alongside allied and partner maritime forces, focusing on theatre security co-operation efforts to further regional stability and demonstrate the strong maritime partnership between the United States and these allies and partners", it said in a statement.
"This marks the first time that USS George H.W. Bush has operated in the region since its 2017 deployment, after which it entered an extensive maintenance period."
In November, CSG-10 participated in NATO manoeuvres in the Atlantic and the Mediterranean Sea, bringing together five aircraft carriers from the United States, France, Italy and the United Kingdom.
The exercise was part of a joint operation across Europe meant to show NATO interoperability, the Pentagon said November 17.
"These operations present an opportunity for allied nations to co-ordinate critical combat power throughout the Euro-Atlantic area while showcasing NATO cohesion and interoperability," said Sabrina Singh, deputy Pentagon spokeswoman.
"It is also an opportunity to test allied co-operation and to practice NATO's deter-and-defend concepts across all geographic areas, operational domains and functional areas of the alliance," she said.
"The George H.W. Bush CSG will continue training with our NATO allies to further build our capability and deepen our interoperability while in the region," said Rear Adm. Dennis Velez, commander of CSG-10.
"Sustained integration of our combined naval power throughout the theater is key to deterring our adversaries and preventing war," he said in a statement on November 23.
"We are a defensive alliance but make no mistake that we are committed to defend every inch of NATO territory if need be."
Robust air power
The George H.W. Bush measures 333 metres in length and displaces more than 100,000 tonnes, making it one of the world's largest warships.
Its top speed exceeds 30 knots, and powered with two nuclear reactors, it can operate for more than 20 years without refueling.
The George H.W. Bush's Carrier Air Wing is the most robust in the US Navy and includes F-18 fighter jets, electronic attack aircraft, and attack helicopters.
Its planes and pilots have been central to numerous operations across the world for the past 20 years, including operations in Afghanistan, Iraq and Syria.
On June 15–16, the George H.W. Bush and its Carrier Air Wing completed two significant milestones in the ship's history, achieving both 80,000 catapult launches and recoveries on the flight deck.
"Eighty thousand, mishap-free launches and recoveries represent the keen attention to detail, unyielding procedural compliance, and the tremendous magnitude of hard work and effort it takes to keep the catapults and arresting gear running, again and again," said Cmdr. Michael Witt, air boss aboard the George H.W. Bush, at the time.
Countering threats
The US carrier strike group presence in the Eastern Mediterranean, with its robust carrier air wing capability, comes at a time when Russia's unprovoked invasion of Ukraine has heightened tensions globally.
Three Russian guided-missile cruisers have been spread across the Black Sea and the Mediterranean Sea, USNI News reported in February. Additionally, Russia has a 16-ship formation off Syria.
Meanwhile, China's massive infrastructure drive to connect its mainland to the Horn of Africa via a network of military and commercial facilities in recent years has raised concerns.
Its sea lines run through major maritime choke points including Bab al-Mandeb Strait at the entrance to the Red Sea; the Strait of Malacca, between the Indian and Pacific oceans; the Strait of Hormuz, at the entrance to the Persian Gulf; and the Lombok Strait, between the islands of Bali and Indonesia.
Beijing's global infrastructure drive -- known as the Belt and Road Initiative (BRI) or One Belt, One Road (OBOR) -- continues inland, reaching other parts of the Middle East, Central Asia and Africa.
China's ostensibly commercial projects serve a dual purpose, allowing its rapidly growing military to expand its reach, warn critics.
Iran is also a continuing source of regional tension, as it supports armed militants across the Middle East, violates international sanctions, and is now teaming up with Russia and its war in Ukraine.