A major military exercise involving heavy US bombers flying across the US Central Command (CENTCOM) region reinforced US commitment to allies across the world, according to military officials.
CENTCOM conducted what is known as a Bomber Task Force (BTF) mission on November 10.
During the mission, two B-52H Stratofortress aircraft flew from the US state of Louisiana to a region that includes the Middle East and Central Asia, and co-ordinated with 13 partner nation air forces along the way, a CENTCOM statement said.
One such co-ordination was with Israel. Israeli Air Force F-35 Adir fighter jets escorted the bombers above Israeli airspace on their way back from the Arabian Gulf.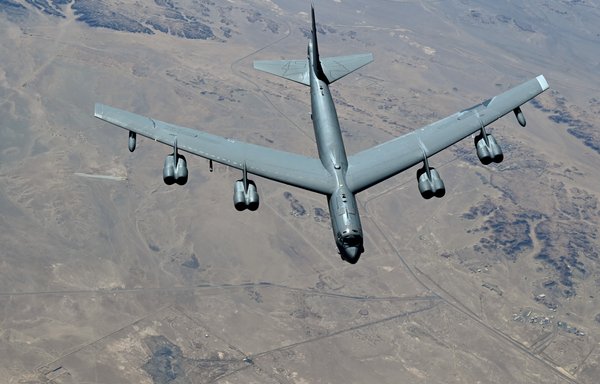 The flyover, with Israel's F-35s accompanying US bombers for the first time, demonstrates the "increasing co-operation" between the Israeli and US militaries, the Israeli Defence Force (IDF) said.
The flight of two B-52 bombers over the Middle East comes as US and Saudi officials continued to monitor an imminent threat to Saudi Arabia, a senior Defence Department official told Politico November 11.
Officials believe Tehran is planning an attack on the kingdom, likely on energy infrastructure, the official said.
The type of high-level co-ordination during the mission showcased "the ability to rapidly deploy global airpower alongside coalition and regional partner forces and ensuring the security of this critical region", CENTCOM said.
"CENTCOM has the ability to very quickly put a significant amount of combat power in the air alongside our partners. We can do the same on the ground and at sea to meet any challenge decisively," said Gen. Michael "Erik" Kurilla, commander of CENTCOM.
Later, CENTCOM also announced that Kurilla had held "meaningful discussions" with leaders from "all partnered militaries in the Middle East", including the chiefs of defence from Bahrain, Israel, Qatar, Saudi Arabia and others.
Collaboration and solidarity
"Together with our partners, we can rapidly inject overwhelming combat power into our common operating area. In this dynamic environment, no one can go it alone," said Lt. Gen. Alexus Grynkewich, Ninth Air Force (Air Forces Central) commander.
Royal Canadian Air Force Lt. Col. Terry Wong, a Canadian senior national representative, said the ongoing missions have "witnessed an exponential increase" in day-to-day co-operation between the partner nations involved.
"We are both enthusiastic and optimistic that future BTF missions will continue this trend of collaboration and solidarity," he said.
The exercise also marked the first multilateral use of a programme called Transverse, which aims to enhance operational situational awareness.
Seven nations monitored the task force on Transverse and will apply the lessons they learned to future operations, the CENTCOM statement said.
"Programmes like Transverse are a critical step to achieving a world class common operating picture in the CENTCOM area of responsibility," it said.
The Stratofortress is a long-range, heavy bomber that can perform a variety of missions, including strategic attack, close-air support, air interdiction, offensive counter-air and maritime operations, according to the US Air Force.
The bomber can fly at high subsonic speeds at altitudes reaching 15,240 metres, has a combat range in excess of 14,100 km, and can carry precision-guided ordnance with worldwide precision navigation.
The US military has conducted a number of similar co-ordinated flyovers in 2022, and facilitated six such missions throughout 2021. Of those, four involved B-52 bombers.
Reacting to threats
"Threats to the United States and our partners will not go unanswered," Grynkewich said following a similar bomber exercise in September.
Much focus has recently been placed on the Arabian Sea -- the waterway that all Iranian ships must pass to reach world ports, and a key link in China's "string of pearls".
Iran has long threatened to close the Strait of Hormuz, which links the Arabian Gulf with the Gulf of Oman and the Arabian Sea, and attack maritime vessels in the event of war.
Meanwhile, China's massive infrastructure drive to connect its mainland to the Horn of Africa via a network of military and commercial facilities in recent years has raised concerns.
Its sea lines run through major maritime choke points including Bab al-Mandeb Strait at the entrance to the Red Sea; the Strait of Malacca, between the Indian and Pacific oceans; the Strait of Hormuz, at the entrance to the Persian Gulf; and the Lombok Strait, between the islands of Bali and Indonesia.
Beijing's global infrastructure drive, -- known as the Belt and Road Initiative (BRI) or One Belt, One Road (OBOR) -- continues inland, reaching other parts of the Middle East, Central Asia and Africa.
China's ostensibly commercial projects serve a dual purpose, allowing its rapidly growing military to expand its reach, warn critics.
Central Asia is also facing external threats.
Russia under President Vladimir Putin is making up non-existent threats in Central Asia to maintain influence in what was once "its backyard", and is using military and economic blocs with ex-Soviet states to hold them down.
But in the fallout of its failing invasion of Ukraine, the Kremlin now faces a region eager to separate itself from Russia and seek new allies, creating elevated tensions.