A range of forward operating bases around the world enables US strategic bombers to strike at targets in the Middle East and Africa at a moment's notice if and when conflict erupts.
With tensions on the rise from Russia's invasion of Ukraine, Iran's ongoing quest to enrich uranium to weapon-grade levels, and China's threats to Taiwan and international shipping lanes, the US military is preparing to act if necessary to protect its allies around the world.
The United Kingdom hosts a critical air base in Fairford, where US bombers routinely conduct training missions with NATO allies.
The latest mission at Fairford ended last September after a month-long exercise across Europe involving B-52H Stratofortresses conducting aerial refuelling, fighter-bomber escort procedures, integration training and operations with a variety of partner and allied aircraft.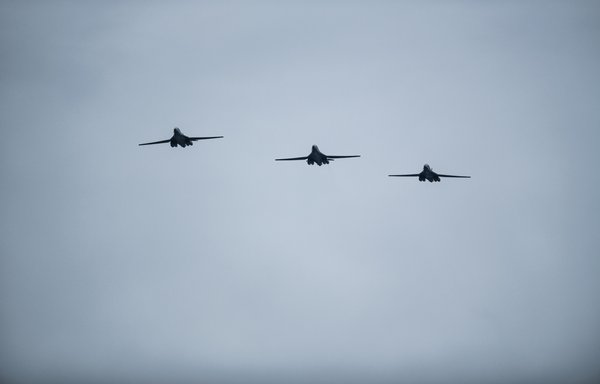 Such missions "provide a great opportunity to improve our combined readiness, promote interoperability and demonstrate our global power projection alongside our Allies", said US Air Force Gen. James Hecker at the time.
That marked the second time in 2022 that B-52s have flown to RAF Fairford for a Bomber Task Force (BTF) mission. Last February, four of the bombers arrived in Europe, and in 2021, B-1B bombers deployed at Fairford.
Another key air base that is enabling this quick strike ability is situated in Morón, Spain.
Its location in southern Spain allows US bombers to operate across a huge arc of territory.
Morón "is a strategic air base that can be used by any American plane moving eastbound from the United States", wrote David Cenciotti in the Aviationist in 2021.
The base is often used as a stopover by all US aircraft going to or returning from operations in the Middle East and beyond, he said.
Morón has hosted a number of US strategic bombers over the past few years, and most recently on February 27 the Air Force announced the deployment of four B-52 Stratofortress long-range heavy bombers to the base.
Another vital forward operating air base is Ørland in Norway.
In 2021, US B-1B Lancers arrived in Ørland, marking the first time these bombers operated out of the European country.
"Training with allies like Norway enables us to hone our deterrence and defence capabilities while also enhancing regional stability," said Gen. Jeff Harrigian, the US Air Forces in Europe-Air Forces Africa commander.
The B-1 mission in Norway followed a massive deployment of B-52s to the United Kingdom.
During that mission, US bombers ranged all over Europe, training with allied fighters and luring Russian forces into intelligence-gathering traps, according to Forbes.
"This seems to be a concerted effort to back up our allies, and to begin applying pressure to the Russians in a manner they understand," said Jerry Hendrix, a military analyst and author of To Provide and Maintain a Navy, according to Forbes.
A single B-1 can pack as many as 24 of the stealthy, 300-mile-range Long-Range Anti-Ship Missiles (LRASMs).
A flight of several B-1s thus could deliver roughly the same anti-ship firepower as an entire US Navy carrier air wing, wrote Forbes.
And the type's long range -- thousands of kilometres between refuellings -- gives it freedom of manoeuvre over vast territory, it said.
BTF missions
The US military regularly conducts BTF missions across the US Central Command (CENTCOM) region to reinforce US commitment to allies in the region and across the world.
The last one was conducted on November 10.
During the mission, two B-52H Stratofortress aircraft flew from the US state of Louisiana to a region that includes the Middle East and Central Asia and co-ordinated with 13 partner nation air forces along the way, CENTCOM said.
"Together with our partners, we can rapidly inject overwhelming combat power into our common operating area. In this dynamic environment, no one can go it alone," said Lt. Gen. Alexus Grynkewich, Ninth Air Force (Air Forces Central) commander.
"Threats to the United States and our partners will not go unanswered," Grynkewich said following a similar bomber exercise in September.
Much focus has recently been placed on the Arabian Sea -- the waterway that all Iranian ships must pass to reach world ports, and a key link in China's "string of pearls".
Iran has long threatened to close the Strait of Hormuz, which links the Arabian Gulf with the Gulf of Oman and the Arabian Sea, and to attack maritime vessels in the event of war.
Meanwhile, China's massive infrastructure drive to connect its mainland to the Horn of Africa via a network of military and commercial facilities in recent years has raised concerns.
Its sea lines run through major maritime choke points including Bab al-Mandeb Strait at the entrance to the Red Sea; the Strait of Malacca, between the Indian and Pacific oceans; the Strait of Hormuz, at the entrance to the Persian Gulf; and the Lombok Strait, between the islands of Bali and Indonesia.
Beijing's global infrastructure drive -- known as the Belt and Road Initiative (BRI) or One Belt, One Road (OBOR) -- continues inland, reaching other parts of the Middle East, Central Asia and Africa.
China's ostensibly commercial projects serve a dual purpose, allowing its rapidly growing military to expand its reach, warn critics.