"Islamic State of Iraq and Syria" (ISIS) remnants in Syria are now trapped in a small area near the Iraqi border, where they are being targeted by the Syrian Democratic Forces (SDF) and the international coalition.
ISIS was by late April almost "completely defeated" on the east side of the Middle Euphrates River Valley, coalition spokesman Col. Ryan Dillon said.
The SDF have been co-ordinating with Iraqi forces to tighten the siege around ISIS remnants and block them from trying to penetrate the border into Iraq.
"ISIS is taking its last breaths in Syria, where its remnants are now trapped in certain pockets in the Middle Euphrates River Valley and scattered areas in eastern Syria," SDF officer Farhad Khoja told Diyaruna.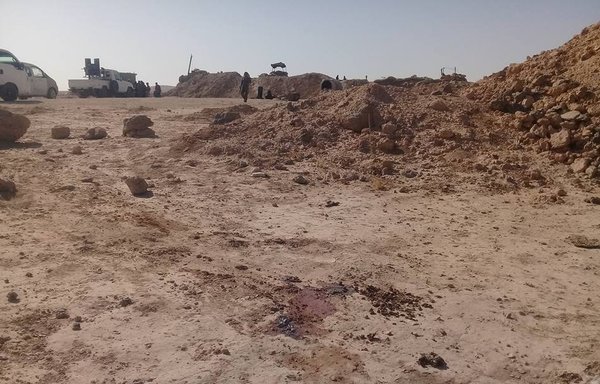 The group is trapped between Iraq and Syria, where the SDF are applying pressure as part of operation al-Jazeera Storm, he said, while Iraqi forces are blocking all border crossings the group might try to use as escape routes.
ISIS remnants in Syria are scattered across parts of south and south-western Deir Ezzor province and some areas east of the city of Homs, he said, as well as on the outskirts of the border town of Albu Kamal.
Desert stronghold surrounded
The group's most significant remaining stronghold is the area around al-Dashisha in the desert areas of al-Hasakeh province, Khoja said.
But this area is completely surrounded, he said, making it impossible for ISIS elements to escape and "leaving them with two solutions: either surrender to the SDF or die in battle".
Other areas that remain under ISIS control include Hajin, Abu Hamda, al-Tuwaymin and Tal al-Jayer, he added, noting that these areas are completely surrounded by Iraqi forces and the SDF.
The battles are proceeding based on the policy of gradual accretion of territory and advances, fully clearing an area then moving to another, he said.
Security forces must contend with desert terrain riddled with ISIS hideouts, and have had to clear mines and improvised explosive devices (IEDs) the group has planted as they advance, he said.
Coalition airstrikes carried upon the confirmed detection of activity by ISIS elements have been vital to the operation's progress, Khoja said.
The village of Baghouz Tahtani is the most recent to have been liberated, he added, with the SDF advancing towards Baghouz Fawqani.
Successful security co-ordination
Iraqi forces and the SDF are co-ordinating their actions under the auspices of the international coalition via a special operations room set up after several meetings, said SDF spokesman Mustafa Bali.
"This co-ordination is crucial to clearing the region of ISIS and subsequently securing the border between the two countries to prevent infiltration from or to either side," he told Diyaruna.
"The area's geographical terrain necessitated this co-operation that is yielding positive results for both sides," he said, noting that the town of Dashisha is now "totally surrounded".
ISIS remnants in the desert area between al-Hasakeh and Deir Ezzor provinces "are totally isolated and shunned by local residents", al-Hasakeh media activist Ammar Saleh told Diyaruna.
Residents of this area "totally reject the group", he said, and have been reporting any suspicious activity to the SDF.
"Most civilians have fled the areas that are still under ISIS's control and are waiting for the elimination of ISIS's presence before they return to their property," he added.