A new Iranian policy set forth by the country's leader that aims to strengthen ties with the East is in direct ideological conflict with the Islamic Republic's guiding principle, which stresses its singularity, observers said.
Iranian leader Ali Khamenei has set forth guidelines to implement a new "Look to the East" policy, tasking President Ebrahim Raisi with enforcing them.
But the main "revolutionary slogan" of the Islamic Republic, founded in 1979 by Rouhollah Khomeini, is "Neither East, nor West".
This slogan is emblazoned on Iran's main Foreign Ministry building in Tehran.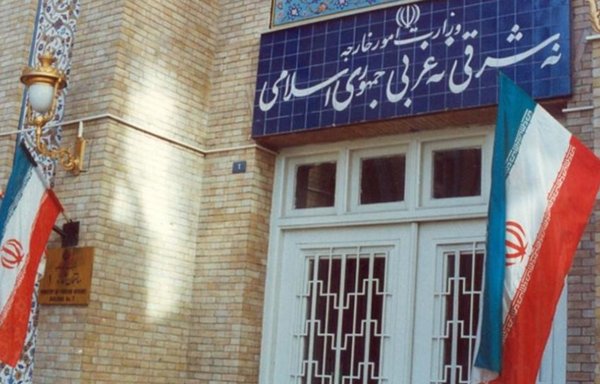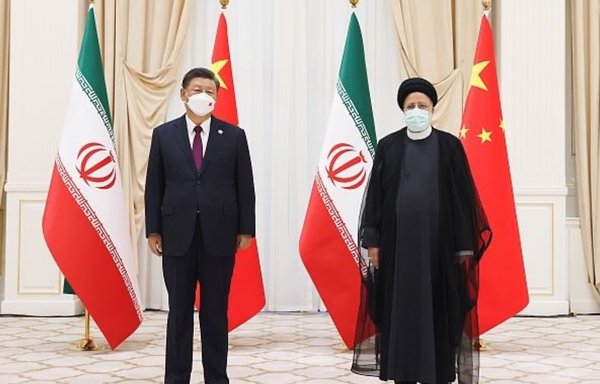 In pursuit of deeper ties with the East, Raisi travelled to Uzbekistan September 14 to meet with officials in Tashkent and take part in the Shanghai Co-operation Organisation (SCO) summit in Samarkand on September 15 and 16.
Iran's application to become a full SCO member was accepted for consideration on September 17, 2021, when on his first trip abroad as president, Raisi travelled to Dushanbe, Tajikistan, to participate in that year's SCO summit.
Tehran became a permanent SCO member during this year's summit in Samarkand, the organisation's 22nd, Iranian Foreign Minister Hossein Amir-Abdollahian announced September 17.
On the sidelines of the 22nd summit, Raisi conferred on regional and security matters with officials of multiple countries, notably Russia and China.
The SCO was founded in 2001 by the leaders of China, Russia, Kazakhstan, Tajikistan, Uzbekistan and Kyrgyzstan. India and Pakistan joined in 2016.
Unilateral profiteering
Iran has increasingly expanded its relations with eastern countries, chiefly China and Russia, under the pretext of stimulating its near-bankrupt economy and resisting international sanctions.
But rather than helping Iran's crisis-stricken economy, as government propaganda relentlessly claims, an SCO membership provides Moscow and Beijing with open and unilateral access to Iran's resources.
China, India, Pakistan, Russia, Kazakhstan, Uzbekistan, Kyrgyzstan and Tajikistan's combined imports amounted to nearly $3.118 trillion in the past year, said economist Said Mehdizadeh.
Iran's exports to these eight countries during the same period, however, were at a mere $12.26 billion -- less than 0.5% of their total imports, he said.
Now that Russia is saddled with sanctions of its own for invading Ukraine, China, which had previously accepted the risk of importing Iran's sanctioned oil and gas at deep discounts, has become more attracted to Moscow's cheaper supply, according to a Bloomberg report.
Moscow has threatened one of Iran's vital sources of income by attracting Tehran's former clients, it said, forcing Iran to further reduce the price of its already cheap crude oil.
Accordingly, Tehran had to drop the price of its exported crude oil to match the level of Russian Urals, said the report.
The Iranian government had signed two long-term strategic agreements with China and Russia, respectively, prior to announcing Tehran's membership in the Shanghai Treaty.
Many analysts described these agreements as "selling Iran".
SCO membership not welcomed
Between 2003 and September, when it joined the SCO, Iran was an "observer state" in the organisation, which rejected its request for permanent membership in 2015.
Russia prevented Iran from joining the organisation, observers said.
Now, they say, with Raisi's government increasingly turning to Russia, Moscow appears to have abandoned its former opposition to Iran's permanent membership.
Contrary to the Islamic regime's propaganda, Iran's membership in the SCO will not advance its economy, international policy analyst Khosrow Jafari told Al-Mashareq.
"Russia always has been concerned about the danger of Islamism-influenced movements, from the Caucasus to Tatarstan, and hence the Shanghai group was practically formed to confront the Islamists," he said.
"The Iranian regime, which regards the export of Islamic terrorism as a principle of its foreign policy, has to stop strengthening Islamist movements, at least in Asia, in order to please Moscow and Beijing and to be fully accepted in the SCO," Jafari said.
The announcement of Iran's membership in the SCO received disapproval from Iran's private sector and its economists, who said it would be no remedy for an economy isolated and disconnected from the global banking network.