The Gulf states must do more to support the global economy by taking measures to curb oil prices, which have soared following Russia's assault on Ukraine, analysts said.
Saudi Arabia, which has sufficient spare oil production, should pump additional quantities of oil to curb price hikes and restore stability to global markets, they said.
Speaking at the Doha Forum via videolink on Saturday (March 26), Ukrainian President Volodymyr Zelenskyy appealed to energy-rich countries to increase their exports to give European nations an alternative to Russian oil and gas.
And on Sunday, US Secretary of State Antony Blinken said he would be discussing "the work in this region, both in support of Ukraine and in standing against Russia's aggression, including through the imposition of sanctions and export controls" during meetings with regional partners.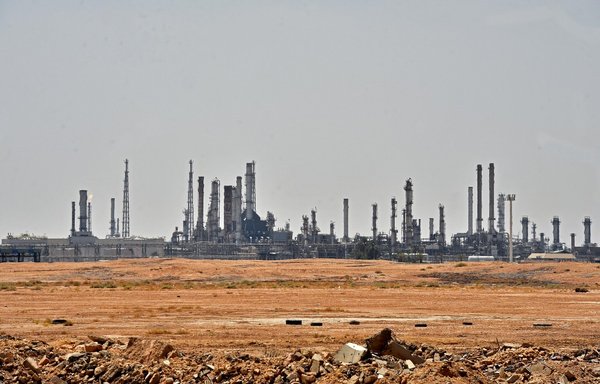 After Russia's February 24 invasion of Ukraine, Gulf states -- with the exception of Kuwait -- initially failed to take a position against Russia, referring to the invasion as a "crisis" and calling for a diplomatic solution.
On March 2, however, all six Gulf Co-Operation Council (GCC) states backed a United Nations General Assembly resolution demanding that Russia halt its invasion of Ukraine and withdraw all troops.
Yet Saudi Arabia and the United Arab Emirates (UAE) have been careful to maintain neutrality, mainly for economic reasons, analysts said, warning that this is bound to backfire.
"The ambiguity of the Gulf positions, especially that of Saudi Arabia, regarding the Russian war on Ukraine... will have negative repercussions on the kingdom's relationships," said Abdullah al-Dakhil, a political science lecturer at King Saud University in Riyadh.
Beyond economic gains
At this critical time, the Gulf states cannot be thinking merely in terms of profit and loss, Al-Sharq Centre for Regional and Strategic Studies researcher Sami Gheit told Al-Mashareq.
"It has become clear that Saudi Arabia wants to derive maximum possible benefit from the rise in global oil prices, which have reached record levels not seen in eight years," he said.
For this reason, the kingdom does not want to boost oil production, even though it has the capability to fill any urgent shortfall in oil supply, Gheit said.
But Russia benefits from the high price of oil as well, he warned, noting that the Gulf's reluctance to boost production "constitutes support for Russia and contributes to its continuation of the war".
The Gulf position must be "decisive" in condemning the war, he said, and Gulf states "must start pumping additional quantities of oil from reserve stocks and increase production to curb the rise in prices".
Saudi Arabia is one of the few countries able to increase production by up to two million barrels a day on short notice, he added.
In a February 28 interview with Politico, Russian and European affairs specialist Fiona Hill said Russia "would not be able to afford this war were it not for the fact that oil and gas prices are ratcheting up".
But this will not be sustainable over the long term, she said, urging Saudi Arabia to increase oil production "right now as a temporary offset" and warning that the kingdom is "indirectly funding war in Ukraine by keeping oil prices high".
Unified international stance
"What will stop this war is a unified international stance against it and firm positions against Russia," said Ain Shams University economics professor Fakhruddin Awadallah.
He noted that the unified position of the West "remains somewhat weak if the Gulf states do not join in, take public and clear decisions that condemn Russia and prevent it from benefitting from the rise in global oil prices".
The global economy has been shaken by the war, and the impact will soon extend to the Gulf states "on a dramatic scale", he warned, noting that profits generated from high oil prices will not be sufficient to fix the situation.
"A state like Russia certainly relies on [the revenue from] its natural resources, particularly oil, to maintain its military arsenal," said Saudi military expert Mansour al-Shehri.
"Without oil revenues, the cost [of war] would be exorbitant and shake the Russian economy and the Russian interior," he told Al-Mashareq.
The Gulf states hold the key to the solution, by taking a firm stance against Russia's invasion of Ukraine and supplying world markets with the additional quantities of oil they need, al-Shehri said.
"Saudi-US and Saudi-European relations are essential and indispensable, and considerably stronger than Saudi-Russian relations," he noted.
Any destabilisation of these relations also would affect regional security, he said, noting that the US presence in the Gulf is the safety valve for the region.
A US guided missile destroyer and fighter jets were deployed in February to assist the UAE after a spate of Houthi missile attacks on its territory.
The US warship USS Cole has been active in the region, conducting patrols and maritime security operations to ensure the free flow of trade and disrupt the transport of illicit cargo that often funds terrorism and other unlawful activity.