Russia's launch on Tuesday (August 9) of an Iranian spy satellite is the most recent manifestation of a deepening relationship between two countries that are increasingly isolated on the world stage, observers said.
There are other signs that show the two nations moving closer together as they face international sanctions for their actions, which include aggression towards their neighbours via state forces or armed proxies.
But Iran's growing ties with Russia have sparked concern inside Iran, where some say the Iranian regime has tied the fate of the country to Moscow's policies and has dragged it to a precipice.
On July 20, Russian President Vladimir Putin visited Iran for talks with Iranian leader Ali Khamenei and President Ebrahim Raisi.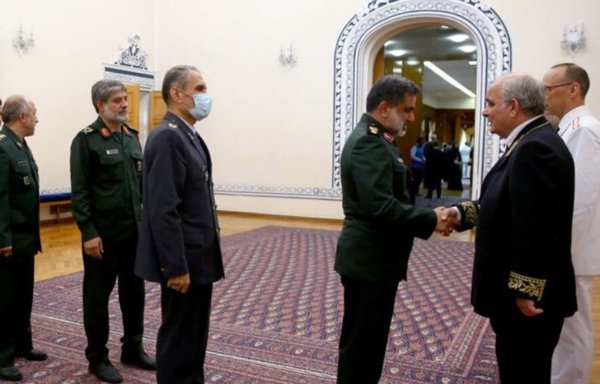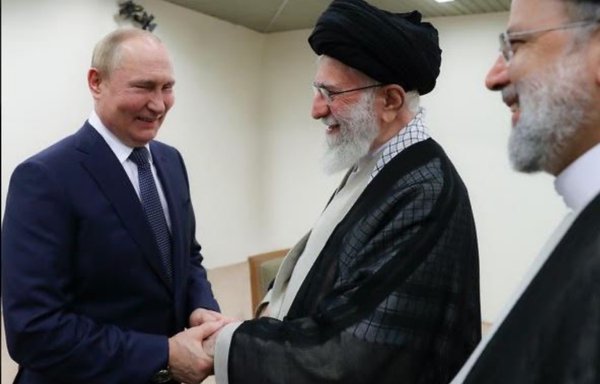 The visit was Putin's first trip outside the former Soviet Union since Russia's invasion of Ukraine on February 24, underscoring the significance of the ties, observers noted.
Immediately after the meeting, Iran said it had signed an agreement with Russia for a "long-term deal" for Russian investment in Iranian oil, describing it as the "largest investment in Iran's history", without offering details.
Two weeks later, the Iranian space agency announced that Russia would launch an Iranian remote sensing satellite, the Khayyam, into orbit from the Baikonur space station in Kazakhstan via a Soyuz satellite carrier.
The satellite blasted off from Kazakhstan early Tuesday and went into orbit amid controversy that Moscow might use it to improve its surveillance of military targets in Ukraine, AFP reported.
A live feed from Russian space agency Roscosmos showed the launch of the Soyuz-2.1b rocket carrying the Khayyam satellite from the Russia-controlled Baikonur cosmodrome at the scheduled time of 0552 GMT.
The Russian mission control confirmed its subsequent entry into orbit.
Iran insists its space programme is for civilian and defence purposes only, and does not breach the 2015 nuclear deal, known as the Joint Comprehensive Plan of Action (JCPOA), or any other international agreement.
Western governments worry that satellite launch systems incorporate technologies interchangeable with those used in ballistic missiles capable of delivering a nuclear warhead, AFP reported.
Iran put its first military satellite into orbit in April 2020.
In March, the Islamic Revolutionary Guard Corps (IRGC) announced it had successfully put a military "reconnaissance satellite", Nour-2, into orbit.
Iran, Russia move closer
With Russia facing a shortage of military equipment amid its war on Ukraine, Tehran reportedly intends to sell drones to Moscow.
A Russian delegation recently visited Iran at least twice to discuss the purchase of drones capable of carrying guided missiles, CNN reported on July 16.
Iran's Civil Aviation Organisation said July 26 that Iran and Russia had agreed to increase the number of flights between the two countries to 35 per week.
Another agreement will be signed for "exporting Iran-manufactured parts and equipment to Russia and performing technical service and repair work on Russian planes in Iran's plane repair centres", it said.
During his meeting with Putin in Tehran, Khamenei called for strengthening "long-term co-operation" with Russia, abandoning the conservative tone he had used regarding Russia's aggression against Ukraine to praise Putin for the war.
If Putin had not taken the initiative, Khamenei alleged, Ukraine would have started a war, adding that NATO is a "dangerous creature".
Following these remarks, the daily Javan, a publication affiliated with the IRGC, referred to Russia's invasion of Ukraine as a "legitimate and pre-mediated defence" and a "defensive jihad".
Khamenei's defence of Russia's aggression against Ukraine provoked critical reaction inside Iran, with political activists and journalists expressing concern about his remarks, particularly in reference to NATO.
Oil and gas development
On the sidelines of the July 19 Tehran Summit, the Russian company Gazprom signed a $40 billion agreement with the National Iranian Oil Co. (NIOC).
NIOC chief executive officer Mohsen Khojstemehr said plans have been made for the development of Iranian oil and gas fields over an eight-year period.
During this time, he said, "$160 billion will be spent on gas and oil development of oil and gas fields, oil production capacity will reach 5.7 million barrels per day (BPD) and gas production will reach 1.5 billion cubic metres per day."
Many energy analysts have characterised the agreement as a "political gesture" by two isolated and sanctioned countries.
Oil and gas analyst Mohammad Khoshzad pointed to the inordinate period Russia needed to complete the Bushehr nuclear power station for Iran.
The project lasted from 1995 to 2011.
Russia signed seven agreements and two oil contracts with Iran during the administration of former president Hassan Rouhani, but none were implemented after the United States withdrew from the JCPOA in 2018.
Iran's oil and gas equipment is based on Western technology, Khoshzad said, noting that there are serious doubts about Gazprom's ability to develop Iranian oil and gas fields.
Falling into Russia's trap
In the face of international isolation and severe economic crisis, Iran has fallen into the trap of another autocratic government -- Russia -- according to Ramin Azarvand, a scholar of Iran's politics.
"Commanders of the IRGC lined up in Tehran on Russia's national day [June 12] to congratulate the ambassador of that country in Iran, which made one of the most disgraceful scenes we have witnessed in recent decades," he said.
"Moscow sees the Islamic Republic practically as a slave that must implement every order without question," he said, pointing to its "obstruction of the JCPOA's revival and encroachment on Iran's share of the Caspian Sea".
On social media, many Iranian users compared the Tehran-Moscow oil contract to the 1813 Treaty of Gulistan and 1828 Treaty of Turkmenchay, which forced Persia to cede or recognise Russian influence over formerly Persian territories.
Some bitterly recalled how the Russian government kept Azarbaijan province under its occupation for a long time after the end of World War II.
As Iranians grapple with economic and social pressure, many have expressed concern that Tehran is cozying up to Russia, evading sanctions and cracking down on peaceful protests.
Though an agreement to return to the terms of the JCPOA would mean a rollback of sanctions that would boost Iran's economy and world standing, it has as yet failed to demonstrate a clear will to engage in fruitful negotiations.