The United States recently sanctioned an international network of companies involved in the sale of hundreds of millions of dollars' worth of Iranian petrochemicals and petroleum products to end users in South and East Asia.
The move comes amid reports that Iran increased its oil exports to China in June and July, in violation of sanctions, despite facing increased competition from Russian crude that forced it to slash its prices.
The sanctions on eight entities, announced September 29, target Iranian brokers and front companies in the United Arab Emirates (UAE), Hong Kong and India.
These companies have "facilitated financial transfers and shipping of Iranian petroleum and petrochemical products", the US Treasury said in a statement, and have played a critical role in concealing the origin of the Iranian shipments.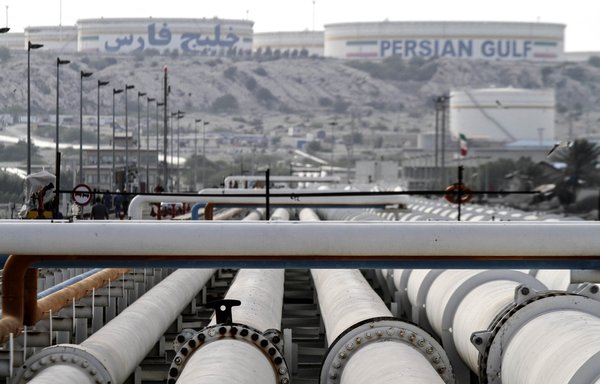 They have enabled two sanctioned Iranian brokers, Triliance Petrochemical Co. Ltd. (Triliance) and Persian Gulf Petrochemical Industry Commercial Co. (PGPICC), to transfer funds and ship Iranian petroleum and petrochemicals to buyers in Asia, it said.
The same day, the US Department of State announced it was blacklisting two China-based entities -- Zhonggu Storage and Transportation Co. Ltd. and WS Shipping Co. Ltd. -- for their involvement in Iran's petrochemical trade.
On August 1, the Treasury blacklisted companies supporting PGPICC.
On July 6, it sanctioned a Gulf-based network facilitating Iranian petrochemical and petroleum sales.
And on June 16, it targeted an international sanctions evasion network supporting Iranian petrochemical sales in East Asia.
Even as it engages in deceptive shipping practices, the Islamic Republic has continued to threaten oil vessels in the Strait of Hormuz with acts of piracy.
With the current global energy crisis triggered by Russia's invasion of Ukraine, the Strait of Hormuz -- a chokepoint through which a fifth of world oil output passes -- has become even more critical.
Iran's SCO membership
Iran has increasingly expanded its relations with eastern countries, chiefly China and Russia, under the pretext of stimulating its near-bankrupt economy and resisting international sanctions.
In pursuit of deeper ties with the East, Iranian president Ebrahim Raisi travelled to Uzbekistan September 14 to meet with officials in Tashkent and take part in the Shanghai Co-operation Organisation (SCO) summit in Samarkand.
The SCO was founded in 2001 by the leaders of China, Russia, Kazakhstan, Tajikistan, Uzbekistan and Kyrgyzstan. India and Pakistan joined in 2016.
Tehran became a permanent SCO member during the summit in Samarkand, Iranian Foreign Minister Hossein Amir-Abdollahian announced September 17.
According to some analysts, however, including international policy analyst Khosrow Jafari, Iran's membership in the SCO will not advance its economy, as the Iranian regime's propaganda claims it will.
An SCO membership would give Moscow and Beijing open and unilateral access to Iran's resources, Jafari told Al-Mashareq.
Between 2003 and September, when it joined the SCO, Iran was an "observer state" in the organisation, which rejected its request for permanent membership in 2015. Analysts say Russia had prevented Iran from joining the organisation.
Now, they say, with Raisi's government increasingly turning to Russia, Moscow appears to have abandoned its former opposition to Iran's permanent membership.
Corruption in Iranian government
Meanwhile, Iran's largest steelmaker, Mobarakeh Steel Company, is under investigation by the Majles (Iranian parliament) for a corruption scheme reaching $3 billion and largely attributed to former president Hassan Rouhani's administration.
The case has turned into a bitter point of contention between hardliners, who have taken over power since Raisi became president, and reformists, whose president was Rouhani.
Mobarakeh Steel Company officials are accused of extensive violations, including nepotism, corruption, bribery and making illegal payments to the Iranian Revolutionary Guard Corps (IRGC), as well as the offices of Friday prayer leaders.
In another recently revealed case, executives of Mehr Petrochemicals, an Iranian company tasked with repatriating earnings from sales, are accused of embezzling $170 million.
Mehr Petrochemicals exports products and receives government dollars at preferential rates. But it has reportedly failed to return $170 million to Iran. No trace of the money has been found as of yet.
The majority of the embezzlement reportedly took place when Raisi was head of Iran's judiciary.
The Islamic Republic continues its acts of corruption, embezzlement and money laundering, mostly through the IRGC, which holds the lion's share of Iran's economy and enjoys the staunch support of Iranian leader Ali Khamenei.
Meanwhile, the Iranian public continues to suffer the consequences of the regime's mismanagement and misplaced priorities and grapples with major economic challenges, to include unemployment and sky-high inflation.