Despite the escalating humanitarian crisis and repeated appeals for peace, Iran through its Islamic Revolutionary Guard Corps (IRGC) continues to pursue a path of war in Yemen, sending operatives and commanders to the frontlines, and smuggling weapons into the country that are fuelling the bloody conflict.
Evidence abounds of the IRGC's role in exacerbating the conflict.
Most notably are the numerous shipments intercepted by international and Arab coalition naval forces of Iranian arms destined for the Houthis off the Yemeni coast.
"Iran has repeatedly denied any involvement in the trafficking of arms to the Houthis. However, a preponderance of evidence points to Iranian state supply," said a recent study by the Global Initiative against Transnational Organised Crime.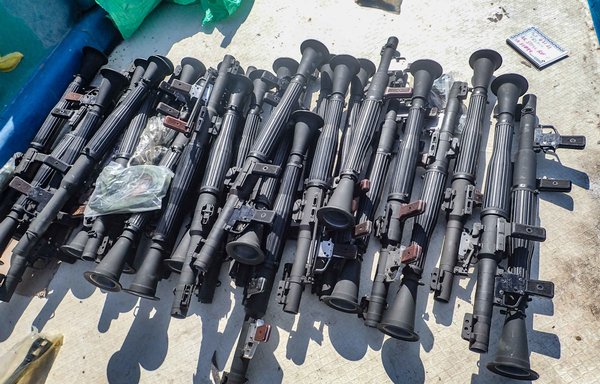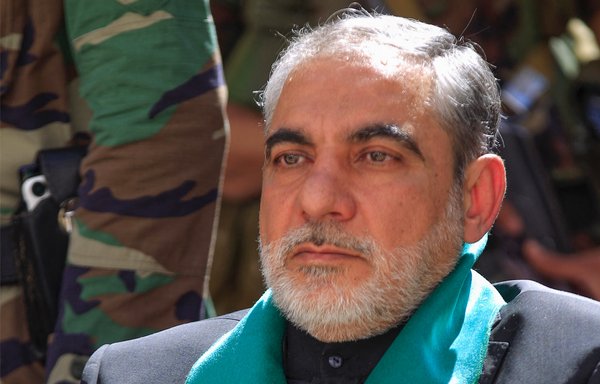 Weapons originating in the Iran–Yemen arms trade are sometimes being trafficked onward into Somalia, it noted.
The study, published November 10, drew on data from more than 400 weapons documented in 13 locations across Somalia over eight months and inventories from 13 dhows intercepted by naval vessels, the Geneva-based think tank said.
"Signs the weapons were originally supplied by Iran included serial number proximity among captured weapons, the routine presence of Iranian manufactured materiel in seizures, the use of similar packaging and GPS [Global Positioning System] tracks of seized arms-trafficking dhows," the study said.
Human intelligence gathered from within smuggling gangs also indicates "with high likelihood" that maritime shipments of arms to the Houthis originate from Iran, it added.
One dhow carrying weapons which was seized by a US navy vessel had a GPS with stored points in Iran, southern Yemen and Somalia, the report said, including a small anchorage near Jask port, which hosts an Iranian naval base.
12 successful interdictions
"The existence of long-established commercial trade routes linking the Persian Gulf with the Indian Ocean and Gulf of Aden has facilitated the movement of illicit weapon shipments," the report said.
"Frequent rendezvouses and trans-shipment between dhows of Iranian, Yemeni and Somali origin have served to disguise the provenance of weapon shipments and evade detection by authorities," it said.
Despite this, the report added, since September 2015 international naval forces have carried out 12 maritime interdictions of weapon shipments believed to have been destined for the Houthis in Yemen.
Most recently, two maritime interdictions of arms-smuggling dhows were carried out by the USS Winston Churchill in February and the USS Monterey in May off the coast of Somalia and in the Arabian Sea, respectively.
Seized weapons originating from Iran were also removed from two separate vessels in November 2019 and February 2020, and kept in US custody while assessment of the material was conducted, according to US Central Command.
This was the United States' largest-ever seizure of weapon shipments from Iran.
On December 7, the US Department of Justice announced it had successfully forfeited these weapons, which included 171 surface-to-air missiles, eight anti-tank missiles, as well as "land attack cruise missile components, anti-ship cruise missile components, thermal weapons optics and other components".
"The illegal transfer of Iranian-made weapons poses a significant and immediate threat to our national security," said Kelly P. Mayo of the US Department of Defence's Defence Criminal Investigative Service.
"The judgement announced today is an important step in our efforts to identify, disrupt, and bring to justice those who imperil resources vital to our safety."
Iran fuels war in Yemen
In addition to weapons, IRGC-linked groups transport Captagon tablets and other illegal substances across the region's borders to finance the IRGC or its affiliates.
Most smuggling operations are carried out using traditional fishing boats.
This is the preferred method, Cairo-based Yemeni journalist Mona Mohammed explained, because of the prevalence of fishing activity and the proliferation of fishing vessels, which makes it impossible for the authorities to monitor all of them.
"Combating smuggling in the Arabian Sea and off the shores of the Arabian Gulf is very difficult because of the vast lengths of the shores overlooking these waters," she said.
"Smugglers take advantage of this to carry out all sorts of smuggling operations, none more than the IRGC," she told Al-Mashareq.
"The arms and drugs shipments that were destined for Yemen unequivocally confirm Iran's determination to fuel the violence and war in Yemen," said Abaad Studies and Research Centre director Abdulsalam Mohammed.
This interference is occurring "to such a degree that it would be difficult to imagine the implementation of any peace initiative", he said.
Local civilians have been playing a critical role in preventing drugs and weapons trafficking in the waters of the Gulf region and along its coastlines.
"The scope of surveillance expands significantly with every citizen, fisherman and worker on the beach looking out for any smuggling attempt," said Rashid Mohammed al-Marri, formerly of the Dubai police anti-narcotics department.
"Smugglers often are local residents or collaborators, and news of their operations circulates in narrow circles, making them liable to be discovered and reported," he said.
IRGC officers on the frontlines
Regular sightings of Lebanese Hizbullah and IRGC military commanders in Yemen also serve to show the extent of Iran's meddling in Yemen's war, officials and experts in Yemen said.
The Yemeni government has on several occasions confirmed the presence of Iranian and Hizbullah commanders on Yemeni soil, said Yemen's Deputy Minister of Justice Faisal al-Majeedi.
They have mainly "focused on enhancing and developing the Houthis' massive military power, which the Iran-backed group could not have done on its own", he said.
The goal for Iran and the Houthis is "victory in Marib", he said, which would award the group near-total control of northern Yemen, access to key oil and gas infrastructure, and an upper hand in talks aimed at ending the conflict.
Iran's ambassador to the Houthis in Sanaa, Hassan Eyrlou, has played a key role in that battle.
Eyrlou, "who is in fact an IRGC officer and was one of Qassem Soleimani's deputies, was carefully chosen to lead Iran's battle in Yemen", al-Majeedi said.
On August 25, the military court in Marib issued a death sentence in absentia against Eyrlou, who is accused of "espionage, sabotage and participating in hostile actions against Yemenis and the Yemen National Army".
The Arab coalition has recently also been targeting sites in Sanaa linked to ballistic missiles and drones stored and used by the Houthis.
Saudi Arabia on December 7 said it had launched overnight air raids against targets in Yemen in retaliation for a ballistic missile fired by Houthis at the kingdom, destroying the launch site in Sanaa, AFP reported.
Escalating humanitarian crisis
According to the United Nations Children's Fund (UNICEF), 10,000 Yemeni children have been killed or maimed since March 2015, when the Saudi-led Arab coalition intervened in support of the Yemen government after the Houthis' coup.
Many incidents during which children die or get injured remain unrecorded, UNICEF spokesman James Elder said, noting that four out of five children -- some 11 million in total -- require humanitarian assistance in Yemen.
Meanwhile, about 400,000 suffer from severe malnutrition, and more than two million have dropped out of school, he said.
A meeting focused on protecting children and the victims of armed conflict was held on the sidelines of the 76th session of the UN General Assembly in September.
One of the facts presented was that the Houthis have recruited more than 35,000 children since 2014, 17% of whom were under the age of 11 at the time of recruitment, and that 6,729 children are fighting on Houthi fronts.
Yemen-based economist Fares al-Najjar said a recent UNICEF report is "a reflection of the economic crisis that the country is experiencing due to the war, which has created the worst humanitarian crisis known to humanity in the modern era".
"More than 21 million Yemenis are currently in need of humanitarian assistance," he said.
The number of underaged victims is growing steadily, he added, because the economic crisis is worsening, the national currency is in free fall and inflation is on the rise.