ADEN -- The US Navy seized two illicit shipments of weapons and weapons components from two dhows during a maritime security operation in international waters off the coast of Somalia last week.
During a two-day operation conducted February 11 and 12, teams from the guided-missile destroyer USS Winston S. Churchill discovered the weapons during a flag verification boarding, the US Navy said.
The boarding was conducted in accordance with international law and in international waters, the Navy said.
"The cache of weapons consisted of thousands of AK-47 assault rifles, light machine guns, heavy sniper rifles, rocket-propelled grenade launchers, and crew served weapons," the Navy said in a Tuesday (February 16) statement.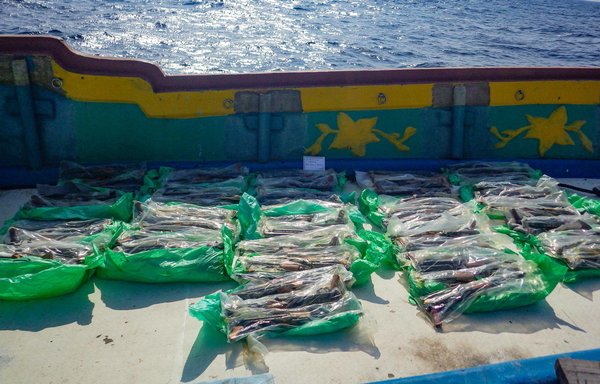 Other weapon components included barrels, stocks, optical scopes and weapon systems, it said.
The US Navy conducts regular maritime security operations in the region, which include patrols to ensure the free flow of commerce and to disrupt the transport of illicit cargo that often funds terrorism and unlawful activity.
The USS Winston S. Churchill is deployed in support of the US 5th Fleet, headquartered in Bahrain, which conducts joint and naval operations in order to support regional allies and partners and US national security interests.
The original source of the weapons has not yet been identified, and the Navy did not provide details of the illicit cargo's destination.
But it is well known that Iran has routed previous shipments of arms to Yemen's Houthis (Ansarallah) via Somalia.
Iran's arms smuggling routes
In its July/August 2020 report, the Global Initiative Against Transnational Organised Crime (GI-TOC) said that Iranian weapons supplied to the Houthis in Yemen are first being smuggled to Somalia.
"Iran's supplies of weapons and ammunition to the Houthi insurgency have been well documented in a series of maritime seizures of dhows dating back to 2015," the Risk Bulletin report said.
"Evidence has emerged to suggest that some of these Iranian weapons may subsequently be trafficked by criminal networks into the Horn of Africa from Yemen (or even be diverted while en route to Yemen)," it said.
Political analyst Adel al-Shujaa said that Iran has been shipping weapons to the Houthis since the 1990s, and that large quantities of weapons have been seized over different periods of time.
"Iran is not hiding its relationship with the Houthis, and the Houthis are not denying that they are fighting alongside Iran," he said.
The proliferation of photos of the late Islamic Revolutionary Guard Corps Quds Force (IRGC-QF) commander Qassem Soleimani on the streets of Sanaa "is the best proof of that", he said.
"Many military Iranian commanders say they have transferred military technology to the Houthis," he said.
Abolfazl Shekarchi, spokesman for Iran's Armed Forces Joint Staff Headquarters, recently admitted Iran has "shared missile technology and experience with Yemenis".
In a January 25 report to the United Nations (UN) Security Council, a panel of experts detailed an "increasing body of evidence" that Iran is supplying "significant volumes of weapons and components to the Houthis".
This supply of arms violates UN Security Council Resolution 2216, which calls for all parties in Yemen to immediately and unconditionally end violence.
The panel documented three routes used by the IRGC to smuggle weapons to the Houthis -- including a route via the Somalian coast that it said is mostly used for supplying small and light weapons.
Actions stymie peaceful solution
Political analyst Mahmoud al-Taher said Iran's continued smuggling of weapons to the Houthis runs counter to the will of global powers, which are trying to move towards a peaceful solution and an end to the war in Yemen.
"Iran has turned Yemen into the primary front of confrontation with regional countries, and is harming global economic interests by smuggling weapons on a large scale to its proxy in Yemen," he said.
"Iranian weapon shipments to the Houthis are destabilising the region and spreading chaos across it," he added. "They also are undermining efforts to restore peace and are violating UN Security Council resolutions."
Yemen's Information, Culture and Tourism Minister Muammar al-Eryani noted in statements to the press that it is "Iran's policy to wreak havoc across the region", pointing to its "flagrant interventions in Yemen's affairs and its aggression on Yemenis".