Iranian-made weapons seized from a dhow in the Arabian Sea that was heading for Yemen on February 9th are assessed to have been destined for the Houthis (Ansarallah), the US military said.
Guided missile cruiser USS Normandy, a US Navy vessel operating as part of a surface combat group that is based at the US Navy's 5th Fleet headquarters in Bahrain, made the discovery while conducting maritime security operations.
Military personnel boarded the dhow in accordance with international law and discovered a large cache of weapons on board, said US Central Command (CENTCOM), which administers US military affairs in the Middle East.
The weapons seized include 150 Dehlavieh anti-tank guided missiles (ATGM), which are Iranian-manufactured copies of Russian Kornet ATGMs, it said.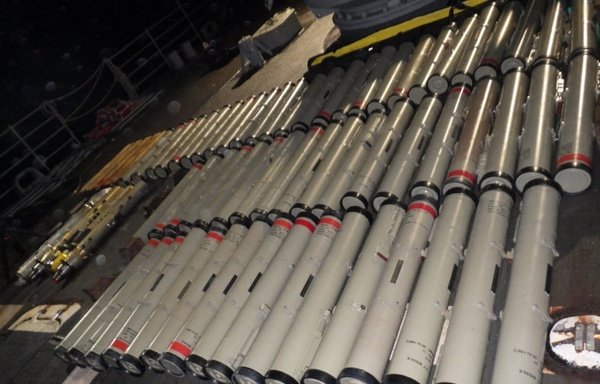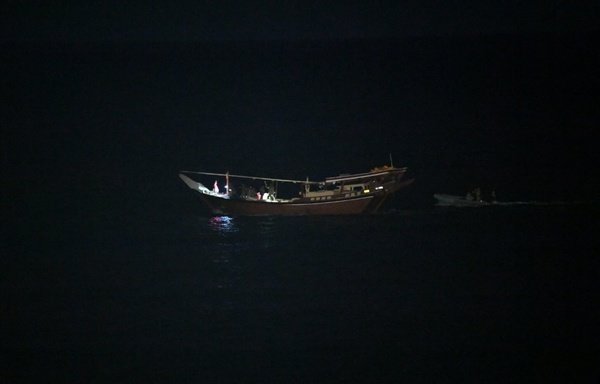 Other weapons components seized were of Iranian design and manufacture.
They included three surface-to-air missiles, thermal imaging weapon scopes, and components for unmanned aerial and surface vessels, as well as other munitions and advanced weapons parts, CENTCOM said.
The weapons systems seized on February 9th are "identical" to a cache of weapons seized in the Arabian Sea by guided-missile destroyer USS Forrest Sherman on November 25th, it noted.
In both cases, it said, the supply of Iranian arms to the Houthis in Yemen violates a UN arms embargo in effect since April 2015.
The seized weapons are in US custody at present, CENTCOM said, noting that assessment of the material will be an interagency and international effort.
Iranian weapons shipments
The weapons seized from the dhow are "very sophisticated", political analyst Faisal Ahmed told Al-Mashareq, noting that they would no doubt have enhanced the Houthis' capabilities had they reached their intended destination.
"Iran continues to smuggle weapons, ballistic missiles, anti-tank guided missiles and some other sophisticated weapons, which the Houthis use in carrying out military operations to serve Iran," he said.
These weapons have been used to attack Saudi facilities and civilian infrastructure, he said, and to target international shipping routes in an attempt to destabilise world trade.
"The seized shipments are just a small part of many arms shipments which Iran's Islamic Revolutionary Guard Corps (IRGC) managed to smuggle to the Houthis in violation of the arms embargo on Yemen," he noted.
The recent arms seizures confirm that the Houthis are not just an ally to Iran, but a subordinate that receives orders and directives from it, Abaad Centre for Strategic Studies head Abdul Salam Mohammed told Al-Mashareq.
Violation of UN arms embargo
"Iran has been violating the arms embargo, destabilising regional peace, supporting the continuation of war in Yemen and supplying the Houthis with dangerous weapons that threaten regional and international security," he said.
Through its actions, Iran has confirmed it relies on its proxies in any regional escalation, whether with the Gulf or the US, Mohammed said.
By supporting its proxies in Yemen, he added, Iran is seeking to ensure it will be able to have a presence in Bab el-Mandeb strait, from whence it will seek to threaten international trade routes and oil and energy sources.
Mohammed noted that while the Arab Coalition regards the war in Yemen as a conflict that is nearing its end, it seems from its recent actions that Iran looks at it as a beginning to a second phase.
If Iran succeeds in gaining a foothold in Yemen, he cautioned, it will move on to focus on realising its goals with regard to the Strait of Hormuz and the Gulf.