ADEN -- Iran's well-documented and ongoing arms smuggling to the Houthis has exacerbated the crisis in Yemen, killed innocent civilians and helped regional terrorist movements sow chaos and violence, officials and researchers said.
Iran's Islamic Revolutionary Guard Corps (IRGC) has supported the Houthis with arms and training since their inception, and shipments of arms destined for the Houthis have been seized at regular intervals in regional waters.
In early May, the US Navy's 5th Fleet said it had seized a huge cache of illicit Russian and Chinese weapons from a stateless dhow sailing in international waters of the north Arabian Sea.
Preliminary investigations established the ship had originated in Iran, and that the weapons were similar to those discovered in previous shipments intercepted en route to Iran's proxies, the Houthis, in Yemen.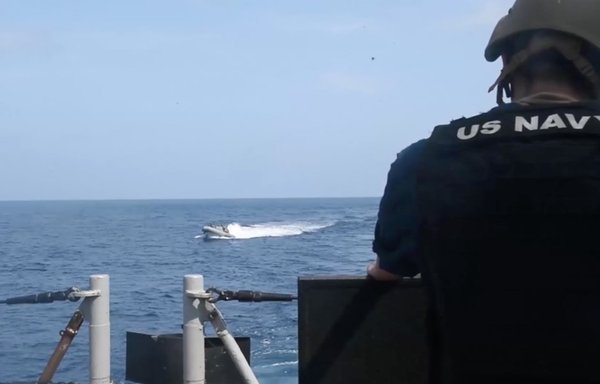 In February, the US Navy seized two illicit shipments of weapons and weapons components from two dhows during a maritime security operation in international waters off the coast of Somalia.
While the source of the weapons has not been identified, Iran has routed previous shipments of arms to the Houthis via Somalia.
The Saudi Navy and Yemeni Coast Guard also have intercepted arms shipments destined for the Houthis in regional waters in recent years, along with the Combined Maritime Forces (CMF) -- a 34-nation maritime partnership.
Yemeni Deputy Minister of Justice Faisal al-Majeedi said the US Navy's recent seizures "underscore its role in curbing arms smuggling to the Houthis by sea".
But he warned there are other ways and means that smugglers use to deliver weapons to the militia.
Authorities are asking for citizens' help in the fight against arms smuggling in Yemen and region, and have set up a tip line that is ready to receive any information -- +973 3914 5845, works with WhatsApp, Signal, and Telegram.
Preventing arms smuggling
In a January 25 report to the United Nations Security Council, a panel of experts documented three routes Iran uses to smuggle weapons to the Houthis.
One route runs along the coasts of Oman and Yemen; another passes off the Somali coast and involves the use of dhows to transport arms to the Houthis, while a third runs through Bab al-Mandeb strait.
Al-Majeedi said the proliferation of arms smuggling "places a greater burden on the US Navy, the joint forces and the international community in preventing the smuggling of weapons from Iran to the Houthis".
These weapons are "used to kill civilians, including children and women, and destroy infrastructure such as hospitals and power plants", he added.
The Houthi bombardment of civilians and civilian infrastructure is meant to stamp out resistance to the militia in Marib and other areas, al-Majeedi noted.
Over the past six months, he said, the Houthis "used no less than 55 ballistic missiles and 12 drones that left 123 people dead, including children and women, and displaced dozens of families from the camps".
The Yemeni people are experiencing "a real catastrophe because of the Houthis' Iranian missiles and drones", he said.
Over the six years of war, with direct Iranian support, the Houthis targeted "civilians and infrastructure such as gas stations, power plants, government buildings, mosques and displacement camps", he said.
This made life even more difficult for the displaced population, he added, and weakened service institutions such as hospitals, which are overwhelmed by the growing number of patients and casualties.
"The more advanced weapons the Houthis receive, the more they threaten civilians in the liberated areas," Abaad Studies and Research Centre director Abdulsalam Mohammed said.
By setting up their weapons depots in cities and residential neighbourhoods, the Houthis are "effectively using civilians as human shields and putting them in a terrifying and dangerous situation", he added.
International arms trade
Mohammed said the Houthis now trade in weapons not only in Yemen but also in Horn of Africa countries such as Somalia and in conflict zones in Africa.
He said weapons and ammunition trading has become a major source of revenue for the militia, noting that certain types of weapons that were once in the Houthis' possession have shown up in nearby countries.
Political analyst Waddah al-Yaman Abdul Qader said the Houthis sell weapons through an arms smuggling and money laundering network that operates in areas under the militia's control in Yemen, as well as in the Horn of Africa.
This network is "under the supervision of Houthi leaders and directed by Iran's ambassador to the Houthis, Hassan Eyrlou, and a number of Hizbullah commanders and officers of the IRGC", he said.
In a July-August 2020 report, the Global Initiative Against Transnational Organised Crime warned that Iranian weapons and ammunition supplied to the Houthis may be making their way onto East Africa's black market.
It said its analysis had revealed evidence of illicit-arms smuggling networks through which Iranian arms intended for the Houthis in Yemen have ended up in Somalia, and potentially beyond.
According to a January 30, 2020, report in Inside Arabia, Yemeni smugglers carry weapons into the Horn of Africa. From Somalia, arms make their way to countries such as Ethiopia, South Sudan and Kenya.