The head of Iran's Correction Facilities Organisation, which runs all of the Islamic Republic's prisons, Tuesday (August 24) acknowledged that hacked video footage showing human rights violations in Evin prison was authentic.
In a short post on Twitter, Mohammad-Mehdi Haj-Mohammadi said he accepted "responsibility for this unacceptable behaviour" but stopped short of apologising to the prisoners and their families.
Evin prison, situated in northern Tehran, is one of the country's most notorious prisons, where almost all high profile political prisoners are incarcerated.
A group of hackers named "[Imam] Ali's Justice" took responsibility for hacking into the prison's closed circuit TV (CCTV) system.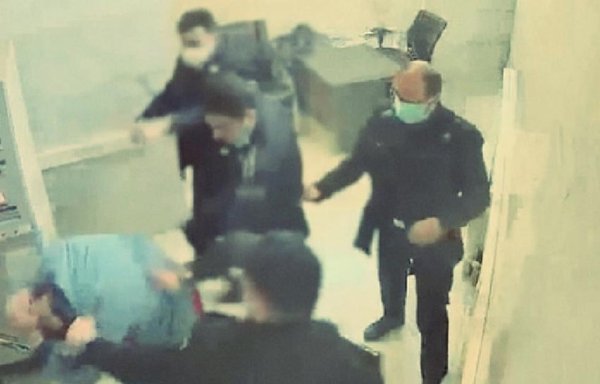 This is not the first time hackers have disrupted CCTVs. They also hacked into Tehran's railway system several months ago, replacing departure and arrival times with anti-government messages.
Official fails to apologise to prisoners
The group of hackers shared the footage with the Associated Press (AP), as well as a number of expat Persian language media. Radio Farda, the Persian arm of Radio Free Europe/Radio Liberty (RFE/RL), first published the footage on Sunday.
In his confession on Twitter, Haj-Mohammadi said "wrongdoers" will be punished and he vowed to make sure "such tragic events would not be repeated".
He apologised to the prison guards and the public but failed to apologise to the prisoners and their families.
Haj-Mohammadi only acknowledged the goings-on in Evin after the hacked CCTV footage had been widely circulated on Twitter and other forms of social media and messaging apps for two days.
The soundless footage shows rows of sewing machines that prisoners use, a solitary confinement cell with a squat toilet and exterior areas of the prison. There are images of the prison's open-air exercise yard, prisoners' bathrooms and offices within the facility.
Much of the footage bears timestamps from 2020 and this year, according to AP.
One sequence shows what appears to be an emaciated man dumped from a car in the parking lot, then dragged through the prison. Another shows a cleric walking down the stairs and passing by the man, without stopping.
In other videos, guards are seen beating a man in a prisoner's uniform. One guard sucker-punches a prisoner in a holding cell. Guards fight among themselves, as do the prisoners. Many are crammed into single-room cells.
The hackers also released images from the control room in Evin that show the surveillance monitors flashing messages of a "cyberattack".
Public response on Twitter
The admission from Haj-Mohammadi has sparked furious reaction online.
The hashtags "Ali's justice" and "Evin_Prison" were trending on Farsi Twitter on Monday.
A Twitter user wrote, "Evin prison is a stain on Raisi's black turban and white beard", in apparent reference to new Iranian President Ebrahim Raisi's role in the execution of more than 100 political prisoners in 1988 in Iran.
The mass executions were decided by a group later known as the "death commission", in which Raisi had a key role.
Amnesty International and multiple other human rights organisations have described the mass executions of 1988 as a crime against humanity.
Evin, which holds political prisoners, was one of several Iranian state groups the United States sanctioned in 2018, with the US Treasury Department stating that inmates are subjected to sexual and physical assaults and electric shock.
It has been used to confine activists such as Esmail Gerami, a retired government worker who was involved in organising recent protests, and attorney and human rights activist Nasrin Sotoudeh.
Gerami was accused of organising protests that called on officials connected to Iran's pension and social security funds to resign, while Sotoudeh was tried for objecting to Iran's policy of cracking down on peaceful protests.