Earlier this month, prominent attorney and imprisoned human rights activist Nasrin Sotoudeh won a prestigious international award for her activism.
Sotoudeh, 57, who was tried for objecting to the Islamic Republic's policy of cracking down on peaceful protests and activism, on October 8th won the 2020 award from the Stockholm-based Right Livelihood Foundation.
The Right Livelihood awards, established in 1980, are awarded annually to "honour and support those offering practical and exemplary answers to the most urgent challenges facing us today", according to the foundation's website.
Three other activists from the US, Nicaragua and Belarus also won the award this year.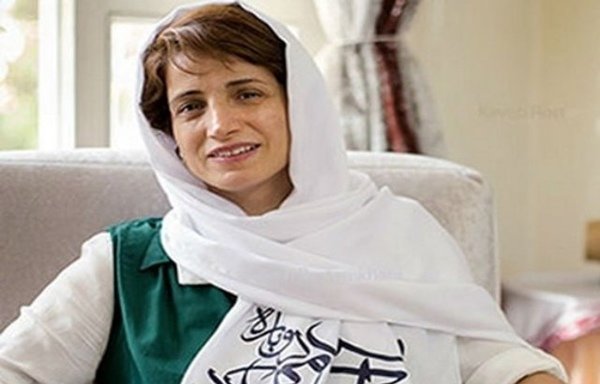 Before winning the award, Sotoudeh had been on hunger strike, along with several other prisoners, to bring attention to prisoners' conditions in Iran.
The strike was intended to protest the judiciary's negligence with regard to the spread of novel coronavirus (COVID-19) in Iran's overcrowded prisons.
Some 50 days after she began her hunger strike, she was transferred to the hospital due to extreme weakness and heart palpitations, and remained in intensive care for three days.
After the Right Livelihood Foundation's award brought attention to her cause, she reportedly broke her fast.
Sotoudeh's 'life is at risk'
Sotoudeh was arrested in June 2018 and transferred to Tehran's notorious Evin Prison. In March 2019, she was sentenced to 38 years in prison and 148 lashes for alleged "security crimes" which were not fully defined.
Her husband, Reza Khandan, has faced judicial harassment in retaliation for publicly communicating about her case, according to Dublin-based Front Line Defenders, which aims to protect human rights defenders at risk.
According to Khandan, Sotoudeh has been accused of "inciting public opinion, promoting debauchery and acting against the security of the Islamic Republic, along with other charges originally brought by Iran's Intelligence Ministry".
Sotoudeh was not furloughed from Evin after her hospital stay.
On Wednesday (October 21st), Khandan said she had been moved to a women's detention centre outside Tehran instead of receiving the hospital treatment she needs.
"Nasrin called me yesterday to tell me she has been transferred straight (from Evin Prison) to the one in Qarchak," more than 30 kilometres away, he told AFP.
"We had been expecting her to be sent to hospital for an angiogram" as decided by "the medical commission at Evin prison", he said.
UN human rights chief Michelle Bachelet on October 6th expressed deep concern over the deteriorating situation of rights activists, lawyers and political prisoners held in Iran as a result of the coronavirus crisis.
"People detained solely for their political views or other forms of activism in support of human rights should not be imprisoned at all, and such prisoners should certainly not be treated more harshly or placed at greater risk," she said.
"I am very concerned that Nasrin Sotoudeh's life is at risk," Bachelet said.
Judicial inconsistency
Sotoudeh is one of at least 15 prominent activists serving long sentences for human rights activism in Iran.
Narges Mohammadi, a former journalist and human rights activist, was released under the judiciary's "Islamic clemency" provision on October 8th. Sotoudeh and Mohammadi are both globally known for their activism.
Mohammadi was jailed after meeting with then-EU High Representative for Foreign Affairs and Security Policy Catherine Ashton in Tehran in 2014.
So why was Mohammadi released, while Sotoudeh remains imprisoned?
According to US-based journalist Shahin Mohammadi (no relation to Narges) "Narges's release could have been motivated by judiciary chief Ebrahim Raisi's desire to brand himself as a reformer of sentencing under Iran's Islamic law".
Raisi started his position after promising reforms, Mohammadi told Al-Mashareq.
It is worth noting that Narges was arrested based on the Intelligence Ministry's charges, he said. That is why "her release could be temporary, for propaganda value".
"She might be detained again if she says something the regime does not like."
The Iranian regime's record in responding to pressure in judicial cases is inconsistent. The last two decades shows it is much more likely to be lenient with foreign, specifically Western, prisoners, than its own citizen-activists.
In 2009, for example, the Islamic Revolutionary Guard Corps (IRGC) arrested three American hikers for crossing the border from Iraq's Kurdish region into Iran's Kurdistan province.
All three were freed between 2010 and 2011, following pressure from the US.
By contrast, Iran in September executed national wrestling champion Navid Afkari, despite international pressure to commute his sentence.
With regard to the general decision-making process of the Islamic Republic, "the regime does a political cost-benefit analysis", a former Iranian naval analyst who asked to remain anonymous told Al-Mashareq.
Iran's judiciary shows leniency toward domestic activists on the rare occasions it believes the costs are outweighed by the benefits, he said.