PARIS -- Rights group Amnesty International on Tuesday (April 12) accused Iran of deliberately denying life-saving medical care to prisoners, saying it had confirmed 96 cases since 2010 of detainees dying after a lack of treatment.
The report comes after several high profile cases this year alone of prisoners who died in custody from what activists said was a failure by Iran to properly treat their illnesses.
These include Iranian poet and filmmaker Baktash Abtin, who died in January after contracting COVID-19, and Shokrollah Jebeli, a dual Australian-Iranian national, who died in March after a succession of medical problems.
Amnesty said such deaths by deliberate denial of health care amounted to an extrajudicial execution.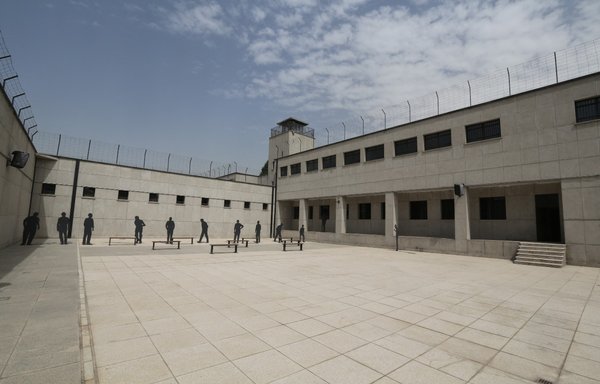 Consistent with entrenched patterns of systematic impunity in Iran, it said, the authorities have refused to conduct any independent and transparent investigations into these deaths.
They also have failed to ensure that those suspected of criminal responsibility are prosecuted and punished, Amnesty said.
"The Iranian authorities' chilling disregard for human life has effectively turned Iran's prisons into a waiting room of death for ill prisoners, where treatable conditions tragically become fatal," said Diana Eltahawy, Amnesty's deputy regional director for the Middle East and North Africa.
"Deaths in custody resulting from the deliberate denial of health care amount to arbitrary deprivation of life, which is a serious human rights violation under international law," she added.
Denied access to health care
Amnesty said it had confirmed the deaths in custody of 92 men and four women in 30 prisons in 18 provinces across Iran in such circumstances since January 2010 but noted that these cases are "illustrative, rather than exhaustive".
The true number of cases is likely to be higher.
The case list excludes deaths in custody involving credible reports of physical torture or the use of firearms, which Amnesty addressed in September.
In its report this week, the rights group said it had documented how prison officials frequently deny prisoners access to adequate health care, including diagnostic tests, regular check-ups and post-operative care.
"This leads to worsening health problems, inflicts additional pain and suffering on sick prisoners, and ultimately causes or contributes to their untimely deaths."
It said 64 out of the 96 prisoners died in prison rather than hospitals. In the vast majority of cases, prisoners who died were young or middle aged, it said.
In at least six cases, critically ill prisoners were moved to solitary confinement, punishment wards or quarantine sections, it said. Four died alone in prison, while two were eventually authorised for hospital transfers: but too late.
A large proportion of the deaths took place in prisons in northwestern Iran that house many inmates from the Kurdish and Azerbaijani minorities and in southeastern Iran, where prisoners mostly belong to Iran's Baluch minority.
In many cases, prison clinic medical staff and prison officials accused prisoners experiencing medical emergencies of "faking" or "exaggerating" their symptoms.
Abtin died of COVID-19 about six weeks after he first displayed symptoms in Tehran's notorious Evin prison, Amnesty said.
"The authorities caused or contributed to his death by deliberately denying him timely access to specialised medical treatment at a facility well equipped to deal with cases of COVID-19" after he contracted the virus in December, it said.
'The shadow of death'
Jebeli, who had been imprisoned in a financial dispute, died after being subjected to "more than two years of torture and other ill treatment through the denial of access to adequate specialised medical care".
He died in hospital, where he had been transferred after he was found unresponsive by other prisoners and had lost all control of his bladder and bowel movements, Amnesty said.
"The crisis of systemic impunity prevailing in Iran has emboldened prison officials to persist with deadly denial of medical care to prisoners," Amnesty said.
In addition to the systematic refusal to investigate, it said, the authorities promote narratives praising the quality of health services offered to prisoners as "exemplary" or "unparalleled" throughout the world.
This indicates that "they have no intent to change course", the group said.
"The shadow of death will continue to cast over Iran's ailing prisoners until effective, thorough, transparent, impartial and independent investigations are conducted to determine the circumstances surrounding deaths in custody and the responsibility of those involved in the deaths," Eltahawy said.
In September, Amnesty issued a list of the names of those who have died in custody in Iranian prisons in the past 11 years.
The report followed an admission by Iran's prisons chief that "unacceptable behaviour" had taken place at the notorious Evin prison in Tehran after videos published abroad appeared to show violence against detainees.
The footage of prison guards beating and mistreating detainees was reportedly obtained by hackers who accessed surveillance cameras at the prison.
The admission from Haj-Mohammadi at the time sparked furious reaction online.