Only two months away from the presidential election, disenchanted Iranians, some of whom have lost their life savings because of their government's mismanagement of the economy, are saying they will not go to the polls.
The regime's failure to deliver economic relief to its citizens has eroded the public's trust in the Islamic Republic's mechanisms of governance.
For months, pensioners and stock market investors have been holding peaceful demonstrations across several provinces with increasing frequency to protest high prices and ever-increasing inflation.
Those who have lost money in stock market investments say they invested after the government and Iranian leader Ali Khamenei repeatedly encouraged the public to invest in stocks.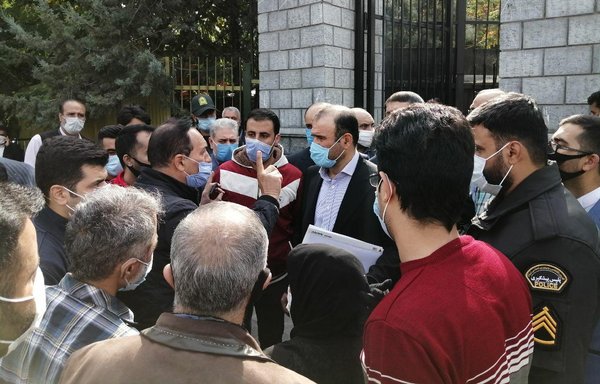 A group of investors who said they have lost their life savings in stock investments gathered in front of the Majles to protest the government's financial policies.
During April protests in Karaj, a major city in Alborz province, pensioners chanted: "Enough with the lies, we will not vote anymore," in reference to the upcoming presidential election on June 18.
On April 11, retired government workers in provinces including Ilam, Rasht and Tehran, called for officials connected to Iran's pension and social security funds to resign.
In Tehran, protesters shouted: "Enough with empty slogans; we have nothing to put on our tables!" In a few cases, demonstrators called for President Hassan Rouhani to be "executed".
They also called for authorities to free Esmail Gerami, a retired worker and activist who has been actively involved in organising the protests. Security officials arrested him on April 3 during a raid on his home in Tehran, and he has since been detained in Evin Prison.
Iranian retirees receive a minimum of 40 million Irainian rials per month, official data and expatriate news reports show. However, estimates indicate that most people in Iran need approximately 100 million rials per month just to get by.
The economic situation in Iran "has gotten so bad that the only people staying are the ones who do not have the financial means to move abroad", said Fahimeh Beygi, a retired schoolteacher living in Karaj, a major city in Alborz province.
Those who have significant assets "are selling everything just to get out. The rest of us are prisoners here", she said.
Multiple Iranian officials and conservative pundits have been urging Iranians to head to the polls in June, arguing that Iran needs to send a message of unity to the West.
The Iranian regime has been steadily losing the trust of world powers as Tehran continues to renege on its nuclear commitments, even as they all are meeting in Vienna this month to try to revive the 2015 nuclear deal, known as the Joint Comprehensive Plan of Action (JCPOA).
No trust in ballot box
Shahin Mohammadi, an Iranian journalist based in the United States, said people have no enthusiasm for the electoral process. Unlike the elections of 2013 and 2017, Iranians no longer expect the election of more-moderate officials to bring about change, he said.
The parliamentary elections of 2020, which had the lowest voter turnout in the Islamic Republic's four-decade history, showed that Iranians have lost trust in the ballot box, Mohammadi said.
On January 10, investors who experienced large losses in the stock market joined retirees and other protesters in Tehran to demand the resignation of Abdolnaser Hemmati, the governor of the Central Bank of Iran (CBI), which manages the Tehran Stock Exchange (TSE).
Demonstrators also tried to breach the TSE itself and pulled down its banner. Since November, the TSE has lost 45% of its value.
In the spring of 2020, Rouhani, officials in his administration and even Khamenei called on the public to invest in the stock market to help deliver a jolt to a collapsing economy.
But average investors were upset after Iranian companies issued shares while stock prices were rising, only to buy them back later at a significantly lower price after the TSE crashed.
An earlier incident of financial mismanagement led to similar protests when several major credit institutions failed causing customers to lose their assets.
In 2017, the judiciary announced that several major credit institutions and private banks, including the Islamic Revolutionary Guard Corps (IRGC)-linked Samen-ol-Hojaj Credit Institution, were undercapitalised and would be unable to cover the monthly interest they owed on customers' savings accounts.
The incident led to a run on the banks, which worsened the liquidity shortage. An effort by the CBI to save these institutions by merging them failed. Authorities liquidated the banks, and protests broke out in Tehran, where the financial institutions are headquartered. The depositors never received reimbursement.
"It will be no different this time," said Farideh Nabovvat, a retired teacher.
"This regime does not care about people. It swindlees people to cover its own debts and make up for the shortage in funds," Nabovvat said, recalling that the government's mishandling of loans led to similar financial losses for public sector employees in the 1980s.
Increasing discontent with economic and living conditions might lead to a new wave of public protests, far more violent than the 2019 protests over a surprise hike in fuel prices, warn observers.
The regime may be trying to tamp down a new round of civil unrest, reports from Iran in recent months of slowed-down internet speeds and intermittent outages suggest.