BEIRUT -- Hizbullah has destroyed Lebanon's economy in service of Iran and has lost thousands of its own fighters in defence of the brutal Iran-backed regime of Syrian President Bashar al-Assad, Lebanese activists and experts said.
In order for Lebanon to pull itself out of crisis, they said, it is necessary to disarm Hizbullah, pursuant to United Nations Security Council Resolution (UNSCR) 1559 (of 2004) and UNSCR 1701 (of 2006), which call for the disbanding and disarmament of all militias in Lebanon.
Hizbullah, which has retained its arms in defiance of these resolutions and others, also exercises control over the decision-making process in Lebanon. Many Lebanese blame the party for keeping the country enmeshed in crisis.
According to political activist Mohammed Mansour, most Lebanese Shia regard the party as "an armed military and security apparatus in the hands of Iran".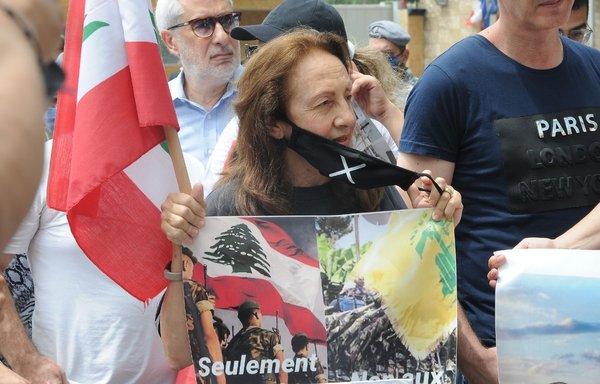 Hizbullah has been implementing Iran's agenda through its "entry into Syria to fight alongside the regime in its war against the Syrian people at the expense of the interests of Lebanon and the Lebanese", Mansour said.
The party has exploited the economic and financial resources of the Lebanese people by controlling the government and using the resources of ministries to implement the interests of Iran and the Syrian regime, he added.
Mansour accused the party of smuggling fuel, foodstuffs and medical supplies to Syria, and of appropriating the international community's aid to the Lebanese people, as soon as those contributions reach the south.
The party wields particular influence in the south and in the Bekaa Valley.
"Hizbullah spilled the blood of Lebanese Shia and youth to fight a war that only serves Iran's interests," Mansour said. "It lost more than 1,700 men in battle, with close to 7,000 wounded, most of whom are disabled."
Hizbullah's weapons are not the only concern, he said, pointing to the party's "dangerous ideological and security apparatus", which it uses to subjugate the country's Shia population.
Lebanon 'taken hostage'
Lebanon's political and economic crises "are mainly caused by Hizbullah's illegal weapons, which have taken Lebanon and its people hostage", said former justice minister Ashraf Rifi.
He noted that Hizbullah is changing Lebanon's economic and cultural identity by creating a parallel state and a parallel economy -- in so doing creating a social model that goes against the grain of Lebanon's democratic structure and values.
As Iran's proxy in Lebanon, Hizbullah is implementing the agenda of the Islamic Republic, in the same way that the Houthis are carrying out Iran's orders in Yemen and Kataib Hizbullah and its allies are doing in Iraq, he said.
Hizbullah has suffered heavy losses in Syria, where as many as 5,000 of its fighters have been killed and many others wounded, he said, "meaning it has lost about a third or more of its military strike force".
The families of Hizbullah fighters killed in Syria will ultimately hold Hizbullah leader Hassan Nasrallah responsible for their losses, "because he is carrying out Iran's orders to support the Syrian regime", he said.
Iran is trying to control and exploit the Syrian regime, Rifi said, as the Islamic Republic has been unable to secure prosperity for its own people.
"There is no state-building [in Lebanon] except by disarming the party through the implementation of Resolution 1559 in conjunction with Resolution 1701," he said.
The removal of Hizbullah's weapons and an end to its hegemony would "liberate Lebanon and return it to the bosom of its Arab and international family" and would facilitate the restoration of the Lebanese economy, he stressed.
An instrument of Iran
"Hizbullah is part of the Islamic Revolutionary Guard Corps (IRGC), and a military arm of the Islamic Republic," said Regional Forum for Consultancy and Studies director Khaled Hamadeh.
Iran's mission is to promote the doctrine of Wilayat al-Faqih (Guardianship of the Jurist), which calls for allegiance to Iran's supreme leader, "and create sectarian chaos in the region and threaten the stability of countries and societies", he said.
He scoffed at the notion of an "axis of resistance", saying this is far from reality.
"Resistance" implies a response to aggression, he said, noting that Hizbullah and other Iranian proxies have exhausted Lebanese society, Syrian society and the Iraqi people with their constant meddling and corruption.
While Hizbullah has amply demonstrated its loyalty to Iran, however, Iran regards the party's losses as mere collateral damage as it aggressively pursues its own agenda.
Hizbullah's losses are insignificant "in the context of the grand Iranian project to control the region", Hamadeh said.
"No one is counting these losses or the number of deaths, because they are of no consequence to the Islamic Republic's project, which aims -- through Hizbullah -- to spread chaos in the Arab world," he said.
"There is no way to stop Hizbullah's transgressions and attacks except by implementing UN resolutions and treating Hizbullah's weapons as an international issue, not a Lebanese one," Hamadeh said.
"This is because Resolution 1559 is a UN resolution, and the international community must implement it with all its might," he said.