BEIRUT -- Iran-backed Hizbullah has posed a threat to Lebanese political life since its inception, political researchers and analysts said, pointing to its culpability in the assassinations of Lebanese leaders from the 1980s to date.
These are the acts of a terror group, not a political party, they said, noting that a growing list of countries has designated Hizbullah as a terrorist group, with some stressing that the party's military and political wings are one and the same.
By continuing to bear arms, the party is violating United Nations (UN) resolutions, particularly resolutions 1559 of 2004 and 1701 of 2006, they said, calling for its disarmament as a starting point for restoring Lebanon's sovereignty.
Proof that the party has pledged its allegiance to a foreign power -- Iran -- can be found in an open letter it published on February 16, 1985, in which it stated: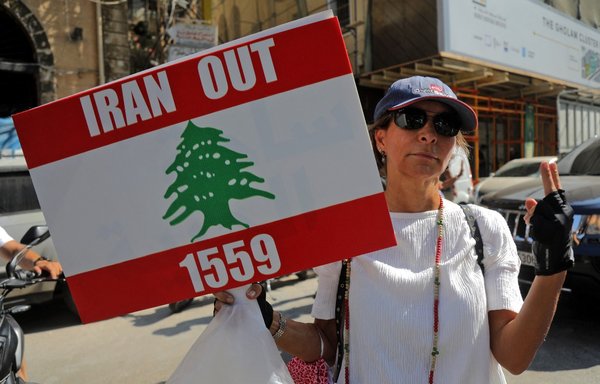 "We abide by the orders of one single wise and just leadership, represented by Wali al-Faqih (guardian jurist) and personified by [Rouhollah] Khomeini..."
This makes it clear that Hizbullah is not a legitimate Lebanese political party but rather part of the so-called axis of resistance -- an alliance between Hizbullah, Iran and the Syrian regime, said activist and opposition figure Mona Fayyad.
The party "represents a threat to political life and engages in covert violence to prevent the Lebanese from holding it as the root of Lebanon's problem", she said, noting that Hizbullah has entrenched itself in the government.
No one can stand up to it, she said, as evidenced by the state's inability to implement the rulings of the International Tribunal for Lebanon or to bring Hizbullah-linked assassins of Prime Minister Rafik al-Hariri to justice.
"The party derives the bulk of its power from those in the political class who provide it with cover, which means that the state is unable to disarm it pursuant to Resolution 1559," she said.
Illegitimate entity
Hizbullah is considered an "illegal" entity, as it does not have a Notice of Recognition from the Ministry of the Interior, political writer Tony Abi Najm said.
The ministry has not received appropriate notification regarding the party's internal structure or the names of its members, he said, nor has it received Hizbullah's annual budget and financial report.
"It is an armed militia and an arm of the Islamic Revolutionary Guard Corps (IRGC), which established it in Lebanon in 1982," Abi Najm said.
"Its strength is perhaps comparable to that of the Lebanese army, and it poses a serious danger to political life," he told Al-Mashareq.
Some Hizbullah operatives are still wanted by the Special Tribunal for Lebanon, he said, "including those accused, indicted and convicted of assassinating al-Hariri".
Other party operatives -- including Mahmoud Hayek, who was charged with attempting to kill former minister Boutros Harb in July 2012 -- also have been implicated in assassination attempts.
"The party protects them, and the state is powerless to arrest them, which undermines its authority and prestige, the law, and its ability to carry out any judicial order," he added.
"Since its inception, Hizbullah has been known for carrying out assassinations," he said, noting it was recently considered to be behind the February slaying of Lokman Slim, who was found dead in an area where the party wields influence.
Ending the violence necessitates "implementing resolutions 1559 and 1701, because they stipulate the complete disarmament of armed militias", he said.
Hijacking the state
Though Hizbullah is not officially recognised, "it engages in politics and is represented in parliament and the government in a de facto manner", political writer Youssef Diab said.
"Yet this does not cancel out its terrorist designation by European countries, the United States and Arab League member states," he said.
The Iran-backed party "hijacks the state and the government's decision-making process and controls them by force of arms, and subjects all state institutions to its authority", he said.
Lebanese Centre for Research and Consulting director Hassan Qutb said Hizbullah is "illegal as a political party because it does not have a permit from the Ministry of the Interior to engage in political, social or even military action".
This explains why it is using lawyers close to it to file lawsuits against politicians and journalists who oppose it, he said.
"The party is not a legal entity that gives it the right to have access to the judiciary or any official institution under its own name, whether for the purpose of prosecuting or conducting legal or administrative transactions," he said.
Hizbullah got involved in the region's wars, ignoring Lebanon's policy of dissociation, and caused thousands of families to lose their sons and a large number of fighters to suffer permanent injuries and physical disabilities, Qutb noted.
It also is involved in the transfer of Iranian weapons, he said, adding those weapons give Nasrallah the power to decide matters of war and peace in Lebanon.
The party has aggravated divisions among the Lebanese people and continues to threaten the civil peace with its illegal weapons and other practices.
"Therefore, it must be disarmed pursuant to UNSC [UN Security Council] resolutions 1559 and 1701."