Iranian proxy Kataib Hizbullah operates as the nerve centre of the Islamic Revolutionary Guard Corps (IRGC) in Iraq, carrying out attacks on infrastructure, civilians and foreign troops at the bidding of the Islamic Republic, observers say.
The militia, which is one of the most prominent Iran-backed armed groups in Iraq, receives money, weapons and training from the IRGC, which it uses to carry out acts of provocation and terrorism in Iraq.
Acting on the orders of the Quds Force, the IRGC's foreign operations arm, Kataib Hizbullah and its allied militias undermine Iraq's security on a continual basis by firing Iran-made rockets at civilian buildings and military installations.
On May 8, an explosives-laden unmanned aerial vehicle (UAV) crashed at Ain al-Asad air base in western Iraq, which hosts US and international forces. Rockets also were fired at the base on May 4.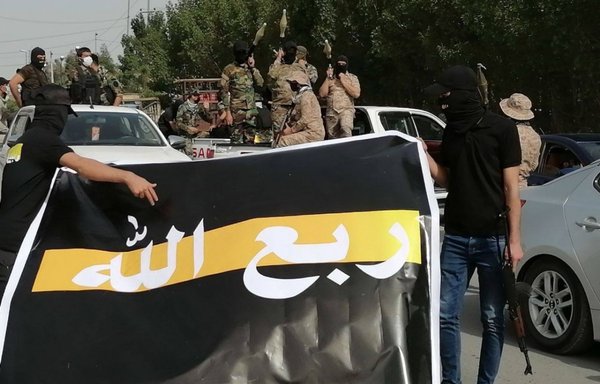 On May 3, Balad air base came under attack, in the fourth such incident this year. The same day, assailants fired two rockets at Baghdad airport.
Such acts "are unlawful and aimed at weakening the capabilities of security forces, and they will not go unpunished", the Iraqi army said in a statement.
Dozens of Iranian-made rockets have previously targeted Baghdad's Green Zone, international airport and several military bases, causing civilian and military casualties and infrastructure damage.
'The Iranian project'
Ghazi Faisal Hussein, an advisor to the Iraqi Centre for Strategic Studies, said these attacks are "part of the harmful activities" perpetrated by Kataib Hizbullah and the more than 34 other factions with which it partners.
All of these armed groups work for the IRGC and derive their strength from Iranian support provided to them, he said.
Kataib Hizbullah and its affiliates are the main tools of the Iranian project, he said. This project aims to establish the doctrine of Wilayat al-Faqih (Guardianship of the Jurist), which calls for allegiance to Iran's supreme leader, in Iraq.
Hussein noted that the IRGC is recruiting, arming and training Kataib Hizbullah and its other proxies in Iraq, as well as providing them with funds to implement the Iranian project in Iraq and elsewhere in the region.
This effort has serious repercussions for Iraq's sovereignty, interests and reputation.
The attack with an explosives-laden UAV on Ain al-Asad base this month was the second in which the militias used a drone against a military base in the country.
On April 14, an explosives-laden UAV crashed into the Erbil airport building.
Hussein said the behaviour of Kataib Hizbullah and other armed Iran-aligned militias puts Iraq on a slippery slope, as groups that support the Iranian agenda refuse to comply with Iraqi law and are defying Iraqi authorities.
Sowing chaos
Kataib Hizbullah and other Iranian proxies are responsible for the assassination of activists and journalists who oppose Iran's interference in their country, observers said.
Activist Ibrahim al-Wazni, ambushed and assassinated in front of his house in Karbala on May 9, was the latest victim to be gunned down by the militias.
What Kataib Hizbullah and allied militias seek to do is sow chaos and rid society of influential individuals who expose the truth about them and their deep-rooted ties to Iranian interests, political analyst Ahmed Shawki said.
He said the government must show greater firmness towards groups that kill activists and journalists, launch rockets that kill innocents, hold military parades in the streets and engage in activities that destroy the economy.
These include smuggling, imposition of tributes, administrative financial corruption and creation of an environment that chases away investments, he said.
In an indication of the government's intention to pursue the killers of activists, a special security force raided the house of Sabah al-Wafi, an Asaib Ahl al-Haq leader in Basra, on May 12, but he escaped before it could arrest him.
Al-Wafi is accused of carrying out previous assassinations of activists in the province.
Two months ago, the government announced the arrest of 15 elements and leaders of Kataib Hizbullah and other powerful militias in Basra.
It said these men belonged to assassination squads, whose mission was to silence those who oppose Iranian influence.
Relations with Gulf states
Iraq is a regional fulcrum, Shawki said, noting that stability and peace in the country mean stability for the region. Iran is aware of this fact, and constantly tries to tamper with Iraq's security and weaken it, he added.
He stressed that the policy of openness towards Arab and Gulf states Iraq is pursuing aims to isolate Iran and to resist its interference and malign influence.
In a sign of improved relations between Iraq and Saudi Arabia, Iraqi Prime Minister Mustafa Kadhemi visited Riyadh on March 31, taking part in talks that addressed bilateral security and military co-operation.
The two sides also signed five agreements to boost trade, economic co-operation and investment.
The visit came after a January 23 attack in which drones were launched at al-Yamamah Palace and other locations in Riyadh in an attack claimed by Alwiyat al-Waad al-Haq, a new front group for Kataib Hizbullah.