Iranians are gasping for air -- physically and metaphorically -- with daily COVID-19 infections in the thousands and many more suffering ongoing economic problems associated with the regime's mismanagement of the pandemic.
While vaccination efforts are well under way in most countries, a shortage of vaccines in Iran, and its refusal to accept Western-made vaccines, means less than 1% of the population is fully vaccinated, according to Our World in Data.
Over the course of the pandemic, Iran has reported the highest number of COVID-19 cases and deaths in the region, but Iranian leaders have consistently delayed or banned the import of lifesaving vaccines.
In one of the clearest examples, supreme leader Ali Khamenei in January banned the import of COVID-19 vaccines from the United States and United Kingdom.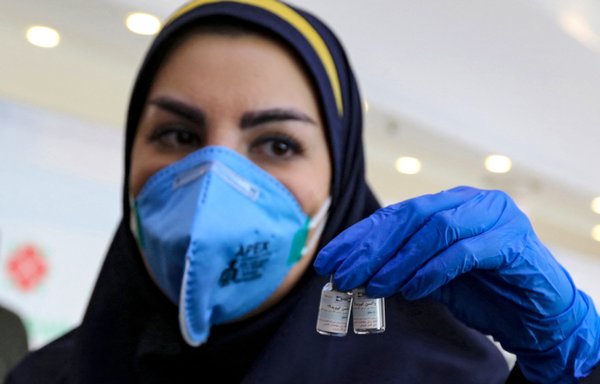 In response, a group of nongovernmental organisations and rights activists urged the regime to "allow Iranians to purchase any safe and effective vaccines as soon as they are available, regardless of their country of origin".
To do otherwise is irresponsible, they said in a joint January 21 statement published by Human Rights Watch.
Iranians' rights "are gravely endangered by the politicisation of vaccine policy and the failure to base state policies regarding COVID-19 on anything but science, medical evidence and respect for human rights and the public's health needs", the statement said.
Profits over public health
One possible explanation for the regime's restrictive policies on the import of COVID-19 vaccines is that there are financial incentives for the Iranian elite to profit from locally made jabs.
Health Minister Saeed Namaki on June 13 announced human trials for Iran's vaccine, COVIran Barekat, were complete, promising that as of July, some three million doses would be produced weekly.
The vaccine is being produced by the pharmaceutical company Barekat, one of the largest of its kind in Iran, a majority of which is owned by the Execution of Imam Khomeini's Order (EIKO).
EIKO, founded by Rouhollah Khomeini shortly after the 1979 Revolution, owns hundreds of highly profitable Iranian companies, both in manufacturing and import sectors, and owns 90% of Barekat stocks.
Therefore, a majority of EIKO's profits land in the pockets of Khamenei and his close allies, who own or run companies that import COVID-19 vaccines produced in China, Russia and elsewhere.
The government's promises to provide thousands of locally made vaccines in short order is hard for many to believe.
Regime officials have repeatedly stated that they are in the process of developing eight different COVID-19 vaccines, one of them in partnership with Cuba, but details and data about related operations are murky.
Since February, government officials have vowed to inoculate a certain number of individuals by a certain date, but have not met any of their self-set goals.
The Health Ministry announced that priority would be given to the elderly, healthcare workers and others at high risk, but the government has yet to implement a proper nationwide vaccination campaign.
As of mid-June, senior citizens over the age of 80 have been inoculated with vaccines provided by China, Russia, South Korea or through the COVID-19 Vaccines Global Access (COVAX) programme.
But most senior citizens under the age of 80 who have been immunised with the first dose of the Chinese or Russian vaccines have been left in limbo, as officials have stated that second doses are unavailable until further notice.
Some 5.2 million COVID-19 vaccine doses have been administered as of June 18, according to the Ministry of Health, with 4.3 million of this number receiving one dose, and only 895,152 receiving the second dose.
Only a fraction of the jabs provided by COVAX have been distributed, and only Iranians with connections or who are wealthy enough to travel abroad have received any vaccine.
Desperate for relief
Tehran's "allies" -- Russia and China -- also have sought to undermine public trust in Western vaccines while promoting their own jabs -- which has raised serious concerns over efficacy, quality control and transparency.
Russian media, authorities and state companies have been pushing the Sputnik V vaccine while using "antagonistic messaging" to accuse the European Union of "sabotaging" the Russian jab, the European External Action Service said in April.
Meanwhile, Beijing is promoting its vaccines as "more suitable for developing countries", while deploying "misleading narratives" about the safety of Western vaccines and even the origin of the coronavirus, the report said.
Beijing itself has admitted there might be an efficacy problem with its vaccines. Nonetheless, a recent 25-year "strategic co-operation pact" between the two countries has made China the obvious choice for Iran's vaccine imports.
Inside Iran, health concerns, rampant unemployment and economic woes caused or worsened by the pandemic have left many people with no choice but to accept any vaccine they are offered, if they are offered one at all.
Those who can afford it pay astronomical amounts for the Pfizer vaccine through unofficial channels.
Vials of vaccines labeled Pfizer have recently found their way to the black market via Iraq's Kurdish region, although it is unclear if they are all authentic.
Some middle-class Iranians have fallen victim to scams promising a jab on a trip to Turkey.
Average citizens with an average income, however, are left behind.
Misplaced priorities
While the public health crisis rages, the regime has chosen to spend its dwindling resources on the IRGC and its regional proxies, including the Lebanese Hizbullah, Iraqi militias and the Houthis in Yemen.
A recently leaked audio file of an interview with Iranian Foreign Minister Javad Zarif provides further proof of the regime's misplaced priorities.
In the file, widely published on April 25, the foreign minister is heard admitting to the outsized role of the IRGC and its Quds Force in Iran's foreign policy.
The Islamic Republic prioritises its regional presence and expansionist policies over diplomacy, Zarif repeatedly stressed in the interview.
The regime is also pushing forward with further violations of the landmark nuclear deal with world powers, with the UN in May voicing concern over Iran's undeclared nuclear activity and its enriched uranium stockpile that was 16 times over the allowed limit.