BEIRUT -- The US Agency for International Development (USAID) will provide $50 million in university scholarships and financial aid to help Lebanese and refugee students living in Lebanon further their education.
USAID administrator Samantha Power announced the new aid package on November 10, during a visit to Lebanon.
Of this amount, $15 million is allocated to 140 full university scholarships at the American University of Beirut (AUB), Lebanese American University (LAU) and Notre Dame University-Louaize (NDU).
The merit-based scholarships will be given to financially disadvantaged students.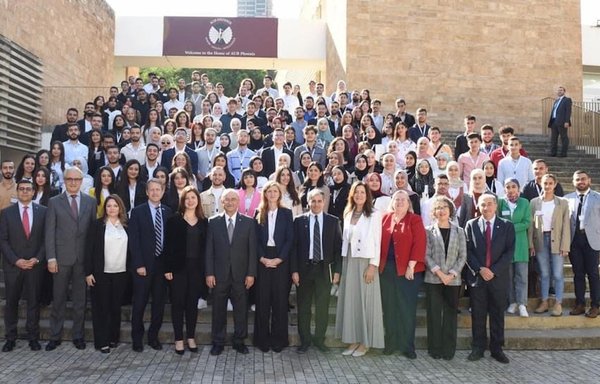 The remainder of the funds will provide need-based financial aid for some 3,500 students over the next three years to help amid the country's severe economic crisis, which many blame on Hizbullah.
Since 2010, USAID has provided more than $156 million in full undergraduate scholarships to more than 1,600 students who might not otherwise be able to attend a university.
The agency said the new funding reflects its continued commitment to empowering youth to shape Lebanon's future.
The US support for higher education comes at a time when students are facing the repercussions of the severe economic crisis in Lebanon, with financial hardship forcing many students to stop attending university.
Positive impact
USAID scholarship awardee Marwa Karhani told Al-Mashareq that she graduated from AUB last summer with a degree in computer science.
"The scholarship had a great impact on my life in many aspects," she said.
"It allowed me to specialise in computer science and graduate from a top university in Lebanon," she said, adding that the education opened the doors to her civic participation and volunteer work to help the community.
"I am currently working on my master's degree, also at AUB, as part of the graduate assistance programme," Karhani said.
Scholarship recipient Razan Qaqun, who majored in mathematics at AUB, said that for her, the scholarship has opened doors to job opportunities.
"When I look at the person I was in the past, I see the changes in my personality from the experiences I gained after receiving the USAID grant, which provided me with wonderful opportunities that changed me," she said.
"The USAID scholarship has provided me with many opportunities to participate in workshops, volunteer work and events that have given me confidence in myself and my abilities," she told Al-Mashareq.
More youth benefit
In addition to the full scholarships, AUB has received $19.5 million from USAID to offer financial aid to university students, said AUB scholarship programme director Malek Tabbal.
"AUB is expected to register 240 students on full scholarships, and will provide approximately 2,000 students with financial aid," he told Al-Mashareq.
Tabbal said this academic year, 400 university graduates also benefitted from USAID scholarships for research, which were divided equally between male and female graduates from all parts of the country.
AUB started receiving scholarship grants from USAID in September 2011, when the scholarship programme provided full tuition coverage for 50 male and female students in public schools to pursue their studies at the university, he said.
"The university has received more grants since then, which has allowed an increase in the number of beneficiaries," he said.
"In 2018, the grants were expanded to include refugee students residing in Lebanon, and the name of the programme was changed to the USAID Higher Education Scholarship Programme," Tabbal said.
"The programme's main goal is to give young students from disadvantaged socio-economic backgrounds access to a quality university education, and to provide them with technical and leadership skills," he added.
These skills are necessary to excel in the labour market, he noted.
The scholarship covers tuition fees, as well as the cost of housing, books and a laptop computer, and provides a stipend for up to five years.
The scholarships and financial aid are "necessary to support students, given the economic crisis the country is facing and its impact on the people", Tabbal said.