ADEN -- Iran's Islamic Revolutionary Guard Corps (IRGC) has been hindering peace efforts in Yemen for years, say observers, citing a recently leaked audio of a controversial interview with Iranian Foreign Minister Javad Zarif as further proof.
In the interview with Zarif, which was leaked and widely published on April 25, Iran's foreign minister admitted to the outsized role of the IRGC, its Quds Force (IRGC-QF) in particular, in Iran's foreign policy -- to include Iran's influence in Yemen.
The 190-minute audio file, taken from a video interview conducted on February 24, emerged while Zarif was on a visit to Iraq, ahead of the third round of talks in Vienna aimed at reviving a 2015 international agreement on Iran's nuclear programme, known as the Joint Comprehensive Plan of Action (JCPOA).
During the interview, Iran's foreign minister repeatedly stressed that the Islamic Republic prioritises its regional presence and expansionist policies over diplomacy.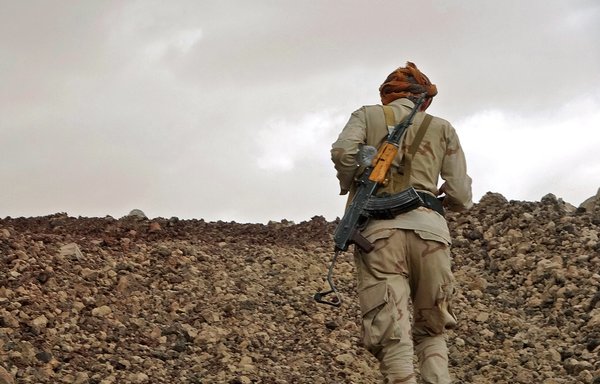 He said these policies, designed and decided by slain IRGC-QF commander Qassem Soleimani, constantly prevailed over diplomacy during Soleimani's tenure.
Zarif said Soleimani would not compromise for diplomacy, even if the IRGC's stances were damaging to Iran's foreign policy "by 200%".
Subversive role
The leaked Zarif recording brought to light Soleimani and the IRGC's subversive role in Yemen and other countries.
Yemeni political analyst Khaled Ahmed said Zarif's remarks confirm that Iran's dispute with Saudi Arabia stems mainly from Soleimani's interventions, including in Yemen.
"These interventions were based on a Shia sectarian ideology of the Iranian regime that created an unprecedented rift in the social fabric of Yemen," Ahmed said.
Another political analyst, Mahmoud al-Taher, said, "Zarif told the truth... He revealed that the Houthis are an Iranian creation, a part of the IRGC, created to serve as its military arm and strike its neighbours in the region."
"What Yemen needs now are real negotiations and comprehensive peace in which the Houthis would be a disarmed political party and a part of a modern democratic state," said Yemen's Deputy Minister of Human Rights Nabil Abdul Hafeez.
Peace will be achieved only through dialogue between the Yemeni sides, but the international community must be aware that the IRGC and its proxy Hizbullah are working as Houthi puppeteers, which is not conducive to peace, he said.
Peace efforts
The war in Yemen, which has killed tens of thousands of people since it erupted in 2014, has flared anew in the past two months with a Houthi offensive to seize Marib, the government's last stronghold in the north, AFP reported.
Saudi Arabia in March proposed a UN-supervised ceasefire as part of a series of fresh proposals aimed at ending the six-year conflict, but the Iran-backed Houthis (Ansarallah) immediately rejected the deal.
Riyadh, the United States, and much of the international community accuse Tehran of supporting the Houthis with weapons and missiles and helping them build drones used to attack Saudi Arabia bases. While Iran has denied the allegations and said its support for the Houthis is solely political, it has confessed to helping them with missile technology.
On Sunday (May 9), the US Navy's 5th Fleet said it had seized a huge cache of illicit Russian and Chinese weapons from a stateless dhow sailing in international waters of the north Arabian Sea in a two-day operation on May 6-7.
The Navy's initial investigation found the vessel came from Iran and the weapons resembled those of other interdicted shipments bound for the Houthis, said a US defence official, who spoke on condition of anonymity.
On April 29, US special envoy to Yemen Tim Lenderking traveled to Saudi Arabia and Oman to meet with officials in the two countries.
The discussions were to "focus on ensuring the regular and unimpeded delivery of commodities and humanitarian assistance throughout Yemen, promoting a lasting ceasefire, and transitioning the parties to a political process," said a US State Department statement.
The US envoy's efforts coincide with positive messages by Saudi Crown Prince Mohammed bin Salman on the achievement of stability and peace in the region, saying that this would depend on Iran changing its behaviour.
"We have an interest in Iran's stability, but the problem is in Tehran's negative behaviour regarding its nuclear programme, its ballistic missile programme, and its support for foreign militias," he said in a televised interview on April 27.
Meanwhile, AFP has reported that Saudi Arabia and Iran are holding secret talks, following reports that a Saudi delegation led by intelligence chief Khalid bin Ali al-Humaidan met with Iranian officials in Baghdad on April 9.
The two sides are expected to hold further talks this month, according to multiple sources, including a Western official familiar with the process.
"De-escalation and (establishing) ties between two great Islamic countries in the Persian Gulf region is to the benefit of both nations," Iran's foreign ministry spokesman Saeed Khatibzadeh said Monday.