The US Air Force this month held several events highlighting improved tactics and partner interoperability to defend the Middle East region and beyond.
US Air Forces Central (AFCENT) on April 23 wrapped up Air and Missile Defence Exercise (AMDEX) 21-02, a semi-annual exercise that improves tactics, techniques and procedures against simulated air and missile threats.
AFCENT, along with its coalition partners, provides the command and control of airpower throughout the US Central Command (CENTCOM) area of responsibility -- a 20-nation region stretching from northeast Africa across the Middle East to Central and South Asia.
Some 1,700 US military personnel at Shaw Air Force Base in South Carolina, and multiple locations throughout the CENTCOM theater, took part in the drills, which kicked off April 12, according to an AFCENT statement.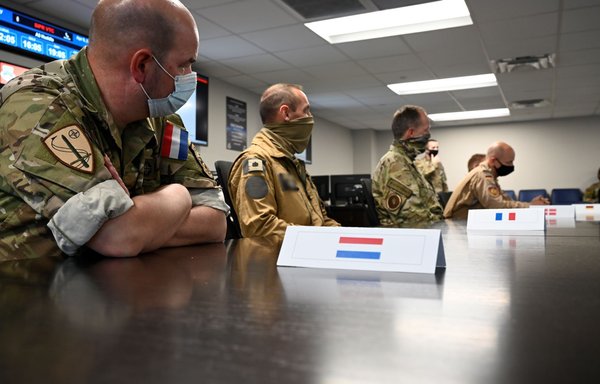 The two-week-long exercise was also designed to strengthen distributed operations capabilities, said officials.
"Air and Missile Defence exercises allow us to conduct distributed operations while under the pressure of simulated threats," said AFCENT commander Lt. Gen. Greg Guillot.
"These are opportunities to refine our command and control procedures, while also assuring our regional and coalition partners of our strong commitment to security and stability in the region," he added.
Members from US Army Central, US Naval Forces Central Command and AFCENT directly worked with long-standing partners to ensure interoperability between the various air and missile systems, according to the statement.
In addition to exercising distributed operations, these regularly scheduled events test the transition of forces from steady-state operations to active combined defence of the region, it added.
Maintaining strong partnerships
"Defence of the region relies on coalition and regional partner participation, in both real-world and exercise events," said Freddy Williams, AFCENT lead planner for AMDEX 21-02.
"A real-world event is not the time to be sorting through shared roles and responsibilities or testing communication capabilities. We deliberately plan and execute these training opportunities to maximise our collective strengths and increase interoperability," he said.
The exercise came just after 26 senior military representatives from nine countries traveled to Shaw Air Force Base on April 9 to kick off a series of events for "Coalition Week".
The coalition members who attended the events are currently assigned to the Combined Air Operations Centre at al-Udeid Air Base, Qatar.
"Everything AFCENT does starts and ends with the coalition," said Guillot.
"In addition to assuring our partners that we can effectively control the air war through distributed operations from multiple locations, these engagements are a vital component of maintaining strong, mutually beneficial relationships with our allies and partners," he said.
Regional threats
These US-led engagements aim to counter threats by destabilising actors in the region, such as Iran's Islamic Revolutionary Guard Corps (IRGC), which funds and directs a host of proxies throughout the region.
US forces in Iraq are facing regular rocket and drone attacks attributed to militia groups linked to Iran, the latest of which was an April 23 rocket bombardment of a base at Baghdad airport housing Iraqi and US troops.
It was the second attack on the anti-ISIS coalition in Iraq in less than a week.
On April 18, five rockets targeted al-Balad air base north of the capital, wounding three Iraqi soldiers and two foreign contractors.
US President Joe Biden in February ordered air strikes against targets in Syria of Iran-linked militias after a rocket attack killed a contractor for the anti-ISIS coalition and injured US personnel.
"You can't act with impunity," Biden said at the time. "Be careful."
In Yemen, the Iran-backed Houthis (Ansarallah) have launched more than 150 ballistic missile, land-attack cruise missile and drone strikes on military, infrastructure and civilian targets in Saudi Arabia since January, CENTCOM chief Gen. Kenneth McKenzie said on April 20.
Iran remains the biggest threat to stability in the Middle East, he said.
Speaking to the House Armed Services Committee in Washington, McKenzie warned that Iran was increasingly using small and medium-sized drones to attack the anti-ISIS coalition but added that "Iran has failed" in its effort to drive US forces from the region.