Saudi Arabia this week concluded a joint air military exercise aimed at strengthening relations with all participating countries and raising their level of combat capability.
"Spears of Victory 2022" held at the Air War Centre at King Abdulaziz Air Base on the Gulf coast from February 13-23, involved the kingdom's land, naval and air defence forces, as well as air forces from the United States, Bahrain and Pakistan.
Assets such as helicopters from different squadrons and navy frigates also participated.
Other countries were taking part as observers this year in the exercise's second edition, said Lt. Gen. Turki bin Bandar, commander of the Royal Saudi Air Force (RSAF).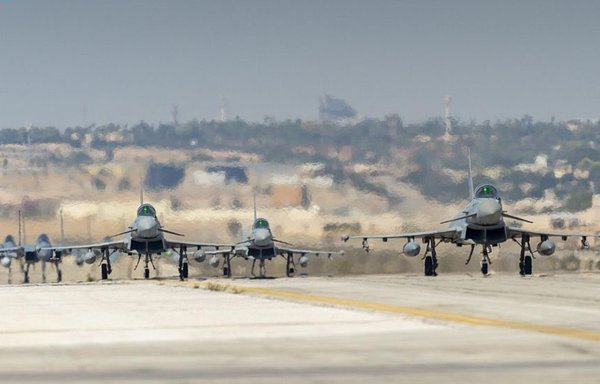 The participants demonstrated a high level of readiness and co-ordination in planning, preparation and implementation, which contributes to strengthening joint work, the Saudi Defence Ministry said.
"Through this exercise, the RSAF is working to raise its combat capabilities and the level of joint work with the branches of the armed forces," bin Bandar said.
The exercise involved several lectures and workshops for all air and technical crews, followed by military drills.
"We continue to build that bond [with Saudi Arabia] thru meaningful ops designed to strengthen our air forces in support of regional security & stability," US Air Force Central (AFCENT) said in a tweet on February 17.
Flurry of activity
Spears of Victory 2022 took place while regional and coalition air forces joined a US Air Force B-52 and two US Marine Corps F/A-18 Hornets on February 14 on a presence patrol mission across the US Central Command area of responsibility (AOR).
The B-52 bomber began its flight from Royal Air Force Fairford in England, and flew over the East Mediterranean, Arabian Peninsula and Red Sea before departing the Middle East, AFCENT said in a statement.
"By originating outside the CENTCOM AOR, the mission also exemplified the US Air Force's ability to deliver combat airpower seamlessly across multiple combatant commands," said Lt. Gen. Greg Guillot, 9th Air Force commander.
Attacks by the Houthis and other Iran-backed proxies in the Middle East have bolstered strategic alliances across the region.
US Central Command (CENTCOM) commander Gen. Kenneth F. McKenzie went on a whirlwind trip earlier this month, visiting key military allies in the region, including the United Arab Emirates (UAE), Bahrain and Egypt.
In the UAE, he sought to build on US efforts to fortify the UAE's defences, following attacks staged by the Iran-backed Houthis and another shadowy group.
In Bahrain and Egypt, McKenzie reiterated the United States' commitment to the security of the region.
There has also been a flurry of joint military exercises in the face of the persistent Iranian threat.
The Gulf Co-operation Council (GCC) on January 30 concluded a joint tactical exercise in eastern Saudi Arabia meant to bolster security co-operation among member states.
The US-led biennial International Maritime Exercise (IMX22), including 60 nations and organisations, also took place earlier this month in and around Gulf waters with Israel joining for the first time alongside nations that do not recognise it.
And in November, the UAE and Bahrain launched joint naval exercises with Israel for the first time.