DUBAI -- This week witnessed a scene once thought impossible: Israelis celebrating the Jewish festival of Hanukkah openly in the heart of the Arabian Gulf.
Once off limits to visitors from Israel, the UAE is seeing a small tourism boom as Israelis flock to the Gulf state since the two countries normalised diplomatic relations earlier this year.
With their economies hard hit by the novel coronavirus (COVID-19) pandemic, the UAE and Israel are hoping for rapid dividends from the US-brokered Abraham Accords, a normalisation deal signed in September.
Commercial flights between Tel Aviv and Abu Dhabi and Dubai began two weeks ago and the UAE launched tourist visas for Israeli citizens on December 3.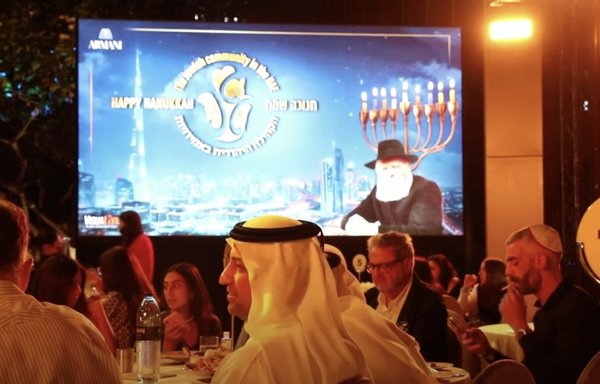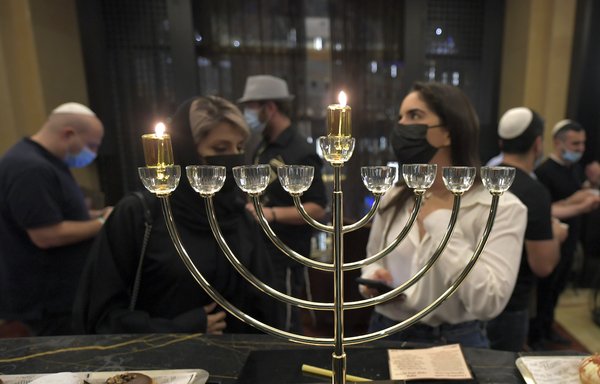 More than 50,000 Israelis have made the trip so far, the Washington Post reported December 14, shrugging off pandemic fears and a travel advisory issued after the November 27 assassination of a top Iranian nuclear scientist.
The Israeli Foreign Ministry on December 4 warned of possible attacks against its nationals in Africa and in countries geographically close to Iran, citing Georgia, Azerbaijan, Turkey, Iraq's Kurdish region, the UAE and Bahrain.
The warning did not have much impact, according to tour operators.
"They did not actually say not to go, which they do in some cases," Yaniv Stainberg, the general manager of Israel-based Privilege Tourism, told the Washington Post. "People had questions, but nobody canceled."
Dubai's iconic Burj Khalifa lit up December 10 in celebration on the first night of Hanukkah -- the Jewish festival of light -- which ends Friday.
Israeli tourism officials said more than 70,000 Israelis were expected to visit during the festival.
Dubai's Jewish Community Centre held nightly extravaganzas at the base of the 163-floor building, where hundreds of Jewish residents and Israeli visitors danced to live musical performances and DJs flown in from Israel.
A large Menorah, a nine-branched candelabra used during Hanukkah to symbolise the miracle that a day's worth of oil lasted eight days, was ceremoniously lit each night.
'A dream come true'
"It was very emotional, very emotional," said Israeli businessman Gil Gurevitch, who bought 50 rooms of a Dubai hotel and a restaurant that he plans to turn kosher to welcome Israeli tourists arriving in the UAE.
"It is a dream come true and it is a miracle," he told AFP.
"I hope this peace, inshallah, will bring all the Israelis here and all the Emiratis there, and it will change in other countries, and it will affect all the world because we need to live in peace," he said.
"It has tremendous meaning and significance to actually participate, to witness, to experience the miracle of Gulf-Israel relations and the exponential growth of Jewish life here in Dubai," said American rabbi Marc Schneier.
Schneier celebrated Hanukkah at a hotel in Dubai this year.
The UAE and Bahrain signed the Abraham Accords with Israel on September 15, followed by Sudan on October 23 and Morocco on December 10.
The agreement reflects a changing dynamic in the region, where countries now recognise the need for regional co-operation to counter Iranian influence.
Iran has denounced the peace agreements and many see the accord as a direct threat to the expansionist plans of Iran's Islamic Revolutionary Guard Corps (IRGC).