The Iraqi government, with the support of top Shia cleric Ali al-Sistani, is working to counter the influence of armed groups that threaten the legitimacy of the state and its official institutions.
The majority of these groups are Iran-backed militias that dominate the Popular Mobilisation Forces (PMF) and are widely viewed by Iraqis as unruly armed groups that threaten stability and peace in Iraq and the region.
These militias, known as "loyalist militias" in Iraq, do not comply with the government's decisions, and instead follow the agenda set by Iran's Islamic Revolutionary Guard Corps (IRGC).
Following repeated attacks on foreign embassies, assassinations and the forced disappearance of activists, the Iraqi public has been calling for the containment and isolation of IRGC-affiliated militias.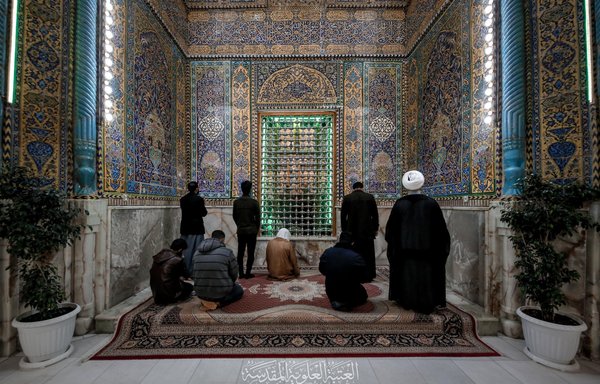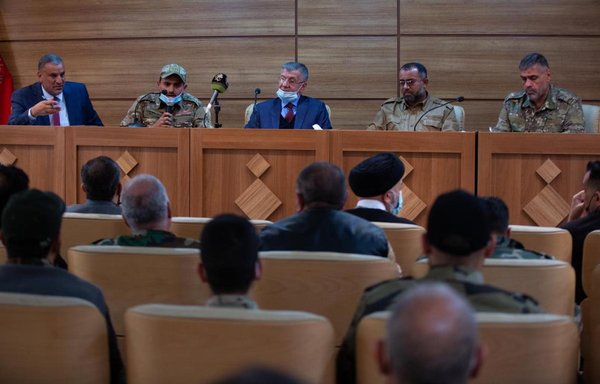 Undermining security
Al-Sistani's decision in May to integrate the four al-Atabat al-Muqadasa paramilitary groups, whose fighters hail from Najaf and Karbala, into the Iraqi army, was an important step, Iraqi journalist Shaho al-Qaradaghi said.
There are four al-Atabat al-Muqadasa groups: Al-Abbas Combat Division (the PMF's 26th Brigade), Liwa Ali al-Akbar Brigade (11th Brigade), Imam Ali Combat Division (2nd Brigade) and Liwa Ansar al-Marja'iyya (44th Brigade).
Formed to fight the "Islamic State of Iraq and Syria" (ISIS) in response to al-Sistani's jihad fatwa (Al-Jihad al-Kafai) in 2014, these groups, with some 15,000 members, gained the respect of the Iraqi public, al-Qaradaghi said.
This is in contrast to the loyalist militias who "used the fatwa and the war on terrorism as a cover to justify their existence", he said.
IRGC-backed militias revealed their true colours to Iraqis through deliberate undermining of security, he said, noting that they challenged state authority while flaunting their power.
He said "non-state forces" are trying to weaken the Iraqi state, and are forming more "smokescreen" militias, among them Awliyaa al-Dam (Guardians of Blood), which claimed a February 15 rocket attack on Erbil airport, and Alwiyat al-Waad al-Haq (Righteous Promise Brigades), which claimed a failed attack on Saudi Arabia in January and later threatened the United Arab Emirates.
Al-Qaradaghi said it is necessary to continue to confront militias and keep them in check by revealing their illegal activities, such as smuggling goods and their "imposition of taxes and tributes".
The government's interest in al-Atabat al-Muqadasa units joining the Iraqi army is an incentive for other factions to take similar steps, he said.
This will counter continued attempts by Iran-affiliated militias, particularly Kataib Hizbullah and Asaib Ahl al-Haq, to extend control over the PMF.
Strategic objective
Iraqi Prime Minister Mustafa Kadhemi's government is striving to purge the PMF of what it describes as outlaws, who use the umbrella group as a cover for their criminal acts, analysts said.
On February 15, Kadhemi announced that the members of the "gang of death", responsible for the assassination of activists and journalists in Basra, southern Iraq, have been arrested.
Journalist Ahmed Abdul Samad and activist and paramedic Jinan Madhi al-Shahmani were among the victims. According to media reports, this "gang" includes four members of Kataib Hizbullah, the group most loyal to the IRGC.
Issam al-Faily, who teaches politics at al-Mustansiriya University, said officials in Najaf are now moving towards one goal, which is to "institutionalise" the PMF -- in other words, to integrate it into state institutions.
He said this is a "strategic objective" for al-Sistani, who wants these forces to be under the government's command, and would like to see the uncontrolled weapons, chaos and wrangling eradicated.
That is why he began with his affiliated brigades and asked them to join the army before calling on other groups to do the same.
Even populist Iraqi cleric Muqtada al-Sadr has condemned in recent months the loyalist militias' continued attacks and assassinations in Iraq, and called for the peaceful support of the Iraqi government.
He also remained silent after al-Sistani's May decision to integrate the militias in the Iraqi army, a step some analysts see as his tacit agreement with the decision.
In a February 22 post on Twitter, al-Sadr decried the increasing rate of attacks against diplomatic posts, which he said endanger the lives of civilians. He said these acts only serve to "harm the reputation of the resistance and decrease its popularity" on the Iraqi street.
And in a September 23 statement addressed to the PMF, al-Sadr urged them to do more to denounce the actions of "some PMF factions" that only serve to harm Iraq.
Al-Sistani's larger goal
Al-Faily said al-Sistani's call for his affiliated brigades to join the army applies to a bigger project, which "is to redirect some of the group fighters to the field of civil services and utilise their energies to support the building and reconstruction process in the country".
Al-Sistani supports the government's efforts to curb the threat of weapons in the hands of armed groups that may be influenced by other countries, he said.
"The persistence of this threat means that we are at risk of entering a cycle of conflict and wars at any moment, which is not what the Iraqi street, al-Sistani or the government want," al-Faily said.
"Everyone is seriously concerned about the existence of these weapons and their destructive effect," he said, adding that it is necessary to co-operate and work together to end all illegal armed activity and achieve peace and stability.