Voices calling for the dismantling and disarmament of Hizbullah have intensified, with prominent Shia clerics among those condemning the Iran-backed party for the impasse Lebanon has reached.
Hizbullah's presence in and influence over the government have complicated and delayed the country's efforts to obtain desperately needed international support that would help it pull itself out of its economic crisis.
The global community, the United States included, has expressed readiness to assist Lebanon, on condition that real reforms be achieved and Hizbullah's influence be curbed.
Shia clerics -- in both Lebanon and Iraq -- are among those calling for an end to Hizbullah's influence in the government, and in the country and region.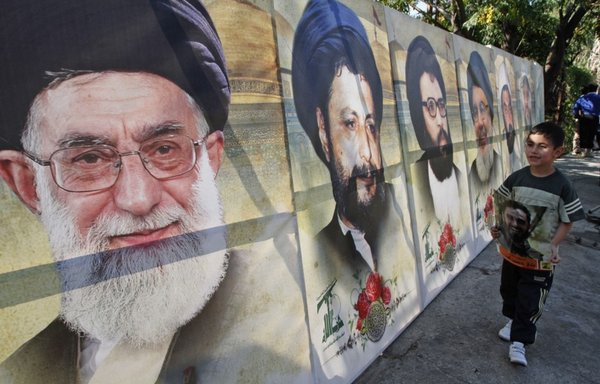 Former Hizbullah leader Subhi al-Tufayli is one of the harshest critics of the party, its leader Hassan Nasrallah and its backer Iran.
In a March 26 Friday sermon, al-Tufayli addressed those serving in Shia militia groups in Lebanon and Iraq, warning them that if they did not stand up to Iranian hegemony, they would be held accountable for the fall of their countries.
"All politicians in Lebanon are part of the corrupted system, especially those who get orders from Iran, as they only act on behalf of Iran, and if they say otherwise, they are lying," al-Tufayli said.
In a televised sermon following the August 4 explosion at the Beirut port, al-Tufayli said Nasrallah should be first in line to stand trial over the deadly incident, "as he stands above the rest of the government".
Another Shia cleric, Sheikh Mohammed al-Hajj al-Ameli, founded the "Shia Reform Movement" in Lebanon in July 2019, with the aim of ending Hizbullah's hegemony and disengaging from Iranian influence.
In an interview in 2020, al-Amili said, "the protests in Beirut and Baghdad seek to remove the concept of sectarianization in politics, to stop Tehran's ideological, security and military influence in the region, to bring back the citizens' rights stolen under the regional conflicts, and to stop the economical war that has wasted people's money on wars and creating militias".
In December 2019, Lebanese Shia cleric Ali al-Amin, an outspoken Hizbullah critic, said his rejection of the Iranian regime's expansionist agenda in the region has caused Hizbullah to launch "treason campaigns" against him.
The policies of Hizbullah and Amal "bring only harm to the Shia community", he said.
Al-Amin expressed these views as far back as 2009, when, in a televised interview, he said: "We don't have a problem with Iran applying the doctrine of Wilayat al-Faqih within its own borders. But it wants to export this doctrine to outside its borders", which has impacted Lebanon's internal politics.
Disillusionment with Hizbullah
Popular protests in Lebanon have called for removing Lebanon's political elite, including politicians affiliated with Hizbullah, and for disarming the party, which has held on to its weapons since the end of the Lebanese civil war.
The current round of protests has focused over political inaction in the face of deepening poverty, as the country's economic crisis has brought surging unemployment, spiralling prices and a plunging currency.
More than half of the population is living below the poverty line, and prices have soared as the Lebanese pound has lost more than 80% of its value.
Protests have also erupted in Shia-majority cities, such as Tyre, Nabatiyeh and Baalbek last June, in light of increasing inflation and the worsening economic crisis.
Hanin Ghaddar, a Lebanon researcher at the Washington Institute, attributed the Shia disillusionment to Hizbullah's perceived alliance with "corrupt politicians" such as Nabih Berri (Amal leader and parliament speaker) and former foreign minister Gebran Bassil, who heads the Free Patriotic Movement.
Hizbullah also is having difficulties paying salaries and funding social services in areas under its control because of a reduction in funding from its backer, Iran, as the Islamic Republic is under sanctions and is facing an economic crisis, she said.
Curbing Iranian proxies
Beyond Lebanon, Iraq's top Shia cleric, Ali al-Sistani, has called for dismantling Iran-backed militias across the region and restoring state sovereignty.
Following a meeting with United Nations representatives in Iraq in September, al-Sistani called on the Iraqi government to "control border crossings, improve the performance of security forces [and] restore sovereignty".
He called for the collection of all unauthorised weapons and said Iraq must work to ensure districts did not fall under the control of armed groups.
This was in direct reference to Iran-backed militias that dominate the Popular Mobilisation Forces (PMF) and are widely viewed by Iraqis as unruly armed groups that threaten stability and peace in the country and the region.
Al-Sistani called on the government "to uncover all those who have carried out criminal acts of killing, wounding or otherwise against protesters, security forces or innocent citizens, or who have assaulted public or private property, since the start of the popular [protest] movement".
He also has been calling for all militias to join Iraq's national army following repeated attacks on foreign embassies, assassinations and the forced disappearance of activists, mainly blamed on Iran-backed militias.
These militias do not comply with the government's decisions and instead follow the agenda set by Iran's Islamic Revolutionary Guard Corps (IRGC).
Al-Sistani's calls echo those of French President Emmanuel Macron, who on his first official visit to Iraq last September called for all armed forces in Iraq to be "normalised", stressing that the "fight for Iraq's sovereignty is essential".
Prominent members of Iraq's Shia community also have spoken out against Iranian proxies and Iran's interventionist policies, among them cleric Iyad Jamal al-Din and intellectual Ghaleb al-Shabandar.