With their "Iraq first" approach to political and security issues, top Shia figures in Najaf are taking quite a different position from that adopted by Iran's proxy militia groups, observers said.
Grand Ayatollah Ali al-Sistani, the religious authority of Iraqi Shia, bases his positions on the vision of "belonging to and defending Iraq's interests first".
But Iran's proxies, led by Asaib Ahl al-Haq's Qais al-Khazaali, do not hesitate to declare their allegiance to al-Wali al-Faqih (guardian of the jurist) -- Iranian leader Ali Khamenei.
Al-Sistani has refused on several occasions to meet with the leaders of armed groups, or politicians with direct ties to Iran.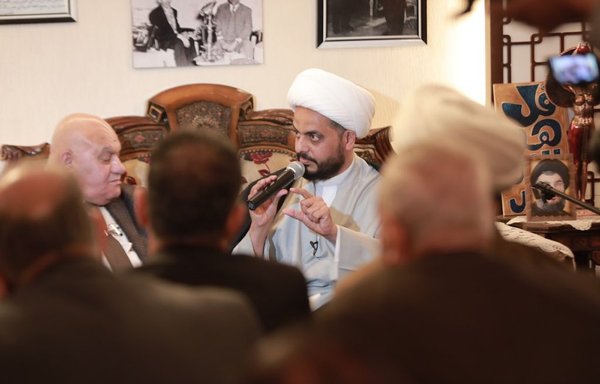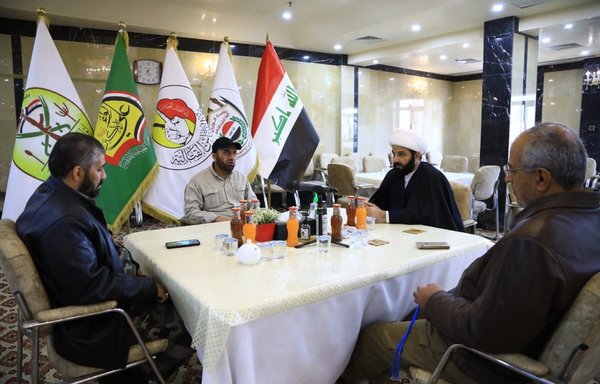 On November 26, local media outlets reported the "failure of a delegation headed by al-Khazaali to meet with al-Sistani in Najaf".
Members of al-Khazaali's delegation were informed that al-Sistani refused to meet them, despite their long wait. They had to return to Baghdad empty-handed, according to these reports.
Most members of the delegation -- representing the Shia Co-ordination Framework -- are allied with Iran. The delegates travelled to Najaf to request that al-Sistani mediate between Iraq's rival Shia blocs.
Their request was aimed at settling a potential political crisis after Muqtada al-Sadr, the leader of the Sadrist movement, refused to join forces with Shia Co-ordination Framework groups who had lost in Iraq's recent elections.
Militias' hand in civilian deaths
Political analyst Ahmed Shawki said the militias' involvement in shedding the blood of civilians has harmed and undermined Iraq's security and has shaken the foundations of the Iraqi government.
He said the militias are in direct confrontation with the Iraqi people and with religious and national authorities who reject their existence.
They are behind the brutal killing of hundreds of Iraqis and the forced disappearance of many others. And they are responsible for firing rockets at military and civilian installations in Iraq and terrorising civilians, Shawki said.
As a militia leader, al-Khazaali has flouted the orders of the state and constantly threatens the government and its institutions, he said.
This defiance angers al-Sistani, who advocates for stability, Shawki added.
The divergence between the two sides was evident during the protests of 2019, during which al-Khazaali opposed early elections and described them as a Western project to lead the country to civil war.
Meanwhile, al-Sistani supported the elections, describing them as "the best way to avoid heading into the unknown and into chaos and internal fighting".
Al-Khazaali later criticised the four armed groups affiliated with Najaf when they announced their split from the Popular Mobilisation Forces -- a paramilitary umbrella group.
These groups were officially integrated into the Iraqi army at the end of 2020.
He also labelled the split a result of the West's influence on the militias.
'Orders from outside the borders'
Al-Khazaali's Asaib Ahl al-Haq and other Iranian proxies have come under increased criticism from Najaf's religious figures, as they now are seen as lacking credibility and legitimacy and are even being accused of treason, Shawki said.
In August 2021, Hamid al-Yasiri, a cleric close to al-Sistani, harshly criticised groups loyal to Iran, accusing them of betraying Iraq and killing Iraqi demonstrators based on "orders coming from outside the borders".
Al-Khazaali quickly responded, describing al-Yasiri as a "nationalist" who "wants to use patriotism as a cover" and voicing surprise that "such nonsense is spoken by a person who wears a turban".
In return, during the Shia Arbaeen pilgrimage, al-Yasiri organised a demonstration overseen by a number of Najaf Hawza (seminary) students, which denounced the influence of Iran on Iraqi groups.
On January 17, unidentified gunmen surrounded al-Yasiri's residence in the southern town of al-Rumaitha and fired on it, before fleeing.
Immediately afterwards, local residents flocked to al-Yasiri's residence to express their solidarity with him.
In the aftermath of the incident, Asaib Asl al-Haq and other Iranian proxies denounced the groups affiliated with Najaf on their TV channels.
Al-Sistani's representative Ahmed al-Safi issued a statement saying that these attacks are immoral, as they target religious figures.
Iraqi Centre for Strategic Studies director Ghazi Faisal Hussein said the Iran-aligned militias are attempting to obfuscate al-Sistani's national discourse via various means.
He noted that al-Sistani's stance favours "Iraq's independence from all external influences".
The actions of al-Khazaali's militia and others like it are a reminder that these groups are tools used to spread the doctrine of Wilayat al-Faqih, he added.
"This is in total conflict with the ideology of religious authorities in the city of Najaf, the spiritual and ideological centre of millions of Shia Muslims in Iraq and the world," Hussein said.