Lebanon was dealing with a major financial crisis when the Beirut port explosion occurred in August, exacerbating the effects of COVID-19 and plunging an already suffering segment of the population into more poverty.
A large number of Lebanese citizens and Syrian refugees face very difficult economic and social circumstances, hindering them from maintaining a normal life as they do not have access to food or fuel ahead of the cold months.
Lebanon is home to 892,000 registered Syrian refugees, and has the highest per capita population of refugees in the world, according to the UN High Commissioner for Refugees (UNHCR).
Many worry about going back for fear of compulsory military service. Others have lost their homes to the government or its affiliated militias -- including Hizbullah and other IRGC-linked groups -- in their attempt to conduct demographic engineering along sectarian lines in former opposition strongholds.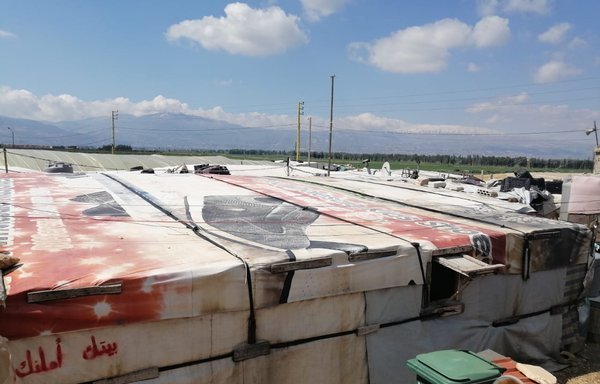 Mezyad al-Ali, a Syrian refugee from Homs living in a camp in Majdal Anjar in the Bekaa, told Al-Mashareq that living conditions have become increasingly tough for Syrian refugees, not only in Majdal Anjar, but throughout Lebanon.
'Our dreams are lost'
Al-Ali, who oversees the camps in Majdal Anjar, said "the free fall of the Lebanese pound against the dollar has affected our food security due to the skyrocketing increase in the prices of foodstuffs. Many families have to make do with grains and cheap vegetables".
In addition to food insecurity, the cost of health care is high and many medications are unavailable, he said. The unemployment rate has also gone up, since many establishments have closed their doors due to the coronavirus pandemic.
Winter brings about a bigger challenge, he added. Tents need to be reinforced with canvas, nylon tarps and wood -- whose prices have all gone up -- to withstand storms and snow.
Moreover, heating fuel is scarce and the price of firewood has risen by 200%, he said.
Al-Ali said Syrian refugees "weigh the option of going back to Syria, but obstacles prevent them from returning home. Our dreams are lost."
"Even finding a decent job has become a dream, while it is a right. My only dream has become to not dream of beautiful things, because they cause me worry and pain."
UNHCR assessing needs
Mohammed Khaled Sabia, director of the NGO Syrian Refugee Voice, said Lebanon's crisis has worsened living conditions for some 12,000 Syrian refugee families.
He said 80% of these families live in 146 makeshift camps of Arsal and the rest in houses and rooms under construction.
The food allowance provided by the UNHCR does not meet the refugees' needs, he told Al-Mashareq, noting that 1,100 refugee families have stopped receiving that allowance altogether.
Sabia said that refugees, who live under tough conditions, are pleased that "at least their children can continue their studies through the Lebanese education system".
The UNHCR increased the amount of monthly food allowance per family member from 40,000 Lebanese pounds ($27) to 70,000 pounds ($46.14), based on the conversion rate of 1,500 pounds to the dollar.
UNHCR spokeswoman Dalal Harb said that "75% of refugees are currently living below the extreme poverty line; an increase from last year's 55%".
"Refugees are suffering as they are unable to secure their basic needs," she told Al-Mashareq. "Winter is particularly difficult, even more so for those living in mountainous regions."
"In accordance with its annual plans, the UNHCR is preparing to assess refugees' needs. The purpose of the assessment is to determine essential needs for the upcoming winter season," she said.
This is done in co-operation with all regional UN partners, she said, noting that "we need to secure the international community's support, as well as regional donors' support."
Harb told Al-Mashareq the UNHCR is preparing to launch its winter campaign for refugees to secure stockpiles of winter clothes, blankets, food and cash to help them cope with the harsh winter season.
The UNHCR's new, revised plan covers the neediest Syrian and Iraqi refugee families as well as struggling Lebanese families, she said.