The UN High Commissioner for Refugees (UNHCR) has begun distributing winter aid to refugees in Lebanon to help them during the winter season.
As it does every year, the UNHCR and its partners allocate an amount of money for Syrian refugees in Lebanon for the purchase of heating equipment and other winter essentials.
This year's aid is of great importance, refugees told Al-Mashareq, given the difficult economic conditions and high food prices that Lebanon is currently facing.
The monetary value of the winter aid that each Syrian refugee receives amounts to 560,000 Lebanese pounds ($370). The aid covers a period of five months -- from November to March -- and can be withdrawn using the joint red debit card.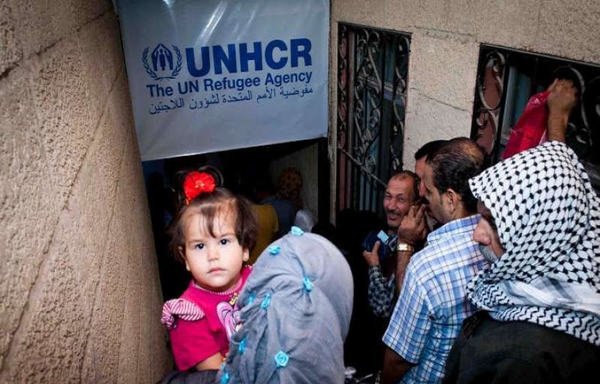 Khawla al-Youssef, a Syrian refugee displaced from Daraa to Bar Elias, said the money enables her to buy heating fuel and winter clothes for her three children, and to reinforce their tent to prevent rainwater from entering it.
"We depend every winter on the money given to us by the UNHCR to buy means of heating for the tent in which I live with my husband, children and parents-in-law," she told Al-Mashareq.
Al-Youssef said the aid "comes at the right time because my husband does not work in the winter, and even more so in light of the difficult economic situation in Lebanon".
Refugees trying to stay warm
While a large number of refugees living in informal camps in Bar Elias say the winter aid fills an "urgent need for them as it enables them to buy means of heating," they do not hide their concern that they might need more financial aid to buy food, whose prices have risen due to the economic circumstances in Lebanon.
Meanwhile, some refugees say they have yet to receive any aid from international organisations.
"I have not received any winter aid for three years, despite our need," said Mufidah Mustafa, a Syrian refugee displaced from Aleppo to the town of Jdeidet Ghazir.
Mustafa is the mother of two, a 21-year-old son who works only seasonally, and a 20-year-old daughter who is married and is herself a mother of four children but has no breadwinner because her husband is ill.
"I do not know why I am not receiving the winter aid even though I have a file with the UNHCR," she said.
"Most refugees are receiving it, including my daughter, who received 560,000 Lebanese pounds that is helping her meet the needs of her young children," Mustafa said.
She said the only means of heating she now has are "wool blankets".
Cash aid helps most vulnerable families
UNHCR senior public information assistant Joy Yazbek said every winter, the UNHCR and its partners provide seasonal cash assistance to the most vulnerable refugees to help them stay warm and dry and survive the harsh winter season.
The winter aid "is disbursed to 860,000 Syrian refugees, or about 172,000 families, and 9,000 Iraqi refugees, or 3,000 families, all of whom live below the poverty line", she told Al-Mashareq.
More than three quarters of the Syrian refugees live below the poverty line in Lebanon, she said, noting that they make less than 6,000 Lebanese pounds ($3.80) per day.
In light of the economic crisis that has hit Lebanon in recent weeks, the UNHCR's winter campaign this year will also include the most vulnerable Lebanese families "to ensure they stay warm during the winter months", she said.