By way of two controversial new property laws, the Syrian regime is seeking to effect demographic change in former opposition strongholds, politicians and Syrian refugees tell Al-Mashareq.
Under the guise of facilitating reconstruction, the Urban Renewal Law, commonly known as Decree 10, aims to settle pro-regime families in the area around Damascus to create a security cordon around the capital, they said.
While it purports to address the issue of rubble and the classification of damaged buildings, Law No. 3 also has significant implications in terms of property rights.
Decree 10 allows the government to seize private property to create zoned developments, compensating owners with shares of the projects, AFP reported.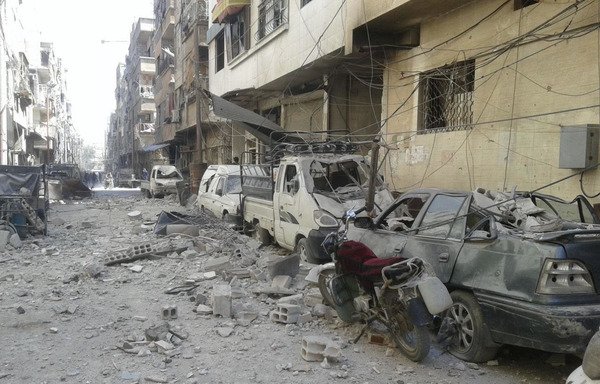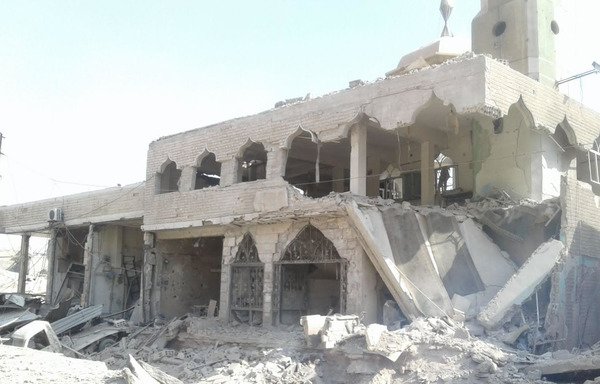 But Human Rights Watch warned Tuesday (May 29th) that the law does not satisfy international standards and amounts to the "forced eviction" of those unable to prove land ownership.
According to the rights watchdog, Decree 10 violates standards meant to protect owners from forced evictions set forth in the International Covenant on Economic, Social and Cultural Rights.
Property owners can only claim shares if they prove ownership within 30 days after the zone is announced -- an impossible task for many displaced Syrians, who are often missing paperwork or may not learn of the requirements in time.
Hindering the return of refugees
In a May 21st statement, Lebanese Minister of State for Refugee Affairs Mouin al-Merehbi issued a warning about two new Syrian laws relating to property issued this year -- the so-called Decree 10 and Law No. 3.
Law No. 3, which went into effect in February, authorises a government committee to assess damaged buildings and submit recommendations as to their fate, which will be posted for a 15-day period in local media outlets.
The property owner then has 30 days to prove ownership, accept or dispute the decision, and collect any possessions if the building is to be destroyed.
If there is no dispute during the 30-day period, the government can enter the building and sell any remaining contents, and the property can be demolished.
According to Lebanese Foreign Minister Gebran Bassil, Decree 10 could adversely impact the nearly one million Syrian refugees in Lebanon.
In a letter to his Syrian counterpart Walid Muallem, Bassil expressed "Lebanon's fear that the conditions imposed by this law will hinder the return of a not-insignificant number of displaced to their hometowns".
"The inability for displaced to prove ownership in the provided timeframe could cause them to lose their property... and dispossess them of one of their main incentives to return to Syria," Bassil wrote.
Bringing about demographic change
Decree 10 is "a final blow by the regime to destroy us and usurp our property after driving us away from it by force of arms", said Laila al-Khalil, a refugee from Aleppo who now lives in Mazraat Yachoua in Lebanon's northern Metn.
Some Syrian refugees are afraid to return to regime-held areas under the present circumstances, out of fear for their safety and in case their sons are conscripted into the Syrian army, she told Al-Mashareq.
Decree 10 "aims to bring about a demographic change in Syria, especially in the vicinity of the capital, Damascus, and in Eastern Ghouta", said Samir Nashar, a member of the Syrian opposition who resides in Istanbul.
The new property law "gave the owners of these properties a period of one month to prove their ownership of their homes and lands, when the majority, if not all of them, are now displaced, refugees and expelled", he told Al-Mashareq.
It is impossible, under the current conditions, for the former residents of these areas to return to them for the purpose of establishing their ownership, he said.
The regime issued this law "knowing full well that it is impossible for them to return anytime soon, as long as there is no lasting peaceful solution in Syria", he added.
The main objective of this law is to establish a "security belt" around Damascus by encouraging pro-regime civilians from other areas to settle there, he added, noting that Hizbullah fighters have already settled in areas around Damascus.
Call for international action
Decree 10 "aims at confiscating the property of Syrian refugees and complicating their return to their country", al-Merehbi said, noting that "hundreds of thousands of Syrians would lose their property rights".
The decision will have serious repercussions, he said, "not least of which is that the property owners will not stay silent about the additional injustice inflicted upon them".
"The regime and its supporters are trying to bring about demographic change in Syria at the expense of the Syrian people, particularly those displaced from their villages and towns to the Syrian interior and neighbouring countries," he said.
He stressed the need for the UN Security Council and the international community to take action to "stop the implementation of the law, not recognize it, and thwart the plot aimed at bringing about demographic change".