The UN High Commissioner for Refugees (UNHCR) has isolated infected Syrian refugees and implemented additional preventive measures following an outbreak of novel coronavirus (COVID-19) at a Bekaa Valley camp in Lebanon.
After a May 26th report confirming 15 Syrian refugees had been infected with COVID-19 in the town of Majdal Anjar, the municipality and UNHCR began to conduct coronavirus tests in all the Syrian refugee camps.
The 15 Syrian refugees infected in Majdal Anjar all lived in the same building, UNHCR spokeswoman Dalal Harb told Al-Mashareq.
"Since those infections were confirmed, UNHCR has continuously communicated with the infected individuals to ensure they are following the Ministry of Health's instructions, including self-quarantining," she said.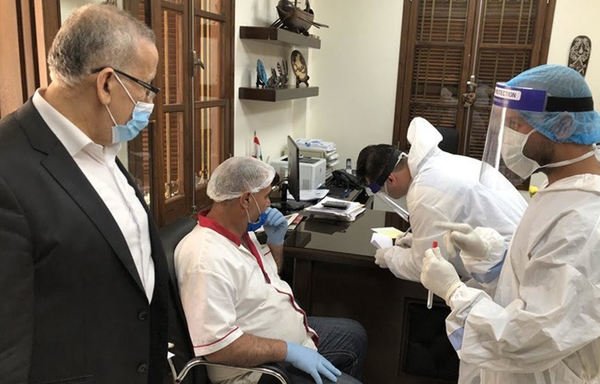 "We continue to follow up on them closely, and provide them with the necessary support, in close co-operation with the ministry and local authorities," she said.
"UNHCR and its partners will provide them with food and sterilisation equipment to help them meet their basic needs during the quarantine period, based on the mechanism we outlined in the COVID-19 Response Plan," Harb said.
She said UNHCR has begun a testing campaign in the refugee camps and shelters in co-operation with the Ministry of Health, the World Health Organisation (WHO) and other relevant authorities.
This is part of a broader national testing campaign, she said, and "focuses on areas that have a large concentration of refugees".
"Thousands" will be tested over the next few weeks, she said, noting that UNHCR "will cover the cost of the testing and treatment for 100% of infected refugees".
Protective measures
When Lebanon reported its first COVID-19 infections in February, UNHCR "immediately began developing various preventive and response measures to protect the health of all refugees and Lebanese communities", Harb said.
Field teams spread out to raise awareness, especially in refugee camps and collective shelters, she said.
Humanitarian organisations have been able to reach refugees in 5,020 camps and 441 collective shelters so far, Harb said, "and the efforts are still ongoing".
"We and our partners are working to equip and rehabilitate seven isolation units in all Lebanese regions in close co-operation with the authorities," she said.
These units will serve those who are not able to self-isolate at home, regardless of nationality, she added.
Harb also said UNHCR is working to bring medical equipment and supplies into Lebanon, and is expanding the capacity of five government hospitals.
This includes covering the cost of an additional 800 hospital beds and 100 intensive care unit (ICU) beds, she noted.
'State of emergency'
Majdal Anjar mayor Saeed Yassin told Al-Mashareq the 15 infected Syrians had been "quarantined in their homes".
"We also closed the entrances to the town and declared a state of emergency, and we are currently considering a series of steps to impose quarantine on people who have come in contact with the infected individuals," he said.
Local officials reached out to UNHCR to obtain food for the individuals in quarantine, he said, and conducted random coronavirus tests in 25 camps, where a total of 25,000 Syrian refugees reside.
Around 2,000 others living in residential buildings also were tested, he said.
"After 60 infections were confirmed in the town, including 15 Syrian refugees living in a residential building, we felt that the danger was getting closer and closer to us camp residents," said refugee and local camp official Mizyad al-Ali.
His camp is located outside Majdal Anjar and comprises 40 tents housing around 270 Syrian refugees, he told Al-Mashareq.
'We live in real fear'
Al-Ali said Syrian families in Lebanon "are living in real fear, and are now taking the virus more seriously than before".
"We, as refugees, are awaiting additional instructions from UNHCR and the municipality with regard to the conduct of random tests, especially those of us who have come in contact with people infected with the virus," he said.
Syrian refugee Omar Ibrahim, an official at a Bar Elias camp, told Al-Mashareq that residents of the camp, which comprises 50 tents housing 350 refugees, "know how dangerous the virus is".
Camp residents "have become very concerned following the confirmation of infections in Majdal Anjar", he said.
"We have tightened prevention, disinfection and quarantine measures, as well as social distancing measures to prevent people from mixing," he said.
According to the health ministry, Lebanon has recorded 1,242 COVID-19 cases since the start of the pandemic and 27 deaths, AFP reported.
After weeks of lockdown, the government on Sunday (May 31st) announced that restrictions would be eased this week, including a curfew which is pushed back from 7 p.m. to midnight.