BEIRUT -- As international attention shifts away from Syria amid Russia's war in Ukraine, Hizbullah and the Islamic Revolutionary Guard Crops (IRGC) have quietly stepped up their acquisition of real estate in areas of strategic value.
Hiding their hand by using Syrian brokers complicit in their scheme, the Iran-aligned Hizbullah has been buying up or seizing properties as part of a bid to effect demographic change, activists and real estate property owners said.
The party is acquiring land belonging to Syrians who need to sell out of financial necessity, internally displaced persons (IDPs) and those who vacated their properties and fled the country during the Syrian and Russian onslaught.
Some Syrians with properties in areas coveted by the party have reluctantly opted to sell their villas and lands and get some money for them, rather than have them seized outright by the regime or Iranian militias.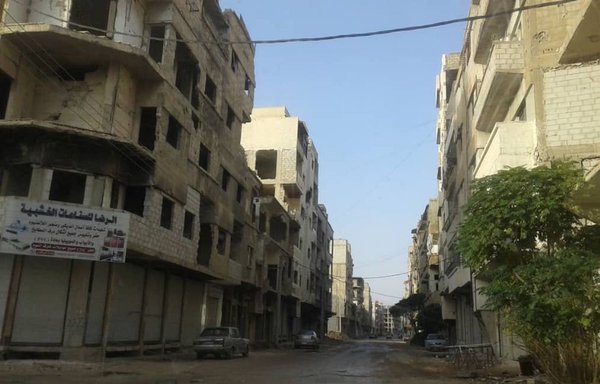 Forced to sell their home
Facing this situation is a family from Moadamiyat al-Sham, a town on the south-west outskirts of Damascus, whose members settled in Lebanon years ago.
The family owned a four-storey building in Moadamiyat al-Sham, a family member told Al-Mashareq on condition of anonymity.
"We never thought that we would have to sell," he said, adding that the family was forced into this position as it was unable to access accounts in one of the Lebanese banks.
The family discussed the idea of selling at length, he said, "and we became convinced of the benefit of selling, because the agent informed us that the broker would pay many times the actual price of the property in dollars".
The sale "broke our hearts, because the building holds our memories and was the fruit of our parents' labour", he said.
"If we had not done that, however, Hizbullah and its brokers would have seized it anyway and we wouldn't have gotten anything for it."
In January, Hizbullah seized Quonset-type hut greenhouses in the Sayyida Zainab area of Damascus that were being used to grow vegetables, and began using them as a headquarters, the Syrian Observatory for Human Rights said.
Groups of Hizbullah elements also moved to al-Sabboura area in Damascus and seized villas there after abandoning their headquarters in a villa in al-Mazzeh area, near a house owned by Bashar al-Assad's billionaire cousin Rami Makhlouf.
According to the Observatory, Iran and its allied militias are working to revive its expansionist project near Damascus and extend its influence to its southern outskirts, adjacent to the Sayyida Zainab area, a key militia stronghold.
Local brokers working for the Iranians are making Syrian residents of this area enticing offers to buy real estate from them, preying on their financial desperation, for the use of the families of Iranian militiamen.
Damascus area land grab
"There is a major push by Hizbullah and the IRGC to buy villas and real estate in Damascus and its environs, led by Syrian traders and brokers, most of whom are from Deir Ezzor," Observatory director Rami Abdel Rahman said.
Brokers buy these villas and other real estate properties from their owners, and sell them specifically to Hizbullah, he told Al-Mashareq.
They buy them for "amounts that exceed the actual value, and the purchase is done by proxy because the owners are outside Syria", he said.
The owners "prefer to sell them to avoid having them seized by force", he said.
Hizbullah and the IRGC's focus on buying real estate in several regions of Syria, including in the vicinity of Damascus, is part of a broad effort "to bring about demographic change in Syria", Abdel Rahman said.
They have created a real estate belt for themselves on the perimeter of the Syrian capital as a waystation on the road to Tehran, which passes through the Albu Kamal area and al-Mayadeen in Deir Ezzor, he noted.
Iranian militias, led by Hizbullah, have bought no fewer than 29 properties in the city of al-Mayadeen since the beginning of 2023, Abdel Rahman said.
Exploiting difficult circumstances
Hizbullah and the IRGC are taking advantage of the difficult economic circumstances to buy Syrian real estate, Syrian media activist Ahmed Obeid told Al-Mashareq.
They are lending property owners money to pay their mortgage, then appropriating the property if the mortgage is not paid on time, "through Syrian brokers collaborating with them", he said.
Hizbullah and the IRGC are implementing an organised plan to buy real estate, with the aim of bringing about demographic change benefitting them, he said.
Obeid said real estate acquisitions are currently actively being carried out in Moadamiyat al-Sham under the supervision of the head of the Marasmeh clan in Deir Ezzor, Farhan al-Marsoumi.
Al-Marsoumi was appointed as the tribal leader "in the presence of Russian officers and regime intelligence officers last September", he said.
He is "the IRGC's most prominent arm in terms of expropriation and real estate acquisition operations in Damascus, rural Damascus and Deir Ezzor, in which he has acquired hundreds of properties", Obeid said.
More recently, al-Marsoumi's property acquisition efforts have shifted to the Eastern Ghouta of Damascus and Moadamiyat al-Sham, he said.
For some time, he noted, Hizbullah and the IRGC have been focusing on buying villas and real estate in the pricier areas of Yaafour and al-Sabboura on the perimeter of Damascus.
These areas are close to the Syrian-Lebanese border, al-Dimas airport, the Syrian regime's 4th Division headquarters, and their military sites.
He said property acquisitions were recorded on behalf of Hizbullah figures in the Old City of Damascus and in al-Maliki district, a pricey area in the city centre, with some purchase prices exceeding $1 million.
In Qudsaya, in rural Damascus, Obeid noted an "expansion in the acquisition of residential homes at the end of 2022 for the benefit of Iranian and Iraqi figures".
Among them were leaders of Harakat al-Nujaba -- an Iran-aligned Iraqi militia -- via a broker who hails from Deir Ezzor, lives in the city and works for al-Marsoumi, he said.