BEIRUT -- A convoy of trucks loaded with ammunition and buses transporting militiamen affiliated with Lebanese Hizbullah was spotted recently as it headed for the border town of Albu Kamal in eastern Syria's Deir Ezzor province.
The convoy reached the city of al-Mayadeen, then headed south, in the direction of Albu Kamal and the border crossing between Syria and Iraq, the Syrian Observatory for Human Rights reported November 25.
The movement of ammunition and manpower saw dozens of militiamen deployed in positions where Iran-aligned groups are active.
It appears that Hizbullah is reinforcing its military positions and supplying them with ammunition to protect the Albu Kamal border crossing, a key corridor for Iran's regional ambitions, local sources told Al-Mashareq.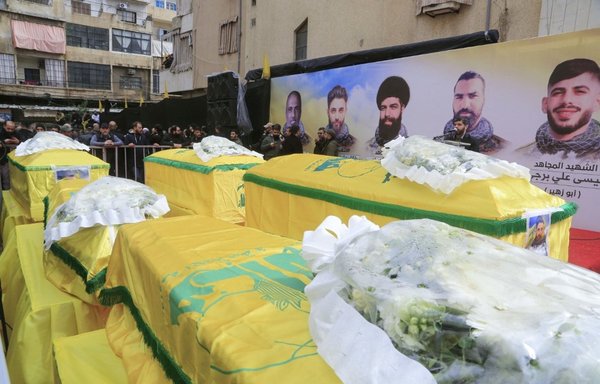 In an October 8 report, the Observatory said construction had begun on drone runways in the Haidariya area near al-Mayadeen, though work was subsequently suspended.
One Albu Kamal resident expressed concern that Hizbullah's activities have put the region in danger, as the party and the Islamic Revolutionary Guard Corps (IRGC) maintain the largest concentration of their militias in this area.
Iran and its proxy militias have attempted to impose Iranian hegemony in an area of about 40,000 sq km of Syria's Eastern Desert (Badiya) that stretches from Albu Kamal to west and south of Palmyra to southern al-Raqa province.
A militia headquarters
"Hizbullah's convoys continue to roll into the area, loaded with elements and ammunition," Observatory director Rami Abdel Rahman told Al-Mashareq.
The Iran-backed militia "has a strong presence in Albu Kamal and its environs", he said, noting that in previous times, preoccupied with other matters, the IRGC had handed over supervision of the area to Hizbullah officials.
"Ammunition shipments continue to arrive in Albu Kamal, which has turned into a headquarters for senior Hizbullah commanders and Afghan, Iraqi and Syrian elements," he said.
Abdel Rahman noted that Albu Kamal and the surrounding areas controlled by Hizbullah "witness periodic repositioning of forces, because Albu Kamal is Tehran's corridor to Beirut through Iraq and Syria".
"Hizbullah handles the protection of this strategic route, in addition to fortifying Iranian facilities in the region, the most prominent of which is the Haidariya airport near the city of al-Mayadeen," he said.
This is where Iran decided to build runways for drones, before suspending work.
Hizbullah feels entitled to do whatever it wants in Syria for its own benefit, he said, "not only in Albu Kamal and its environs but in all the areas it controls".
In late November, smugglers working for Hizbullah brought large quantities of Captagon pills and hashish to the Zulf area in the Sweida desert and from there to the tri-border area, in preparation to smuggle them to Jordan and onward.
According to Palmyra News Network director Mohammed Hassan al-Ayed, Hizbullah "is the largest militia present in Syria, and it is constantly reinforcing its positions by rotating its elements in Albu Kamal".
A key node for Iran
The desert surrounding Albu Kamal abuts the Palmyra desert, he said, pointing out that "Albu Kamal is a node between very important sites" for Iran's effort to extend its hegemony from Tehran to Baghdad, Damascus and Beirut.
He noted that since 2018, following the defeat of the "Islamic State of Iraq and Syria" (ISIS), Iran has had "a large military presence on the ground in Albu Kamal", with IRGC commanders overseeing the city.
"Hizbullah has a strong presence in it as part of the IRGC apparatus, as well as in Palmyra and the perimeter of T-4 airport and the Palmyra military airport," al-Ayed said.
Hizbullah has personnel stationed around al-Mayadeen as well, near the Imam Ali Complex, one of the largest Iranian military bases in the region, he said.
"Iran views Albu Kamal as its trump card and is trying to provide all facilities to the Russian side to preserve its gains there," he said, "as Iran sees maintaining its presence in Albu Kamal key for the success of its project in the area."
A source in Albu Kamal, who asked not to be named out of concern for his security, said the border town "has become a centre for the transport of weapons, ammunition and missiles from Tehran to the al-Assad regime".
It also has become a hub for drug smuggling to Iraq and the Gulf, via Jordan, he told Al-Mashareq.
"Our region, which once was rich and safe, has become one of the most dangerous and poorest regions because of Hizbullah's suspicious activities," he said.
"We monitor the daily passage of trucks transporting missiles and ammunition through the al-Qaim crossing and other illegal crossings."