BEIRUT -- From his temporary residence in Idlib, Syrian activist Omar al-Alewi, who was displaced from his home village of Abtin in Aleppo in October 2015, tracks the fate of the land and property he was forced to leave behind.
"I check on my property daily via the internet," he told Al-Mashareq, explaining that he has no other means to follow the movement of Hizbullah and the Islamic Revolutionary Guard Corps (IRGC) across his private property.
Using websites that provide satellite images, he said, "I can see with the naked eye how Hizbullah elements move freely across our lands. I am deeply saddened when I see their yellow flag flying on the roof."
"Large groups of Iranian, Iraqi and Hizbullah militiamen invaded our areas in southern rural Aleppo in October 2015 and took over the entire area, including Abtin, and seized our family's properties," he said.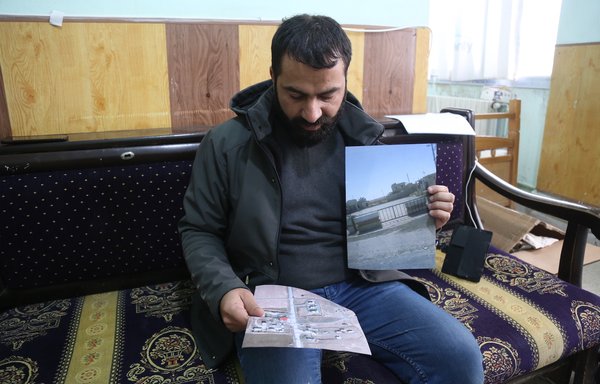 Among them was "a gas station, farms and our homes", he said. "They put up fences around them and live on them with their families under heavy guard."
"Hizbullah elements reside in the northern part of our property, while the Iranians reside in the southern part," al-Alewi said.
"In a section of our land they set up a vehicle repair shop, and reopened the gas station to supply their military vehicles with fuel."
Militiamen prevent anyone from approaching the family's lands, al-Alewi said, adding that Syrian regime military officers seized the family's agricultural lands and sold off the water pump motors and hoses used to irrigate it.
"We were all forcibly displaced from our homes and properties, and no one remained in them," he said. "They all belong to the al-Alewi family, against whom they issued a death sentence, because we are [regime] opponents."
Systematic demographic change
The al-Alewi family is one of thousands of Syrian families whose properties were confiscated by Hizbullah and IRGC militias in Aleppo and other areas formerly controlled by the Syrian opposition.
Since 2016, Iran has been granting its proxies and their supporters real estate belonging to opponents of the Syrian regime, according to an April report by focusaleppo.com.
Militiamen have acquired land and real estate in Aleppo and in the province's southern countryside through threats and intimidation via Iranian real estate development companies with a Syrian front.
Through Hizbullah and other allied militias, Iran is pursuing a policy of demographic change in Aleppo and areas to the south, seizing homes and properties of residents near al-Hader, Jabal Azzan, Abtin and al-Eis.
In 2015, Omar's brother-in-law, Mohammed al-Alewi, and all his relatives were expelled from their homes "by Hizbullah, [Iraqi] Harakat al-Nujaba and the IRGC", he told Al-Mashareq.
"These criminals seized my house, which took three years to build, and turned our property into military barracks and residences for their families," he said.
Like all Syrians, he said, he wishes "that we would take back our homes from the strangers who took over our livelihoods, and turned us from homeowners into displaced persons living in tents in the mountains".
"We no longer have land because Hizbullah and the Iranian militias have seized it and are renting it out for money," he lamented.
In the strategic Damascus suburb of Daraya, militiamen have been moving into residents' properties in some cases, and pressuring owners to sell key properties in others, said displaced Daraya resident Bashir Khudair.
"Iranian militias in Daraya have seized a large number of the properties of the original inhabitants after expelling them from the area, and are working to acquire land through a third party, which unfortunately is Syrian," he said.
"Our property has become easy pickings for the IRGC and Hizbullah, as they occupied the entire building in which we used to live after we were forced to leave," Khudair said.
"The Iranian militias and their affiliates roam about, occupying homes and shops and buying whatever [properties] they desire based on the importance of their location," he said.
Documenting violations
The Syrian Network for Human Rights has been documenting violations committed by Iran-aligned militias since these factions emerged in Syria towards the end of 2011, network head Fadel Abdul Ghany told Al-Mashareq.
This work accelerated with "the widespread increase in forced displacement by regime forces and the Iranian militias' exploitation of the forcible exodus and displacement witnessed by Syria over the past four years", he said.
Iran-aligned militias bear the greatest responsibility for this wave of displacement, Abdul Ghany said.
The network prepared a study on patterns of property violations, such as confiscation of property, looting of furniture or the demolishing of homes as part of the implementation of urban plans and the confiscation of agricultural land.
Property violations were documented in more than 471 locations, he said, with 81 of these locations "systematically looted at an advanced level".
"In all of these areas, the Syrian regime and Iranian militias were the main cause for the displacement and subsequent violations of property rights," Abdul Ghany said.
Iran has begun to consolidate its presence by buying hundreds of properties in all the areas it controls, he said. In Damascus, it has invested in the Basateen al-Mazzeh development behind the Iranian embassy.
It also has ramped up its property confiscation and holdings in areas such as Daraya in the hinterland of Damascus, he added, where in 2021 there was a clear escalation in the sale of real estate to Iranian figures.
Meanwhile, Abdul Ghany said, lands and homes continue to be seized in areas under the control of Hizbullah and the IRGC, especially around Aleppo.
He said many families say "the sales taking place in Daraya are not taking place directly between the property owners and individuals, or elements of the Iranian militias, but rather through intermediaries and figures affiliated with the regime".
He noted that Daraya is of particular interest to the Shia militias, as it is home to the Shia shrine of Sakina bint Ali.
According to the testimony of families contacted by the Syrian Network for Human Rights, Abdul Ghany said, the recent spike in the sale of property in Daraya has "all involved properties in the areas surrounding the shrine".