MOSCOW -- The meeting between China's Xi Jinping and Russia's Vladimir Putin this week affirms the "no limits" friendship forged last year ahead of Moscow's invasion of Ukraine, but the world should be wary of any ceasefire proposed by the two autocrats, US officials warn.
During four and a half hours of talks in Moscow on Monday (March 20), Xi and Putin called each other "dear friend" and pledged to further strengthen ties.
Xi is expected to spend three days in Russia.
"We are partners in comprehensive strategic co-operation," Xi said according to translated remarks carried by Russian state television. "It is this status that determines that there should be close ties between our countries."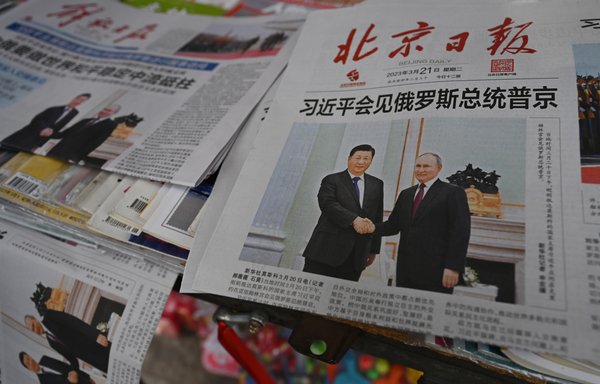 Putin told Xi he was ready to discuss Beijing's Ukraine peace proposal, adding, "We have plenty of common tasks and objectives."
But Xi's "peace" proposals in Moscow could be a "stalling tactic" to help Russia on the ground in Ukraine, US Secretary of State Antony Blinken warned.
"The world should not be fooled by any tactical move by Russia, supported by China or any other country, to freeze the war on its own terms," he told reporters on Monday.
He said the United States welcomed any diplomacy for a "just and durable peace" but raised doubts that China was safeguarding the "sovereignty and territorial integrity" of Ukraine.
"Any plan that does not prioritise this critical principle is a stalling tactic at best or is merely seeking to facilitate an unjust outcome," Blinken said. "That is not constructive diplomacy."
"Calling for a ceasefire that does not include the removal of Russian forces from Ukrainian territory would effectively be supporting the ratification of Russian conquest."
Russia's efforts to annex Ukrainian territory and the Russian military's ongoing attacks on civilians prove that Putin "has no interest" in durable, lasting peace, Blinken said.
White House national security spokesman John Kirby also warned against any Chinese-Russian calls for a ceasefire in Ukraine.
"All that's going to do … is ratify Russia's conquest to date," he said. "All that's going to do is give Putin more time to refit, retrain, re-man and try to plan for renewed offences at a time of his choosing."
'No responsibility'
Xi's visit to Moscow comes days after the International Criminal Court (ICC) put out a warrant for Putin's arrest on war crimes charges.
"China feels no responsibility to hold the Kremlin accountable for the atrocities committed to Ukraine" and would "rather provide diplomatic cover for Russia to continue to commit those very crimes", Blinken said.
The State Department on Tuesday also released its annual report on global human rights, which condemned Russian forces for a litany of atrocities in Ukraine, including "credible reports of summary execution, torture, rape and indiscriminate attacks", including attacks targeting civilians.
The report also affirmed the ICC charges against Putin, noting that the Russian government has "engaged in the forced deportation of civilians from Ukraine to Russia", including children.
China's attempt to portray itself as a "neutral" mediator in the Ukraine war has also drawn rebuke.
On the first anniversary of Russia's invasion of Ukraine, Beijing released a 12-point document calling for all parties to "support Russia and Ukraine in working in the same direction and resuming direct dialogue as quickly as possible".
While China has defended Ukraine's "full sovereignty", it has failed to denounce Russia for its invasion of its neighbour, repeated Russian propaganda and disinformation about the war, and staunchly opposed Western economic sanctions that aim to curb the Kremlin's ability to fund its war operation.
China propping up Russia
Moreover, with Russia's economy under intense pressure from Western sanctions, China last year kept it afloat by boosting their trade.
Chinese exports of electronic chips that Moscow needs for weapon production witnessed a sharp increase, while Russia's Gazprom said Tuesday it had reached a daily record in gas volumes supplied to China through the Power of Siberia pipeline.
In an article published by the Kremlin ahead of Xi's visit, Putin described the pipeline as the most important economic partnership of the last 100 years.
By 2025, Moscow is seeking to more than double exports through the pipeline to 38 billion cubic metres annually, Russian Deputy Prime Minister Alexander Novak said last month.
"Russian leaders like to emphasise the unprecedented strategic co-operation between the two countries," wrote Alexandra Prokopenko for Carnegie Politika, the Carnegie Endowment for International Peace's blog on Russia and Eurasia.
"Yet in reality, this co-operation makes Moscow increasingly dependent on Beijing."
"China is content simply to monetise its growing geo-economic leverage over Russia by securing discounts on its hydrocarbon exports and conquering its consumer market," Alexander Gabuev, the director of the Berlin-based Carnegie Russia Eurasia Centre, wrote in the Economist.
"But it is probably only a matter of time before China demands more political loyalty for its help in keeping Putin's regime afloat."
Kyiv watching closely
Lacking any lever of influence, Ukraine is watching the visit closely.
"Ukraine's expectations are at a minimum level: for things not to deteriorate," Sergiy Solodky, first deputy director of the New Europe Centre think tank in Kyiv, told AFP.
The topic is so sensitive that Ukrainian authorities do not wish to comment publicly on the trip.
"Ukraine will follow this visit closely," a senior Ukrainian official told AFP, speaking on condition of anonymity.
"For us it is critically important that China maintains its policy of unwavering respect for the territorial integrity of other countries," the official said, in reference to how Russia has claimed the annexation of five Ukrainian regions.
At the same time, the United States has accused Beijing of considering supplying arms to Russia as its invasion has got bogged down.
"We're confident that the Chinese leadership is considering the provision of lethal equipment" to Russia, US Central Intelligence Agency (CIA) director William Burns told CBS News in February.
According to media reports, this could include ammunition and drones. China has strongly denied the claims.
Up until now, only Iran has supplied attack drones to Moscow, which uses them in particular to target Ukrainian energy infrastructure.
Chinese companies are already supplying Russia with non-lethal equipment, and Chinese firms are supplying components to Iran drone builders, say US officials.
The United States has continued to support Ukraine's military and on Monday announced $350 million in new military aid to Ukraine.
"This military assistance package includes more ammunition for US-provided HIMARS [High Mobility Artillery Rocket Systems] and howitzers that Ukraine is using to defend itself, as well as ammunition for Bradley Infantry Fighting Vehicles, HARM [High-speed Anti-Radiation Missile] missiles, anti-tank weapons, riverine boats, and other equipment," Blinken said in a statement.
He applauded "the more than 50 countries that have come together to provide support for Ukraine".
"Russia alone could end its war today," he said. "Until Russia does, we will stand united with Ukraine for as long as it takes."