To the world, China presents itself as a neutral bystander to the war in Ukraine -- refusing to condemn Russia's invasion but also wary of offering overt support to a global pariah.
The reality is that Beijing is waging a two-pronged disinformation war on behalf of Moscow.
Chinese Foreign Ministry spokesman Zhao Lijian on Thursday (April 14) insisted Beijing's stance was "objective and impartial" and "on the right side of history".
His comments came a day after US Treasury Secretary Janet Yellen warned that China could suffer economic consequences for not participating in Western sanctions against Russia.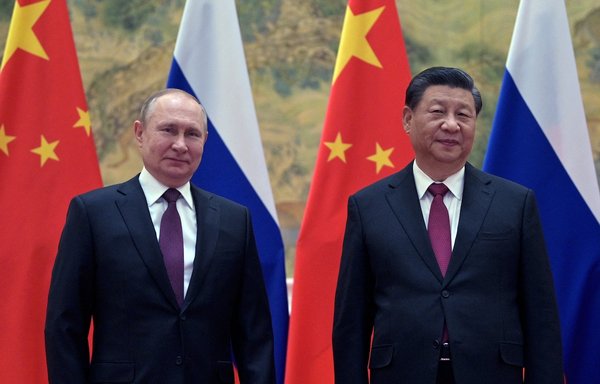 She called on China to "help end this war", adding that Beijing could see a decline in "the world's attitude towards China and its willingness to embrace further economic integration" if it did not act soon.
Beijing has been treading a diplomatic tightrope between backing its close ally and maintaining ties with the West by avoiding outright violations of sanctions placed on Russia.
But when Kremlin propaganda took a hit in March as Europe and elsewhere around the world blocked or restricted Russian state news channels and social media accounts, Chinese state-controlled media offered a powerful amplifier for Kremlin talking points.
At the same time, the Chinese Communist Party (CCP) has been waging a campaign at home to rally sympathy for Russia as a long suffering victim of Western hegemony.
Kremlin skirts propaganda bans
Just days into Russia's invasion of Ukraine, the European Commission announced a ban on Russian state outlets. Facebook, Twitter, TikTok and YouTube also shut down or restricted access to Kremlin-controlled outlets, including RT and Sputnik.
As a result, Moscow scrambled to find workarounds.
In one case, independent journalists uncovered a co-ordinated scheme to pay TikTok influencers to push pro-Kremlin views. In another, researchers from Trementum Analytics documented trolls spamming YouTube videos about Ukraine with pro-Russian comments, the Washington Post reported April 8.
Russian embassies around the world also used their platforms to spread disinformation to tens of thousands of followers on Twitter, YouTube, Facebook and Telegram.
With fewer restrictions, Telegram has been a popular choice. Since the beginning of the war, Russian embassies have created 65 new Telegram channels, according to the Israeli disinformation research group FakeReporter.
"With governments and tech platforms moving to censor or limit the spread of Russian propaganda, pro-Kremlin talking points are now being laundered through influencers and proxies, including Chinese officials and state media outlets," said Bret Schafer, senior fellow and head of the information manipulation team at the Alliance for Securing Democracy, a nonpartisan initiative housed at the US German Marshall Fund that tracks Chinese and Russian state media.
The Chinese outlets "do not face the same restrictions that have been placed on Russian state media outlets", he told the Washington Post.
"This has allowed the Kremlin to effectively skirt bans meant to limit the spread of Russian propaganda."
Chinese amplifiers
Chinese outlets are by far the biggest spreaders of Russian propaganda, analysts say.
The top four Chinese state outlets -- CGTN, Global Times, Xinhua News and T-House -- reach a massive audience with a combined 283 million followers on Facebook alone, according to the British nonprofit Centre for Countering Digital Hate.
All together, China's state-controlled channels have more than a billion followers on Facebook alone, according to the Alliance for Securing Democracy, even though the social network is banned in that country.
Chinese media outlets and officials have been careful to use the Kremlin's preferred terms in reference to Ukraine.
When Russian President Vladimir Putin announced the assault on Ukraine on February 24, Xinhua maintained it was a "military operation" and that Moscow had "no intent" of occupying Ukrainian territory.
A directive to a state-affiliated outlet that circulated online in February also appeared to instruct that posts unfavourable to Russia or containing pro-Western content should not be published.
Other false narratives spread by Chinese outlets include neo-Nazi storylines, blaming NATO's "eastward expansion" for the conflict, and attempting to equate Russia's invasion of Ukraine to US military actions in Iraq, Syria and Afghanistan.
Chinese channels have falsely claimed that the United States runs bioweapon laboratories in Ukraine and that Ukrainian neo-Nazis bombed a children's hospital -- which was in fact bombed by Russian troops.
China's consul general in Northern Ireland also tweeted a false claim from Russian state media that Ukrainian President Volodymyr Zelenskyy was hiding in Poland.
Putin the 'hero'
Meanwhile inside China, a CCP-produced documentary that presents Putin as a "hero" has been circulating among officials, The New York Times reported April 4.
With emotive music and images, the documentary praises Putin for renewing Russians' patriotic pride in Soviet history and for restoring Joseph Stalin's standing as a great wartime leader.
It argues that Stalin's purges went too far but initially "were something of a necessity" given the threats to Soviet rule.
During Stalin's Great Terror in the 1930s, the Soviet dictator sent as many as three million citizens to their deaths in gulag labour camps and had at least one million executed for opposing his policies or for a variety of imagined crimes, according to Yale historian and author Timothy Snyder.
During the famine of 1930-1933, more than five million people died.
Some historians attribute 20 million deaths to Stalin's rule across the Soviet Union.
A number of films, history books and judicial proceedings in Kazakhstan, Kyrgyzstan and Uzbekistan have raised awareness about Stalin's brutal legacy.
The CCP documentary was completed last year and does not mention the war in Ukraine but does argue that Russia is correct to worry about its former Soviet neighbours.
Since the collapse of the Soviet Union, it says, "some countries in Eastern Europe, Central Asia and Transcaucasia have become forward positions for the West to contain and meddle in Russia".
"The most powerful weapon possessed by the West is, aside from nuclear weapons, the methods they use in ideological struggle," the documentary's stern-voiced narrator says, citing a Russian scholar.
A cautionary tale
Beijing has long used the Soviet failure as a cautionary tale, but Chinese President Xi Jinping has given it a more ominous spin.
"They actually believe their own narrative about colour revolutions and tend to see this whole situation as a US-led colour revolution to overthrow Putin," said Christopher K. Johnson, president of the China Strategies Group in Washington, DC, and a former Central Intelligence Agency analyst of Chinese politics.
"Both domestically and internationally, Xi has been peddling this dark narrative since he took power," Johnson told the New York Times. "It allows him to justify his accumulation of power and the changes he's made by creating this sense of struggle and danger."
In addition to the documentary, Chinese universities have organised classes to give students a "correct understanding" of the war in Ukraine.
Such indoctrination lectures suggest that officials are worried that young, educated Chinese may be receptive to criticism of Beijing's position on Russia.
Beijing has reason to be worried, as some cracks in the party line are beginning to show.
Hu Wei, a politically well-connected scholar in Shanghai, criticised Beijing's refusal in condemn Putin in an essay first published on the US-China Perception Monitor website on March 12.
The essay spread online and received praise from some readers. Authorities blocked the website in China and tried to censor it on social media.
Inside China, Hu wrote, the war in Ukraine "has ignited enormous disagreements, setting supporters and opponents at polar extremes".
"China should not be yoked to Putin and must sever itself from him as soon as it can," he warned.