Hizbullah defectors and former supporters have been levelling harsh criticism at the Iran-backed party and its leader, Hassan Nasrallah, for crimes committed in Syria and its failure to look after its members and base in Lebanon.
In a lengthy video he posted on social media on March 3, former Hizbullah fighter Ali Msheik accused the party of carrying out widespread looting in Syria and of cutting off medical and financial aid from its wounded veterans.
Msheik, who is 36, said Hizbullah had cut off his health aid, which was given to him in the form of money and medication, depriving him of medical care.
Other veterans injured in the Syrian war are in the same situation, he said.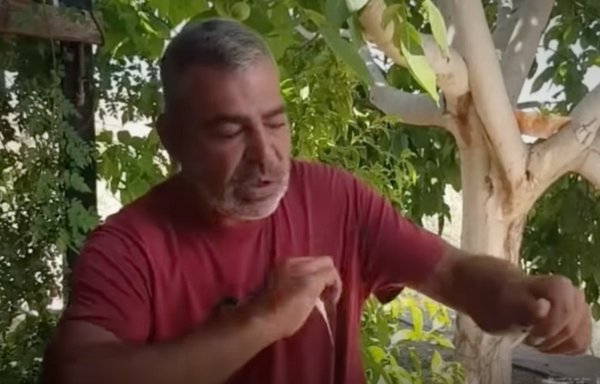 Msheik's remarks reveal that Hizbullah is struggling with cash flow issues, as its main funders, the Iranian government and the Islamic Revolutionary Guard Corps (IRGC), have been facing severe financial woes in the past few years.
They also reveal that taking care of its own veterans is not a priority for the group, which has directed the money it does have elsewhere.
Msheik, who hails from the Baalbek region in Lebanon's Bekaa Valley, showed his medical records in the video, which he said confirmed that he needed treatment for injuries to his head, back and feet.
He joined Hizbullah at age 14, he said, and fought in Syria from 2012 to 2018.
In 2016, he was transferred to the equipment department of Unit 13000 in Syria's Qalamoun region.
Theft comprised most of the activity of Unit 13000, which was under the command of an officer known as Alaa, he said in the video, particularly from farms in Yabrud, Rima, Fleita, Zabadani, Albu Kamal, Deir Ezzor and Aleppo.
Items stolen from the farms included bulldozers, agricultural trucks, civilian cars and electrical equipment, as well as doors, windows and livestock, all of which were sold across the border in the Lebanese town of Hermel, Msheik said.
In the video, Msheik called on Nasrallah to honour his right to receive payment for medical care.
Msheik said he posted the March 3 video after he was beaten by 20 officers inside his house who tried to force him to delete other videos he had posted.
Aid in name only
Disabled former Hizbullah fighter Hassan Mahmoud Mohsen ("Hajj Walaa") has posted a series of videos on TikTok from Aitit, near Tyre, in which he strongly criticises Hizbullah's misdeeds, such as theft, murder and rape.
In 2008, Hizbullah suspended 40-year-old Mohsen's rights to medical and financial assistance, although he had become permanently disabled and was unable to work after suffering an injury in the June 2006 war, he said.
In one recent video on TikTok that was uploaded by Orient TV and posted on YouTube, Mohsen tore up photographs of himself with Nasrallah, as well as the medical assistance cards he used to receive from the party.
"Everything Msheik and Mohsen said is true. The party has cut off aid to all the victims of its senseless wars in the region," a former Hizbullah fighter told Al-Mashareq, on condition of anonymity.
"The aid was helping us cope with the stifling economic crisis in Lebanon, a large part of which is due to Hizbullah's actions," he said.
"We believed that Hizbullah was our salvation and would let us live in dignity in these dark days, but it cut off every type of aid to a large number of fighters and supporters after we spent our lives serving its agenda."
The discontent with Hizbullah has extended to its former supporters and fighters, many of whom have seen their salaries slashed, he said.
In the past, he said, Hizbullah would give aid through a card called al-Sajjad, but the closure of many stores put an end to the assistance, leaving former beneficiaries facing high prices, destitution and hunger.
The party now gives aid only to a small inner circle of fighters and supporters, who also receive their salary in dollars, he said.
'Living our worst days'
"We are living our worst days at the hands of Hizbullah," said another former Hizbullah fighter who lives in Beirut and goes by the name Majeed.
The party "led the Shia community to destruction and its youth to death in Syria and elsewhere while serving Iran's totalitarian agenda", he told Al-Mashareq.
"I wish it would spend the large amounts of money on us, instead of on wars."
Hizbullah members and supporters are hungry and sick because of the party's hostile policies and senseless wars, he said.
The videos that former Hizbullah members have posted show they are suffering financially as the party chooses to spend its money in other ways, writer and political activist Youssef Murtada told Al-Mashareq.
Msheik and others have truthfully expressed the pain they are feeling, he said.
Hizbullah's top officials live in affluence, while the Lebanese people -- including those in the party's own base -- are left to suffer, said a Shia opposition figure who spoke with Al-Mashareq on condition of anonymity.
Discontent with Hizbullah is growing, he said, as it becomes increasingly evident that the Iran-backed party has plunged the Shia community into poverty and hunger, with just a select number benefitting from its limited assistance.